News literacy experts share, demo resources available to help students, news consumers
News literacy experts and advocates from organizations including The News Literacy Project and the University of Missouri shared current research and literacy tools and projects at a recent gathering at the Missouri School of Journalism's Reynolds Journalism Institute.
"Friends of the Facts: A News Literacy Fair" brought together 75 people from a variety of organizations and roles including university extension staff, librarians, literacy experts, members of the news media, educators and state legislators to talk about how to help the public make more informed choices about media consumption.
"Journalism training can't be just for journalists anymore," said Kathy Kiely, Lee Hills Chair in Free Press Studies and event organizer.
With so much information bombarding the public, it's a critical time to make sure those consuming information on the web are equipped with the skills and tools needed to weed out misinformation, said Kiely.
According to the MIT Media Lab, people are 70 percent more likely to be retweet fake news on Twitter than true stories.
Besides exchanging ideas and information, members of the group also brainstormed ways to share what they learned during the two-day fair in their own communities. Ideas ranged from inviting journalists or journalism educators to a classroom to sharing information with folks at other conferences or local community groups such as Kiwanis.
A taste of the work being done.
Missouri School of Journalism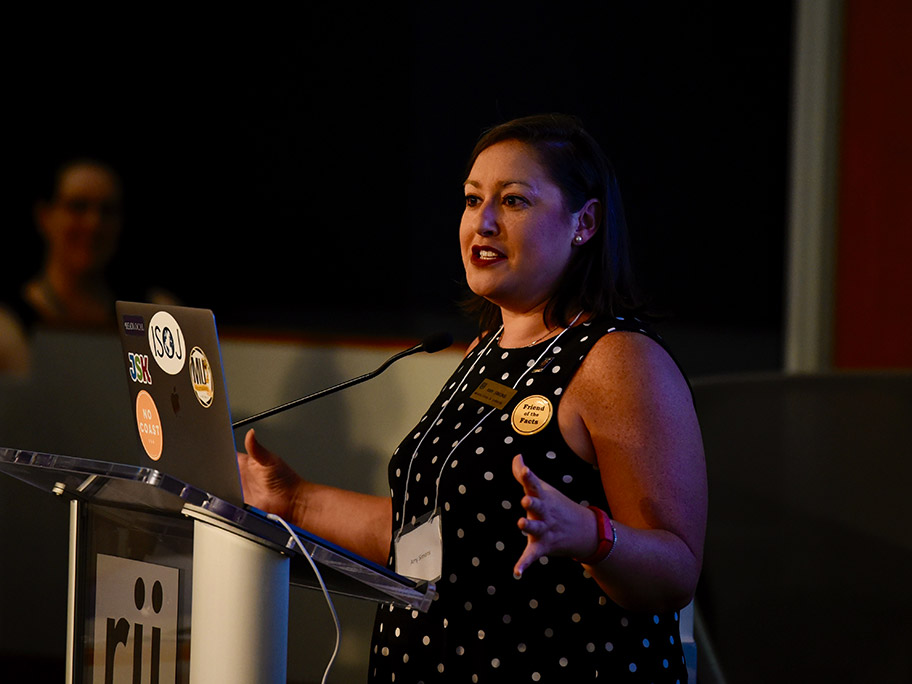 The Missouri School of Journalism is preparing to launch the Missouri High School Journalism Project to help with news literacy in middle schools and high schools.
The program will offer a series of 25 modules on a variety of journalistic topics including reporting and interviewing; audience engagement strategies; and law and the First Amendment. The modules include learning objectives, lesson plans, lecture videos, activities, readings and quizzes.
"What we're thinking about in producing this and making this available, is if we can also help people understand what journalism is, how journalism is practiced and appreciate what goes into producing good journalism, there will be a greater appreciation for news content on the consumption side," said Amy Simons, associate professor from the Missouri School of Journalism, during the event.
Faculty from the School of Journalism brought extensive research and industry experience backgrounds together to produce these courses, said Simons.
"We bring hundreds of years of professional journalism experience to the table and we want to be able to share that with our community, our state, our country. The globe, frankly," she says.
The Canvas-based platform will accept up to 300 teachers during the inaugural year, says Simons.
If you know a teacher who might be interested in this program, feel free to share this link: http://bit.ly/mizhsproject
The Division of Inclusion, Diversity and Equity at the University of Missouri is funding the program.
In addition, in the summer of 2018, Simons piloted an eight-week online elective class that is available to all University of Missouri students to help them learn more about the news and information they are consuming and practice better consumption habits.
Part of the class involves learning how to pitch and produce a story, as well as sharing their top "news sources." So far, the class has attracted student athletes, as well as students from business, engineering, nursing, agriculture and education departments. MU offers the class five times a year, and more than 270 students can enroll each time.
Among the comments from students she has received is that they feel better about judging what they are reading and about making a decision on whether or not to trust the story and its source, says Simons.
News Literacy Project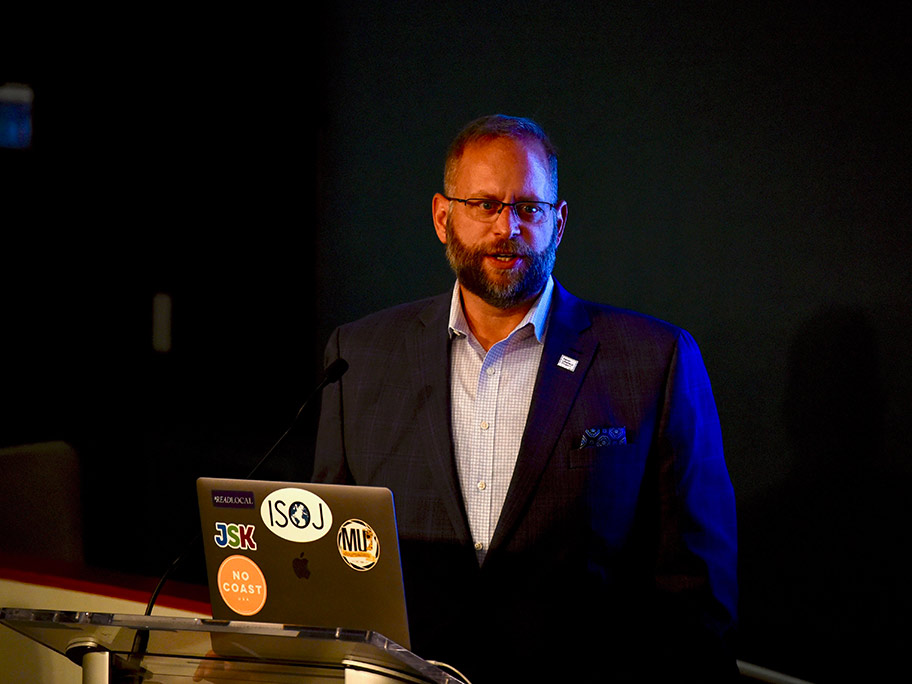 The News Literacy Project was launched by Alan Miller, a former journalist from the Los Angeles Times, who saw a need for the project after visiting his daughter on career day. He discovered a lack of knowledge about journalism and how it's produced, says John Silva, director of education at the News Literacy Project, who also spoke at the event. Silva's job involves developing curriculum resources for educators.
Silva demonstrated NLP's online learning platform, known as the Checkology Virtual Classroom during the event. The platform is meant to help middle school and high school students learn news literacy skills. The lessons cover various topics including misinformation, the First Amendment and recognizing bias. Students also learn about the differences between news, opinion, propaganda and other types of information, as well as the standards of journalism.
Almost 90 percent of those who have used the program report being able to find misinformation easier, according to a 2017-18 survey of students.
The News Literacy Project also has a program, Newsroom to Classroom, that recruits journalists to visit classrooms in person or virtually to talk about their work and how they do their jobs. The organization is looking for journalists from all geographic areas to visit classrooms.
For more information about participating in the program as a journalist, send an email to journalists@newslit.org.
iCivics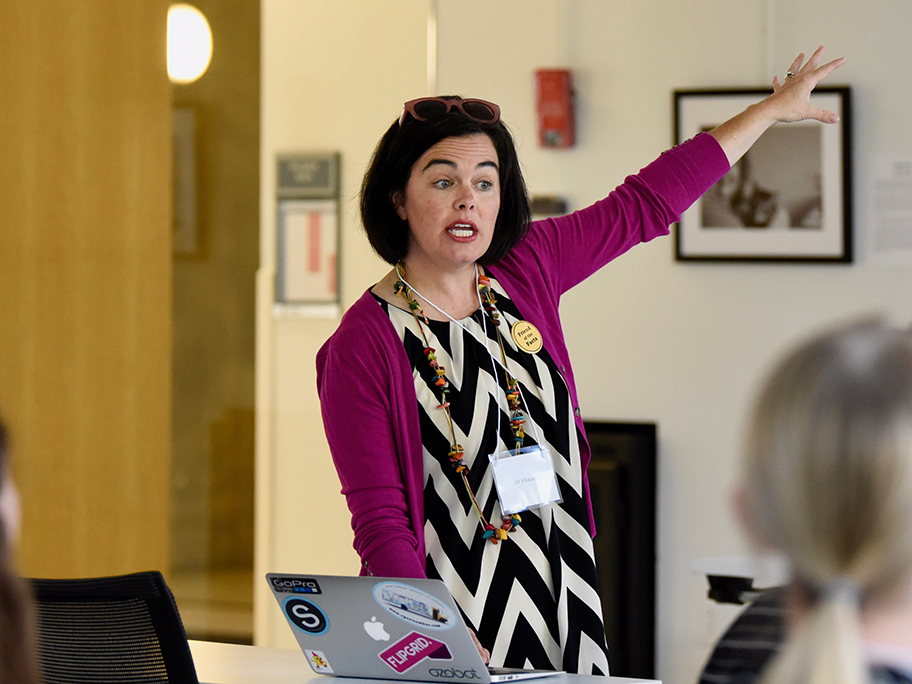 iCivics is an organization that develops innovative games to teach civic education skills including news literacy. Jill Villasana, a social studies teacher at Battle High School in Columbia, Missouri, has been using iCivics material and games in her classes for 10 years.
She demonstrated a news literacy game called NewsFeed Defenders where players pick articles to read from a fictitious social media feed and have the opportunity to investigate an article's accuracy and trustworthiness, report rule violations such as a failure by the author to verify information and approve legitimate articles.
IREX (International Research and Exchanges Board)
IREX is a global development and education organization that was created to combat Russian disinformation in Ukraine.
IREX uses training that is based on peer-to-peer learning and teaches, primarily, adults how to distinguish facts from fake news, says Tara Susman-Pena, senior technical director at IREX. She says participants are then asked to share what they've learned with those around them. After nine months' worth of training, Susman-Pena says they had reached about 15,000 people directly in Ukraine, as well as those who received training from the participants. Studies were conducted a year and a half later and found that participants had retained what they had learned.
IREX also implemented the training program into Ukrainian school curriculum and are adapting the program for the U.S., as well as Jordan, Guatemala, Indonesia and other countries.
Comments