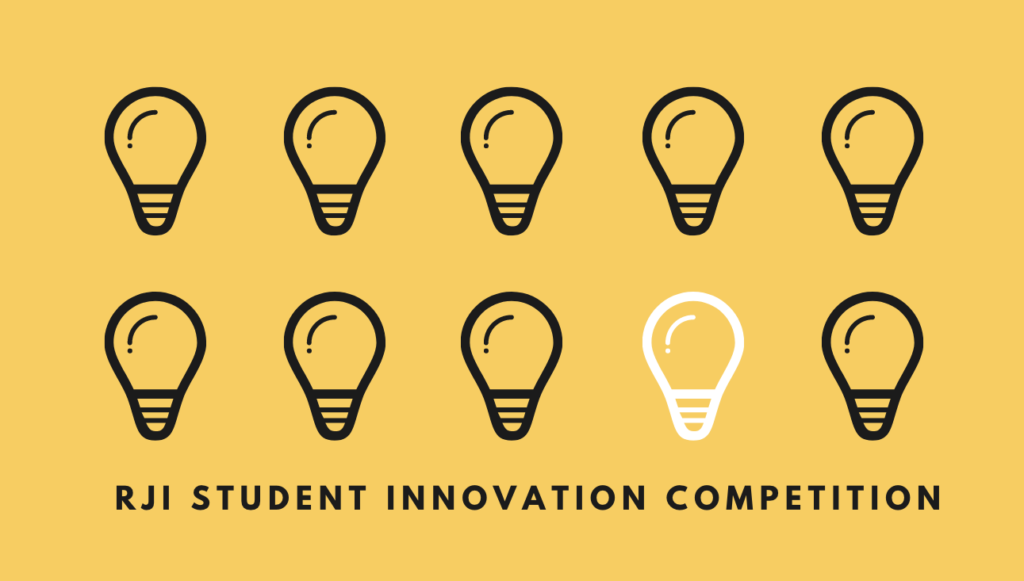 Student Innovation Competition
RJI's 2022 Student Innovation Competition is now closed to entries
The Challenge
As journalists we elevate the stories of people in our communities, hold those in power accountable and connect our readers/viewers/listeners with each other. Despite that, we are not great at communicating what goes on behind the scenes to produce the journalism that we share with our communities every day.
So, this year's challenge is to build something that will improve news literacy! Help people understand what journalists do and how we do it. What is our process from idea to publishing? What is newsworthy? What are the ethics for how and why we tell a story? What are interviews like? Create something that can help improve understanding and communication between journalists and their communities.
Part 1
Teams can create anything — low tech or high tech — a game, an app, an event, a partnership with a local news org — anything! Think creatively and figure out what works in your community to help build more understanding and trust into the public's relationship with journalism.
Create a plan for how you will implement your idea over a three month period. You will need to detail the necessary steps, milestones and how you plan to measure success at the end of your implementation. Enter your idea below by Oct. 31, 2021.
Our selection committee will pick finalists from the submissions based on the strength of the planning, potential for success and creative out of the box thinking. Those ideas will then move to the next phase!
Entries for the 2022 Student Innovation Competition are now closed
Part 2
If selected as a finalist, your team will have a little over 3 months to implement your idea before creating a presentation detailing your pitch, implementation and the results for the judges. This presentation will be recorded by the RJI production team (in person or remotely) in March 2022. Our judges will then join us at the Reynolds Journalism Institute for competition weekend to watch each presentation, have a remote Q&A session with each team and be a part of our live awards ceremony when we announce the winners.
Prizes
First place: $10,000
Second place: $2,500
Third place: $1,000
Eligibility requirements
A team can be an individual or up to 4 people.
Teams cannot apply for additional funding from their school or other organizations for their idea until after the competition is complete. All teams will be given up to $500 by RJI for approved project materials during the implementation.
At least one person on each team must be a journalism or communication student.
Faculty from the student's school can advise but cannot be involved in the implementation of the idea — students must do all of the actual work.
Final presentations must be in English and recorded by RJI. Each team will get to run through their presentation up to 3 times for recording, with a time limit of 10 minutes.
The competition is open to all college students attending school in the U.S. All team members will need to verify their enrollment status if chosen as a finalist.
If you are here on a student visa, please note that your winnings will probably have to be distributed as a scholarship through your university. We will require you to plan ahead and make the necessary arrangements with your university for us to transfer your potential winnings.
Judging criteria
Projects will be judged on four main criteria:
Idea: How did the team come up with the idea? Was it based on research, data or other factors to help guide the feasibility?
Implementation: Did the project get implemented, meet it's milestones and overcome the hurdles it encountered?
Measuring success: Did the project successfully increase news literacy? How did they measure impact and success?
Reach: Is the idea something that is applicable across multiple communities or replicable for those that want to engage in a similar endeavor?
Questions? Director of Innovation, Kat Duncan Duncank@rjionline.org