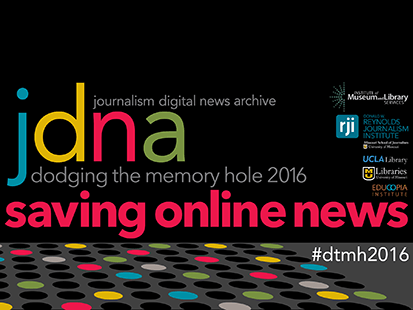 Dodging the Memory Hole 2016: Saving Online News
On Oct. 13–14, 2016, JDNA joined with the UCLA Libraries and the Educopia Institute to present "Dodging the Memory Hole 2016: Saving Online News," where presentrs and attendees explored solutions to the most urgent threat to cultural memory today — the loss of online news content. Journalistic content, published on websites and through social media channels, is fragile and easily lost in a tsunami of digital content. Join other professional journalists, librarians, archivists, technologists and entrepreneurs in addressing the urgent need to save the first rough draft of history in digital form.
The two-day forum — hosted by the Donald W. Reynolds Journalism Institute's Journalism Digital News Archive (JDNA), UCLA Library and the Educopia Institute — featured thought leaders, stakeholders and digital preservation practitioners who are passionate about preserving born-digital news. Sessions updated attendees about existing initiatives, examine critical issues and create a national agenda for protecting online journalism.
About the Dodging the Memory Hole series
This is the fourth event in the DTMH conference series focusing on preserving born-digital news content. Its name, Dodging the Memory Hole, comes from George Orwell's "1984," in which photographs and documents conflicting with "Big Brother's" narrative were tossed into a "memory hole" and destroyed. Today's memory hole is largely the unintentional result of technological systems not designed to keep information for the long term. The previous three events were held at the Reynolds Journalism Institute at the University of Missouri and the Charlotte Mecklenburg Public Library in Charlotte, North Carolina and the U.S. Capitol Building, Washington, D.C.
For more information about the Journalism Digital News Archive and how you can help save the "first rough draft of history," like us on Facebook, follow us on Twitter, follow us on LinkedIn or sign up for our Dodging the Memory Hole newsletter.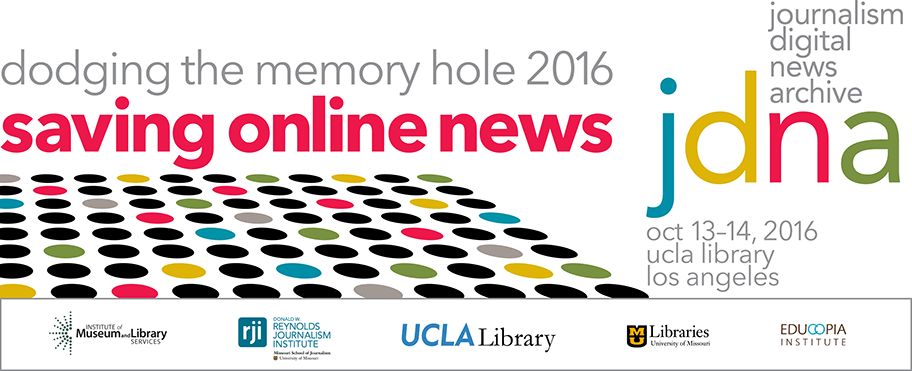 Scroll to view transcript HJALMAR GISLASON: [00:07] So, as Martin said, my name is Hjalmar Gislason, and that's probably the most complicated part of the presentation. That name comes from Iceland, so that's where I grew up and that's where my funny accent comes from, and actually some of the stories I'm going to tell … Continued