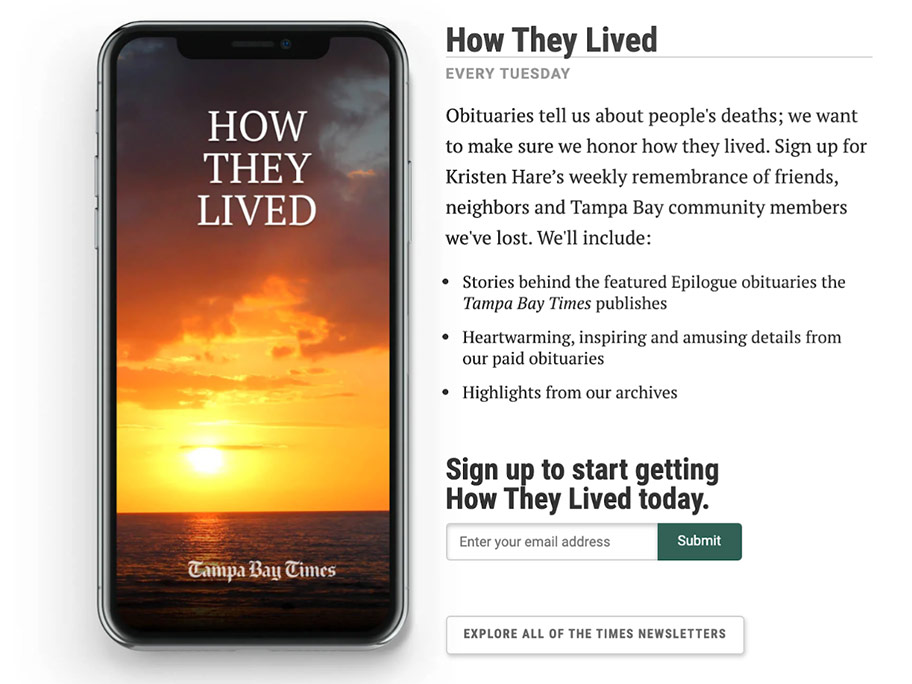 Launching a newsletter and thinking about analytics
It's not just about clicks
When we launched our obits newsletter, How They Lived, on December 8, I had one big concern: Would anyone read it?
Honestly, I worry about that with everything I publish, but launching a new product so close to the holidays only amped up that worry. The beauty of making journalism right now, though, is you don't have to worry for long. Most newsrooms have one or more analytics tools they use, and I'm lucky that at the Tampa Bay Times, I have access to those tools and an understanding of how to use them.
As I wrote for Poynter in a piece about a battle between the Sacramento Bee's Guild and the paper, there's an art to being data-informed. Here's the short version: It is not about clicks.
I was thinking about understanding numbers and all the things they're telling us when our first obits newsletter hit the inboxes of the 274 people who'd signed up. (That's tiny, but I promise they're not all my family members.)
Not only did I hear back from about a dozen readers, but that first newsletter had a very-nice-to-see 56% open rate. Subscribers have crept up in the last month to 359, and the open rate has stayed pretty close to that early number, with an average of 49.5%.
Those numbers tell me two things: Our obits newsletter has a very small audience, but they're highly engaged. (Email newsletter platform Mail Chimp reports that the industry average open rate is 22.15%. Local Edition, my newsletter for local journalists at Poynter, has more than 6,000 subscribers and in November and December had an average monthly open rate of 27%.)
So what do you do with a tiny audience that loves what you're doing? The obvious answer is — grow that audience, which sounds so easy but is more like saying "be healthy!"
I asked my Tampa Bay Times teammates for their thoughts on how to keep this growing.
Carolyn Fox, deputy editor of digital and partnerships, told me there's already a loyal audience among our obit readers.
"The 20 obituaries Kristen wrote from July through the end of the year drove audiences to tampabay.com from a variety of sources, including Facebook and Google. But what really shines through is the amount of people that clicked through to them from our website's homepage and newsletters, which means they captured our loyal and local readers, the most valued readers of them all. Almost half of all the audience came from those two direct sources."
Going forward, she said, we have to focus on strong headlines and on finding places on social media, such as Facebook groups, where obit readers already are to encourage them to sign up for the newsletter.
Thomas Bassinger, newsletters editor, said newsletters are all about relationships.
"Consistency is key. Regular (not necessarily frequent) deliveries show that you care and make it easier for a reader to incorporate you into their habits. We're always looking for ways to make it easier to sign up. It should be as simple as typing in an email address and clicking 'submit.' A bit of nudging helps, too. For instance, we recently noticed an uptick in forwards, so we added a 'Did someone forward this to you?' line at the end of our emails that included a link to our signup page."
And Maria Carrillo, my editor for the project, said she has great expectations that we'll keep growing subscribers with an eager audience.
"Readers crave these stories. They enjoy seeing everyday people celebrated for what set them apart. It is such a nice contrast, too, to the daily dose of news in 2020, which focused so much on pandemic, protests and elections."
Stay tuned. I'll keep you posted.
Comments