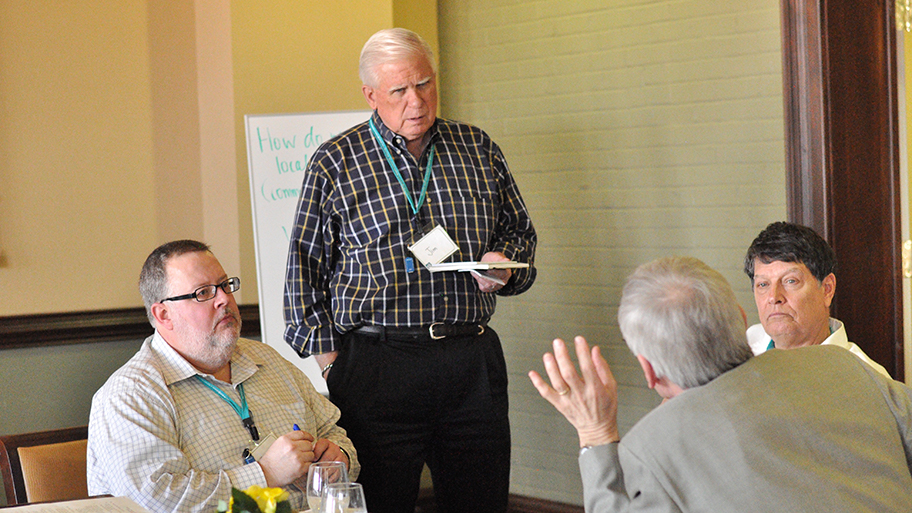 The path to college starts with just one caring person
Can you remember being very young and wondering what you'd be when you grew up? My first goals were to be a cowboy, then maybe a fireman. A little later I upgraded to wanting to be the second baseman for the Detroit Tigers.
These were all fine for kids. But as many of us grew older we refined our goals.
I am like a lot of people I know. None us know where we'd be or who we'd be if we had not had an adult give us a little boost in our confidence and turn us physically and mentally to point us in the right direction.
As a high school student I tested out to be intelligent enough to be successful and go to college. I had no idea what it would take or what I would become. I was a middle-of-the-road student, no great shakes as a scholar with no real sense of direction. Our family didn't have much money, but they did believe that college would be the answer to whatever the question would be in regard to my adult life. I went to a small rural high school with 71 students in my graduating class and finished six places below being in the upper third of my class.
But while I was busy wasting away my life, I had an English teacher who thought I had some talent and might make something of myself as a writer. She suggested that our state university had a pretty good journalism school. I didn't know much about that, but my best friend was going there and his dad was a graduate of that same journalism school.
My parents had the desire for me, but they did not know how to guide me. It took someone outside my family circle to get my compass righted. So there I was, listening to a tiny teacher, her body wracked with the ravages of arthritis. She spoke slowly and softly and walked gingerly up the stairs to her second-floor classroom, stepping carefully, braced by her cane. I thought she was very old, but checking the record Margaret Chiles would barely have been 50. Like many teachers of her era, she never married and made less than $4,000 a year.
I took her advice, enrolled in the University of Missouri and became a graduate of its journalism school in 1965.
Once I had some measure of success making a living as a newspaper guy I wanted to thank Miss Chiles but I could never find her. She had moved on and I heard she passed away.
What would I have become without her? Unanswerable.
I do know that my life has been good. My parents were proud of me. I had an interesting career with jobs I loved. I was an honor student and one of eight in my high school class who graduated from the University of Missouri. I ran my hometown newspaper, the Bolivar Herald-Free Press, for 33 years and owned all or parts of five others. I became president of the Missouri Press Association 20 years after graduating from MU and two years later I was named to the University of Missouri Board of Curators.
All eight of Bolivar's Class of '60 who became MU graduates remember Miss Chiles. We all have our stories about how she helped us. Some are a lot better than mine.
*****
The point of all this is that some kids need someone to help them along. Some have great parents, some have great teachers and some need to find someone else who can make this positive difference in their lives.
Many young people are innately bright enough to be successful. They just don't know what to do and how to do it. That is what Talk Story, Write Story has done for young people in Hawaii and Alaska.
During the past year the founders of that mentoring program have worked in Columbia, Missouri. Tad Bartimus and her husband, Dean Wariner, used a Donald W. Reynolds Journalism Institute fellowship and Columbia Daily Tribune sponsorship to teach 10 community volunteers how to change the lives of 10 students at Hickman High School. The mentors worked one-on-one to guide the seniors who needed college money to write personal essays that cumulatively won them more than $700,000 in scholarship offers.
Today Tad and Dean are back home in Hawaii, but their dreams continue to grow in Missouri and hopefully spread across mainland USA. They have proved that Talk Story, Write Story can be done anywhere.
What it takes to make this program successful is some time and dedication from people who want to make a difference for someone else.
It can work in major cities or in the smallest towns. It can work anywhere there are people who care and want to help. Community newspapers and local radio stations ought to look at this and become credibility partners in this project. It is the right and good thing to do for the future of your cities and towns.
You can step up to bring community sponsorship to the program and make it work where you live. You get behind it and others will step up and be mentors. It won't cost much money – this year Tad and Dean spent less than $900 on pizzas, cookies, snacks and sodas — or time.
Not much of a price for improving someone's life and giving them a break to be as good as they ought to be.
Probably all of us remember someone who helped change our life for the better. It is time to point the way for good-hearted citizens willing to do that for a new generation of great young people. Talk Story, Write Story is going in the right direction. Your community needs a volunteer to put up the first hand. I'll bet you that, like in Columbia, many more will follow.
It starts with just one person — one caring person.
You can be that person in your town.
Comments