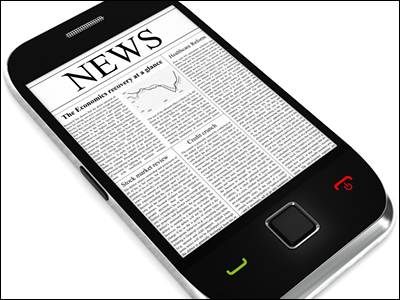 News consumption on mobile devices surpasses desktop computers, newspapers
A 2013 mobile news consumption survey indicated the most dramatic increase of mobile media users were over the age of 45.
"I was most surprised by the rapid adoption of mobile media devices and their use for news in the past 12 months by people age 45 and older, especially among those who have been the most loyal subscribers to printed newspapers," said Roger Fidler, program director for digital publishing at the Donald W. Reynolds Journalism Institute.
This was just one of many findings in the second annual mobile news consumption survey conducted by the Reynolds Journalism Institute in collaboration with members of the Digital Publishing Alliance. The DPA is a member-supported initiative of the RJI at the Missouri School of Journalism.
Some of the findings
More than half (55 percent) of survey respondents indicated they were mobile news consumers in 2013 — up from 42 percent in 2012.
About 52 percent of newspaper subscribers also used a mobile device to read news, while 44 percent also used a desktop computer.
About 12 percent of the mobile news consumers said they canceled their print subscriptions in the past 12 months.
What mobile media devices were users utilizing the most in 2013? Find this answer and several other insights here.
The purpose of the surveys is to gain insights about uses mobile media and how peoples' uses for news may change over time. The staff of RJI's Insight and Survey Center interviewed 1,165 U.S. adults randomly selected from phone number lists in the first quarter of 2013.
Comments