CNN anchor Brian Stelter wants you to 'look up'
Tessa Weinberg and Annika Merrilees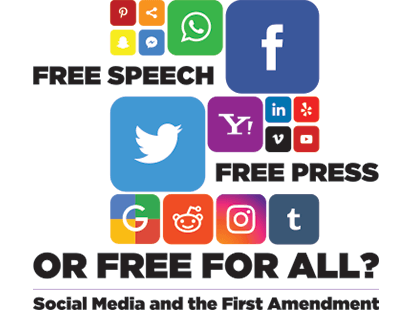 WASHINGTON — Brian Stelter wants everybody to stop, take a second and look up.
From their smartphones, that is. The devices in people's hands hold everything from news alerts to entertainment, hope and hate speech, said Stelter, the keynote speaker at the April 25 Hurley-Sloan Symposium at the National Press Club.
"The real world and the virtual world have merged," Stelter said. "It is hard to know where Twitter stops and where this lunch begins, and where Twitter picks back up."
As CNN's chief media correspondent and the anchor of "Reliable Sources," it's Stelter's job to keep an eye on how the media is shaped by technology — and be a prolific user of it.
With a weekly show, over 647,000 Twitter followers and a nightly newsletter, Stelter has seen the free for all social media can become.
But for all of social media's flaws, it also presents unique opportunities for change, Stelter said at the symposium, titled "Free Speech, Free Press or Free for All? Social Media and the First Amendment," sponsored by the University of Missouri School of Journalism and School of Law.
"If our country can stop tearing itself apart on Facebook for a minute and we'd look up, we'd remember that most of us share these values and most of us believe in these rights," he said, "and we have a lot in common in that regard."
And one way people can come together: to shape the future of social media.
"We are having a reckoning about big tech that is long overdue. And the good news about that is that we all have a chance to contribute to this reckoning," Stelter said.
From being manipulated to influence elections to contributing to the spread of misinformation, social media platforms have massive questions to tackle related to free speech and moderation. And it's a debate worth having, Stelter said.
"We saw the government of Sri Lanka make a cost benefit analysis," Stelter said, referring to that government's recent shutdown of social media platforms in the wake of terror attacks earlier this month. "And I think we need to keep debating the right and the wrong answers there."
Stelter knows the benefits social media can bring. It's how he met his wife, after all.
"We are having a reckoning about big tech that is long overdue. And the good news about that is that we all have a chance to contribute to this reckoning," Stelter said.
"Look, I met my wife on Twitter," Stelter said. "I was in Washington one day. She was in New York anchoring on local news. She popped into my feed. I'll never be able to figure out who retweeted her into my screen."
But he's also seen the darker side that comes with spending time on the platforms, such as when his wife has to block abusive trolls or delete hateful comments about their young daughter.
And, with more options online, comes more misinformation.
"Everyone's a source now. What's reliable, becomes the question," Stelter said.
"And that's where we need to center our conversations," he said. "That's why I'm constantly thinking about looking up. Looking at how people are consuming technology. Looking at where they're getting their news or their stuff that smells like news, but isn't news — news-like substances — that are part of the problem."
From radical transparency to fostering a slow news environment, opportunities to mend the news ecosystem exist in the fissures cracked open, Stelter said. He floated an idea of his own: reducing the the size of some posts' text on social media.
"We know that the New York Times shows up at the same size as that fake news site. It's a problem," Stelter said. "You can have a venomous, hateful, threatening post. Why is it the same size as the thoughtful comment that gets thousands of faves and retweets and adds value? Unfortunately, these sites treat everything like it's the same."
While it's easy to recede into our phones in the face of attacks, Stelter said he's seen firsthand how engaging with viewers who may disagree has led to greater understanding.
"I come back to the idea that we've been given these incredible antennas that we can point in any direction. And we can hear from the whole audience, including the haters now, in a way that we couldn't before," Stelter said, "and that's that's a benefit even if we're careful about how to point the antennas, and sometimes turn down the volume."
Stelter said he manages the tidal wave of information with his own "volume setting" by switching between filters on his Twitter replies to only include people who follow him, versus the wider public.
And in an era where misinformation flows freely, journalists need to constantly put the public first, Stelter said.
"We have to consider whether that audience is going to come away more or less informed," Stelter said each time a guest is booked on a show.
And that lesson is especially important entering the 2020 presidential election, he said.
"No matter how much the president or others want to make this about personality or make this about insult, make this about name calling, we got to drag it back to policy," Stelter said. "And I think if we're doing that, then we're doing what the audience wants and needs."
Stelter, who started out as a college student blogging about the television industry, said he ultimately believes the news ecosystem is stronger than it was two decades ago, despite its flaws.
"I love the job because I get to promote the values that we've been talking about here today," Stelter said, "the values of a free press, an ethical press, a press that benefits from the laws that support transparency and openness."
Tessa Weinberg is a recent graduate of the Missouri School of Journalism. She was a David Kaplan Memorial Fellow at ABC News in Washington, D.C. Annika Merrilees is currently working on her master's degree at the Missouri School of Journalism. They were enrolled in the school's Washington program for the Spring 2019 semester.
Comments