Humera Lodhi: Creating a tool to uncover stories that aren't being discussed or reported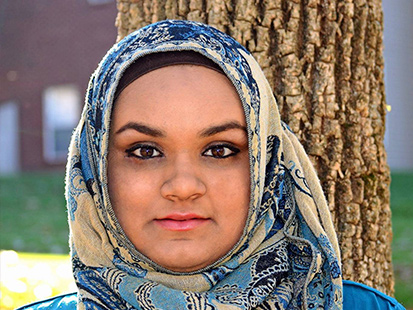 When I first decided I wanted to be a journalist, my friends were a little shocked. I heard phrases like "journalism's dead," or "you're never going to find a job," or "what would you even do," over, and over, and over again. To them, journalism was limited to newspapers — something that didn't play a huge role in their lives. I knew journalism was more than just that, but even I had a limited understanding of the role technology played in media.
To me, journalism was — and is — about so much more than writing articles that get lost in oblivion. It's about cutting through all that noise and finding a way to elevate the stories and people that are forgotten or ignored by the rest of society. So, I always knew journalism was more than just writing. To be able to connect with society, journalists need to find a way to reach society, whether that be through video or social media or whatever the newest form of technology is. However, I didn't quite understand how expansive the role of journalists was until the Reynolds Journalism Institute Student Competition in 2017.
The competition, which brings together journalism, engineering and business students, was the first time I was not just using new technology and tools as a journalist, but I was actually creating those tools to be used by others. The storytelling process doesn't begin when a journalist starts reporting, or even when a journalist begins research. The storytelling process begins far before that. The tools and technology we use shape stories just as much as the interviews and research and editing we do. As the only journalist on my team, I understood the purpose of journalism, and I was able to think of what we needed to fulfill that purpose. Then, I was able to create the tool we needed — which was the challenging and exciting part.
"To me, journalism has always been about finding the underreported stories. Informator does that by uncovering connections that aren't being discussed or reported."
Over the year, I worked with two computer science students, Evan and Chris, to build our app. We were all sophomores, meaning we were among the youngest people in the 2017 competition. As the youngest and smallest team in the competition, none of us expected to win. We didn't feel confident in our skills and knowledge at the time, but when we came together, we were able to connect and collaborate to create a technological tool that hadn't been made before. We created Informator, an app that finds hidden relationships between news topics and key places, people and events. As I mentioned earlier, to me, journalism has always been about finding the underreported stories. Informator does that by uncovering connections that aren't being discussed or reported.
Before the app competition, I thought my only role was reporting, editing, or producing. However, there is so much more to the journalism industry. It is critical to have journalists at the development stage of these products to ensure the tools are actually useful to journalists, and so that we ensure technology is being harnessed to tell more powerful stories. I don't just have to a news reporter— my role as a journalist can expand far beyond that.
However, the competition didn't just change my perception of journalism. My friends, who were critical of journalism, and my interest in pursuing it as a career, were finally able to see how innovative and creative the media industry can be. Seeing all of the different apps technology products created by journalists made them finally understand how meaningful and significant the role of a journalist was.
The competition has changed my career outlook and future plans. As I look for internships and begin to think about my career after graduating, I've started to think about pursuing roles in product development rather than just reporting. Before the competition, I never knew how many newsrooms — including the AP, Reuters and ProPublica — had positions like this for journalists. A lot of journalists, and journalism students, are interested in innovative storytelling techniques, but are scared to work on the development side. The idea can be daunting, and a lot of journalists feel unprepared, especially since most of us don't have tech backgrounds. But most of the people in these positions in newsrooms don't have tech backgrounds either. Students do have so many opportunities — whether that be a competition, an internship, a training session, or a coding class — to get involved in the development of new journalism tools and reporting techniques. You don't have to have the skills beforehand, you'll develop as you pursue these projects.
Comments