RJI video series on innovation is a finalist for EPPY Award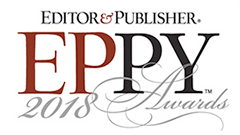 Innovation in Focus, which helps newsrooms navigate the numerous new emerging technologies and storytelling techniques, is a finalist for a 2018 Editor & Publisher EPPY Award.
The series, which is produced by the Innovation and Futures Lab at the Donald W. Reynolds Journalism Institute, was selected from more than 300 entries across 30 categories, according to a news release from Editor & Publisher. The international contest, which is in its 23rd year, recognizes both top professional digital media and college and university journalism.
Innovation in Focus, which is being considered for "Best Innovation Project with under 1 million unique visitors," scored in the top third of the average score across all 30 categories within the under 1 million unique visitors division, according to Editor & Publisher.
Since launching in January, the series has shared tips and tricks from experts, challenges and opportunities and test findings for topics such as drone journalism, games for journalism, infographic tools, augmented reality and mobile video. November's segments will focus on social content creation tools.
"Innovation In Focus not only educates journalists about technology with expert interviews, but senior editor Kat Duncan applies the technology in the practice of journalism with student videographers and reporters at the Missouri School of Journalism," says Ebony Reed, director of the RJI Innovation and Futures Lab. "It is an honor to be named as a finalist for an EPPY Award. We hope more journalists will watch the series, interact with us and share ideas for future episodes."
EPPY winners will be announced Oct. 24 at 12:30 p.m. Central Time on the E&P website.
About the RJI Innovation and Futures Lab
The RJI Innovation and Futures Lab is a real-world testing and building team for new journalism tools and technologies. The innovation lab provides an environment where newsrooms,industry leaders and innovation lab staff partner to prototype journalism innovations that will benefit newsrooms worldwide.
The lab is always looking for partners to collaborate on projects to test new models for journalism and applications of technology. If interested, please reach out to the team by filling out this form or by emailing Reed at reedes@rjionline.org.
Comments