Understanding the First Amendment in an era of 'fake news' and Facebook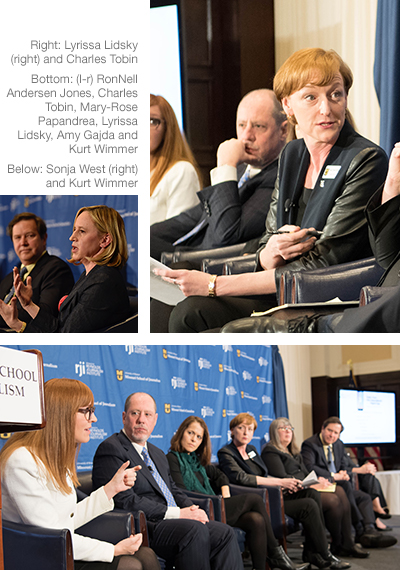 WASHINGTON — How should a 230-year-old document be applied in the digital age? This was the question presented before a panel of legal experts at the 2018 Hurley-Sloan Symposium, held April 6 at the National Press Club. Lyrissa Lidsky, dean of the University of Missouri School of Law, moderated the discussion.
The event, titled "Truth, Trust and the First Amendment in the Digital Age," also featured a panel of veteran journalists and a keynote speech by famed First Amendment attorney Floyd Abrams. It was hosted by the Missouri School of Journalism; University of Missouri School of Law; the Price Sloan Fund for Media, Ethics and Law; the Donald W. Reynolds Journalism Institute; and the National Press Club Journalism Institute.
Defining journalism when anyone can publish
Defining freedom of the press has become increasingly challenging in the age of social of media, which has allowed fake news, lies and falsehoods to spread like wildfire, the panelists said. A new poll from Monmouth University found that three-fourths of Americans believe that traditional television and print outlets take part in fake news reporting.
At the heart of this conversation lies the question: in an age when technology gives us all the ability to publish, are we all journalists? And what is journalism, really?
"Platforms make it look like everyone is equal, but that doesn't mean it's actually journalism," said Kurt Wimmer, data privacy and cybersecurity attorney at Covington & Burling in Washington.
Though there are a number of proposed policy solutions circulating that would seek to answer that question, there was little agreement among panelists about what role the law should play in stopping the spread of fake news.
One source of contention lies in Section 230 of the Communications Decency Act, which states that website owners are not liable for the content that commentators and other third-parties publish using their platforms. The law strengthens the marketplace of ideas by permitting diverse discussions to emerge, but it also enables websites that solely publish fake news to exist.
Wimmer and others on the panel said it's time to change the law to be more aggressive in stopping fake news, while some panelists cautioned that doing so would yield only empty results and potentially dangerous consequences.
"I would have a hard time with the government determining what is true and what is false," said Mary-Rose Papandrea, associate dean for academic affairs at the University of North Carolina School of Law.
Papandrea believes that social media has become a polarizing force in our society, and that users are more likely to only follow people they agree with, allowing them to discount opposing views.
"People get their news on social media," said Papandrea. "Friends become sources, which then undermines press institutions." Papandrea said that the law in this area is limited, but that media literacy education, which would teach children to think critically about the information they come across online, is one possible long-term solution. She also said that it's up to the social media networks themselves to find ways for their users to see information outside of their ideological bubble, and to fact-check the information they encounter on the platforms.
Erosion of trust and threats to press freedom
Panelists agreed that the erosion of trust in the press is harmful to a healthy democracy. RonNell Andersen Jones, professor at the University of Utah S.J. Quinney School of Law, said that the tossing around of the "fake news" label leaves citizens less informed, especially when it is invoked in lieu of providing what Jones termed executive counter-speech. Historically, there was an expectation that if the executive branch took issue with something said by the press, that the executive branch would have opportunity to respond. But that's not happening in the Trump White House, she said, and to the detriment of democracy.
"But what we instead see is there is a new trend of the president not offering us counter information, not contributing additional information to the marketplace of ideas, but rather just pushing back against coverage and labeling it 'fake news,'" said Jones. "It's really harmful to a democracy to have no executive counter-speech."
Jones said a less detrimental response from the president would include specific facts or points of information to rebut or contextualize information reported by the press. One result of this rhetoric is that the press is one of many democratic institutions that has been named an enemy.
"It's one thing to suggest that a political opponent is the enemy, but to suggest that a democratic institution is the enemy … the consequences of enemy construction of the press can be pretty significant," Jones said. "The very swift next step is the removal of individual liberties."
Jones said the answer to this threat will be the judiciary. The judiciary allows the law to work in tandem with evolving social values, she said, and can help distinguish between empty threats against the press and actual rights and freedoms defined by the law.
The panel also discussed the hostility of President Donald Trump's campaign in describing the press as the "enemy of the people." Insults hurled towards the press, though made famous by our most current president, are hardly unique to the current presidential administration.
Charles Tobin, media attorney at Ballard Spahr, said that previous administrations also targeted journalists. The Nixon administration was particularly adversarial towards the press; the George W. Bush and Obama administrations also had contentious relationships with journalists. What makes this administration unique, says Tobin, is that Trump has a particularly litigious nature.
Sonja West, professor at the University of Georgia School of Law and the Grady College of Journalism and Mass Communication, said that the president is testing the limitations of the First Amendment by finding ways for the government to work against the press. These actions range from closing off public access to agencies, to thinking of ways to sabotage the business side of news organizations in hopes of silencing the press.
"Whether it's trying to impose negative tax policies, higher postal rates, whether it's telling the FCC that it should investigate broadcast licenses, or having the Department of Justice interfere with a merger that is explicitly tied to the sale of CNN … so as far as the constitution's concerned, we don't have a law there right now," West said.
West said that she thinks there should be a law to address those vulnerabilities. While the First Amendment is limited in how much it can protect the press in this regard, West said that legislative options might be effective in remedying these legal shortfalls and giving the press the protections they need to do their job.
Best practices for journalists
Even in the face of name-calling and pointed fingers, journalists still have a job to do, and it is critically important now — as it always has been — that they do it well.
Tobin said that rather than shy away from the challenge before them, journalists should double down on their efforts. In a marketplace of ideas, he emphasized that journalists should circulate those ideas that are better able to withstand attacks on integrity, such as investigative reporting.
Tobin also said that many newsrooms are reinvesting in open records litigation. Tightened budgets had made FOIA and similar lawsuits too costly for many newsrooms. But the most effective way to fight back against allegations of being "fake news" is to be able to point to a government document or meeting that verifies reporting. Tobin said that suing for documents is not a luxury activity, but rather a necessity for newsrooms in the current environment.
Ensuring the accuracy of the information they report isn't the only way journalists should seek to maintain credibility. Beyond information that is publicly available, journalists have to decide if information they possess, even if true, should be published at all.
Amy Gajda, professor at Tulane University Law School and former journalist, said that there are limits to what kind of information journalists can publish, specifically regarding personal information.
"One of the difficulties now is defining what is newsworthy," Gadja said. Under tort law, newsworthy information is protected by the First Amendment, she said. Information that is not newsworthy is not protected, so that personal privacy may be preserved. Journalists will increasingly face questions of what information should or should not be published, in this era when personal data is gathered and saved from every click online, and can be sold or stolen.
Jaime Dunaway, Miranda Moore, Mica Soellner are students at the Missouri School of Journalism who are enrolled in the school's Washington Program for the Spring 2018 semester.
Comments