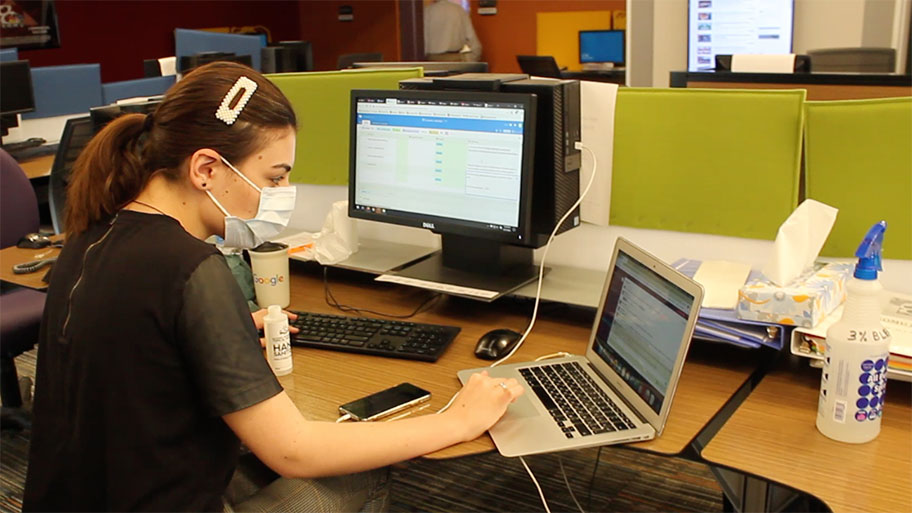 Newsroom Notes: Questions to think about for the post-pandemic TV newsroom
KOMU News is the nation's only teaching laboratory inside a commercial network affiliated TV station. Many of the challenges are the same as other newsrooms—layered with the challenges of teaching the next generation of journalists. We're providing a first-hand view (and maybe a little advice) from an industry veteran who led the KOMU Newsroom in and out of the COVID-19 pandemic during a faculty search and transition.
Last year, we were talking about physical distancing, masks in (and out) of our newsrooms and deep cleaning. We were starting to master new workflows to keep our teams safe, comply with the patchwork of public health initiatives all while serving audiences looking for trustworthy information about the pandemic, a volatile election and a discussion about racial justice.
Now, as communities make vaccinations increasingly available, to topic is return-to-work. We owe much to our human resources colleagues who helped us deal with conflicting guidelines and ever-changing best practices. And, to our technology professionals who secured our remote work applications as hacks and digital viruses lurked.
The HR professionals may be guiding you through practical issues like who can sit where or ride with whom, but what about the journalism? We settled on four important questions and asked some industry leaders to help us start these much-needed conversations:
What elements of your pandemic workflows made your newsroom more productive? What is worth keeping? How do these workflows impact the quality of your local coverage?
The pandemic may have created a lifeline for the Morning Meeting. Already streamlined in many newsrooms, letting reporters sidestep the morning commute gave them a new opportunity to participate. Video conference platforms "make for more engaged participation than traditional conference calls," says Hearst News Senior Vice President Barbara Maushard. For some newsrooms, letting newsgathering staff start from home is still very attractive. Sean McLaughlin, Vice President of News for Scripps, says the entire remote workflow is paying handsome dividends. "I think we have seen tremendous upside in terms of crews spending more time in the field working on stories."
Quality communication is still an opportunity for newsroom leaders according Kent Collins, Professor Emeritus at the Missouri School of Journalism. Collins, who works directly with industry recruiters and stays close to the KOMU newsroom, wonders if the pandemic-workflows helped focus attention on "who needs to know which details and when they need to know them." It is not a new issue. Collins says newsroom communication has been top of mind as digital-first workflows force newsrooms to serve audiences demanding high quality video storytelling on websites, apps and social media.
Sinclair Broadcast Group Senior Vice President Scott Livingston already had plans to create a national writer's hub to help local producers better focus their time on local news. "Certainly, the COVID 19 pandemic impact was sudden, more shocking, but not unprecedent when it comes to business. The key here is to understand we have to do what we do in a different world with new and different demands," says Livingston. Maushard points to videoconferencing making diverse voices and expert sources more accessible. While newsgatherers can spend more time in the field, Collins goes back to visual storytelling. "The quality of individual shots is good, but the video storytelling is becoming just boring," says Collins.
What did you learn about your audiences and their expectations on all of your different platforms during the pandemic? Do you expect these to be permanent changes as your community fully re-opens?
Businesses across the economy are observing how the pandemic accelerated trends—from online shopping to electronic payments. Same for local journalism says Maushard, observing that audiences demand "simple, quick ways to find critical information on demand." Research and consulting firm SmithGeiger has been conducting audience research throughout the pandemic. "Digital is not an appointment view, but it needs to become a habit and we have to do a better job of delivering real-time content," said SmithGeiger President Seth Geiger during a TVNewscheck forum. Gray Television Digital Vice President Glen Hale adds, "The pandemic reinforced the need to meet the audience on their terms and preferred platforms." Gary Brown, Senior Vice President of Content for Meredith Corporation adds, "I don't think you can be a simple coverage brand and survive. There is an expectation that we bring value beyond coverage."
Local journalists are still struggling with the "frienemies" of social media. An interesting audience observation from Geiger. "The more you relied on local, the more you trusted it, and the more you relied on social, the less you trusted it," said Geiger during the same TVNewscheck Forum.
How did you address editorial collaboration during the pandemic—functions like copy editing and editorial review? How about leadership practices. What lessons-learned are you implementing in your return-to work plan?
Meredith's Brown admits that traditional collaboration became more difficult particularly with some producers and anchors working from home. "The folks who were in the station felt the burdens of supporting their colleagues who were not in the building." James Finch, Gray Television's Director of News Services, says online collaboration tools like Microsoft Teams and Zoom created new collaboration opportunities to group co-workers by topic or editorial focus. "They could create instant video conferences with just one click or tap," says Finch.
Missouri's Collins suggests this is an opportunity to start a more important discussion about teamwork. "How do we have constructive discussions about important editorial issues?" With so many stories touching on racial equity and political polarization, these are critical discussions. "Teamwork as getting-along is just not good enough," adds Collins.
Jill Geisler, the Bill Plante Chair of Leadership and Media Integrity at Chicago's Loyola University says hybrid newsrooms challenged us to become better communicators. "Leaders raised their communication game because we had to be more deliberate," says Geisler whose regular columns helped many of us keep our focus on leadership skills. Still, Geisler reminds us that many difficult newsroom conversations take place outside daily meetings. "Not everyone wants to speak up in a large group meeting," says Geisler who adds that some of these important discussions are now taking place in text strings, on Slack or just in the parking lot. Geisler urges newsroom leaders to make time for one-on-one and smaller group discussions. Whether online or in-person, covering stories that involve diversity, equity and inclusion are important to good journalism. And, these discussions require time–something that is already in short supply.
Did you learn valuable lessons about on-boarding and team building? And, what unique challenges and opportunities do you anticipate as you reassemble teams in the newsroom?
Loyola's Geisler says it is absolutely essential that we "re-welcome" everyone into whatever turns out to be your new workplace. Geisler challenges newsroom leaders to remember workflows absolutely affect newsroom culture. "You can't just write a new mission statement and assume culture change will follow," writes Geisler in her recent column published by the National Press Club's Journalism Institute.
"We learned the importance of empathy," says Geisler who adds that the pandemic workflows "opened windows to everyone's personal lives." Geisler's "five keys to culture" (values, skills, tools, systems and assumptions) do not change, she says. Scripps McLaughlin says their company saw a widespread effort on helping their teams achieve the right work-life balance. Geisler also reminds us about the importance of common experiences in building culture. Especially for employees who joined your team during the pandemic, she says it is critical that you create common experiences beyond what they experienced during the pandemic.
One of the first columns in this series referenced a quote about "never wasting a crisis." Often attributed to Winston Churchill, the military metaphors were often too easy. We learned much working through the crisis, but the real value will come if we make the time to really understand the lessons-learned and how to apply those lessons to doing better journalism.
Comments