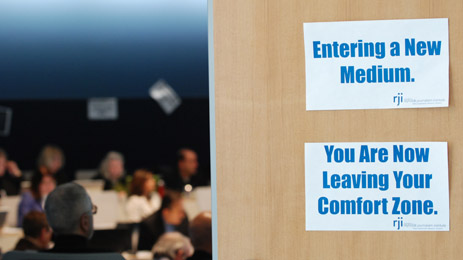 Jane Stevens' report after the launch event: 'With crisis comes opportunity…'
More than 100 journalists, advertising experts, community activists, technology experts, librarians, educators and students gathered — from Washington, D.C. to Hawaii, in person and virtually — for an RJI Talkfest to launch the RJI Collaboratory, a news organization incubator for Web-based entrepreneurial journalists.
As the first example of how the RJI Collaboratory plans to be a solution-oriented organization, Dean Mills, the dean of the Missouri School of Journalism, announced the debut of the RJI Collaboratory network. The network is a Ning-based social network where people from many professions and walks of life will develop entrepreneurial journalism tools and projects.
Amy Gahran and Adam Glenn, co-founders of I, Reporter, are managing the network. For the remainder of her fellowship, Reynolds Fellow Jane Stevens, who hosted the Talkfest, will continue to guide the growth of the RJI Collaboratory.
The Reynolds Journalism Institute launches the RJI Collaboratory during a critical time for journalism. In 2008, traditional news organizations laid off more than 15,000 journalists. Hundreds of communities and neighborhoods now have little or no coverage of their local health, their local environment, or their local government. Some no longer have reporters, no journalism at all.
This trend is likely to accelerate. Some people predict that half of the nation's 1,500 daily newspapers will no longer exist within 10 years.
With crisis comes opportunity: The Web continues to propel the nichification of news. Hundreds of Web-based news/information sites and organizations have appeared over the last few years and are thriving, including MaxPreps.com, MinnPost, TheKnot.com, WestSeattleBlog.com, CSTV.com (which is now part of CBSSportsline.com),Politico, the St. Louis Beacon, Huffington Post, BlogHer, and Marketwatch. There's a need for hundreds, perhaps thousands, more.
This new medium has its own unique characteristics that require a different type of journalism that significantly changes how journalists do their jobs. It offers the potential for journalists to serve their communities better, to engage more citizens, and to do better storytelling.
The RJI Collaboratory serves:
entrepreneurial mid-career journalists with talent, experience, a good idea, but few resources and little knowledge on how to start an effective Web-based news organization;
entrepreneurial journalists within existing news organizations that are developing transformational strategies to adapt to a Webcentric world.
organizations or communities that need entrepreneurial journalists.
As new media business partners over the last several years, Amy Gahran and Adam Glenn have provided online and citizen media strategies for numerous organizations, including media institutes, newspaper associations and local news organizations.
Amy, an independent journalist and a leader in online news and media for more than decade, has gained considerable visibility in the media, tech, journalism, and advertising communities through her own blog Contentious.com and by managing Poynter's E-Media Tidbits blog. Through these efforts, and many others, she's amassed an extensive, diverse network of contacts — as well as a keen awareness of what has and has not been tried so far in the online news biz, and where the opportunities and pitfalls lie. Amy has also worked extensively with a broad range of tools for online communication, and she's led several successful community-building efforts.
Adam, a long-time journalist, educator, digital media consultant and experimenter, brings to bear 25-plus years of experience in print, television and online news environments, most recently as senior producer at ABCNews.com. He has specialized throughout his careers in news startups, and has built and managed online communities, created numerous journalism training programs, and received recognition for his work with various awards, including a 2007 Knight News Challenge Award for I, Reporter, Amy and Adam's joint venture in citizen media training and consulting. In addition to serving I,Reporter and numerous clients through his independent consulting business, Adam co-founded BGV Media Consulting, which specializes in developing strategies to meet business objectives for digital content creation and delivery. He teaches at both Columbia and New York University's graduate journalism programs, and for the last four years has been managing editor for Columbia's Knight/Carnegie-funded News21 newsroom incubator.
The RJI Collaboratory Talkfest demonstrated the use of the amazing communications networking tools of the Web. About 70 people gathered in person in RJI's Fred W. Smith Forum, where signs at the door said: "Entering New Medium. You Are Leaving Your Comfort Zone". More than 50 people attended virtually, through an Adobe Connect room managed by RJI Technology Testing Center manager Keith Politte. They entered the "room" via their laptop or desktop computers and watched a live video feed while engaging in a live chat with each other publicly and privately.
Many people in both rooms live-blogged the event through CoverItLive.com to the Ning site, which also featured an embedded live video stream from Ustream. Others watched the video on RJI's Ustream channel, and posted comments there. Others Twittered the event into the live blog on the Ning site.
Mark Glaser, who was one of the participants in the Adobe Connect room, also live-blogged the event to Media Shift, and incorporated photos that RJI photographer Karen Stockman posted to Flickr.
During the day, more than 100 people joined the Ning network, more than 250 tweets were posted with #RJI, and more than 500 posts were made to the live blog.
After introductory sessions in the morning that presented a case study of a successful entrepreneurial journalism organization — WestSeattleBlog — Talkfest participants brain-stormed all afternoon. They discussed the opportunities available in Web-based entrepreneurial journalism, and identified some services and products the RJI Collaboratory could provide entrepreneurial journalists in four areas:
building community
marketing and advertising
Web-based entrepreneurial journalism
mobile
At the end of the day, participants were invited to begin putting projects into the Ning network. Over the next few weeks, Amy and Adam will keep growing the Ning site. We will monitor its activity and report on progress made in the projects.
The archive of the live blog is on the RJI Collaboratory network — http://www.rjicollaboratory.org
Videos of the event can be found on RJI's Adobe Connect room and RJI's Ustream channel.
Comments