Post Episode 14: Local news reporters expose government corruption, health concerns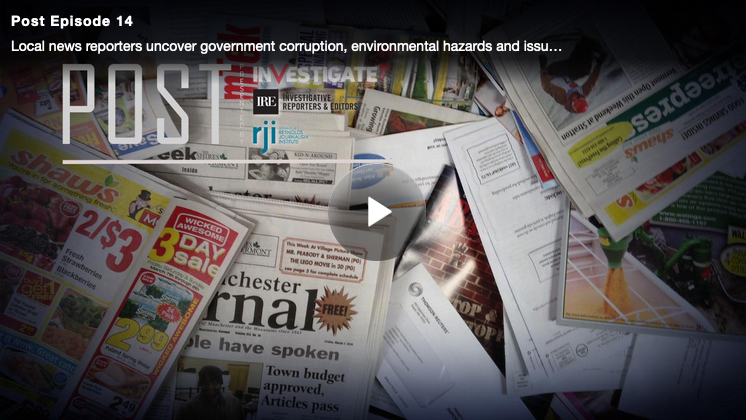 In Episode 14, Post highlights reporting done by local news outlets that has made a difference for smaller communities often left out of the national news spotlight. The pieces highlighted in the episode all appeared as examples in the most recent IRE Journal about local reporting.
Media organizations represented in the episode include CBS11 in Dallas/Ft. Worth, the Argus Leader, South Dakota News Watch, the Belleville News-Democrat, the Anchorage Daily News and Alabama Media Group. IRE Editorial Director Sarah Hutchins, who edits the IRE Journal, joined the show to discuss how reporters worked through these stories and brought solutions to the communities they serve.
The second half of the show contains an interview with reporter Connor Sheets from Alabama Media Group. Sheets uncovered a story about a law enforcement official who became known as the "beach house sheriff." In his story, Sheets followed multiple leads and document trails to uncover that a local sheriff was personally profiting from funds meant to feed inmates. At the same time, the sheriff had also purchased an expensive beach house in Orange Beach.
While the practice of pocketing the leftover money was legal at the time, Sheets' reporting shined a light on the practice and the huge sums of money sheriffs stood to take home if the fund didn't get used in full. That law has since been changed in Alabama. In the episode, Sheets describes how he was tipped off to the story and the documents he used to prove what was happening.
Stories discussed in Post, Episode 14
Post is a media review program from InvestigateTV, Gray Television's streaming channel dedicated to in-depth and watchdog reporting. Post is presented in partnership with the journalism organization Investigative Reporters and Editors. The monthly program is taped at the Reynolds Journalism Institute at the University of Missouri School of Journalism, a partner of InvestigateTV.
Comments