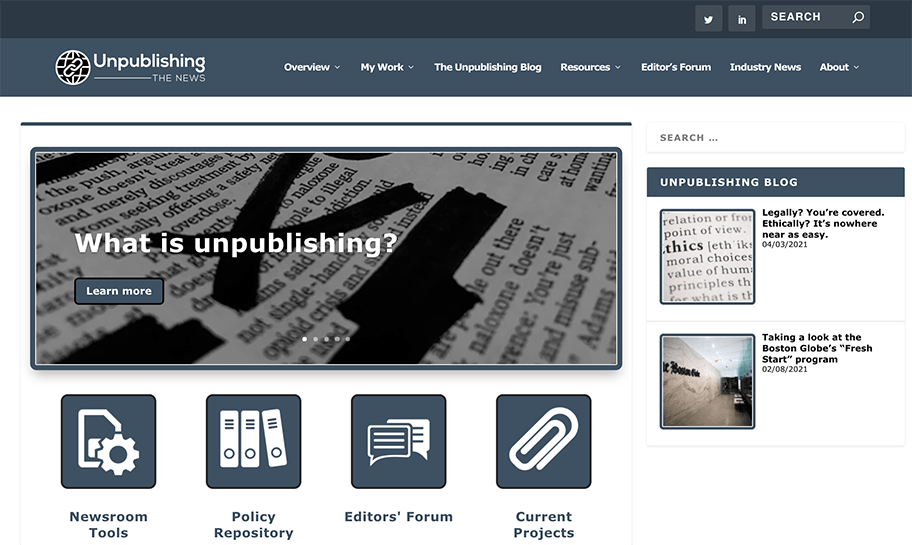 New initiative aims to help journalists address the 'unpublishing' dilemma
Unpublishingthenews.com debuts with policy repository, newsroom resources and new research about the public's expectations of American newsrooms that unpublish
The only resource of its kind, unpublishingthenews.com launched today to help journalists confront the rising pressures to "unpublish" — a digital-age dilemma that challenges everything from daily reporting practices to the fundamental values of the news profession.
Unpublishing is industry jargon for a set of complex issues surrounding requests from individuals to remove, obscure or significantly alter then-accurate information published about them in the past — potentially a decade or more ago. Newsrooms did not face problems of information permanence in the days when news was printed with ink on paper and yesterday's edition was quickly discarded.
Deborah Dwyer, a Reynolds Journalism Institute fellow and a doctoral candidate in the Hussman School of Journalism and Media at the University of North Carolina-Chapel Hill, created this resource in collaboration with an expert advisory board. One member, Alan Sunderland, is executive director of the Organization of News Ombudsmen and former editorial director of the Australian Broadcasting Corporation.
"Unpublishing is a significant and growing issue for every working journalist," he said. "The new website provides a fine introduction to the ethical challenges involved in unpublishing, as well as some handy tips on how to approach those challenges without undermining your work."
As early as the 1990s, news professionals raised the issues of preserving digital news content and the impact these "digital attics" could have. However, no industry standards have been agreed upon for newsrooms to adopt. "That leaves each newsroom — part of a profession often characterized as the 'first draft of history' and one that roots its professionalism in consistent standards — to go at it alone," Dwyer said. "That's a tall order, especially when newsroom resources are tight and public trust of the media is low."
The website includes an editor's forum, where news leaders can discuss pertinent topics and seek guidance on specific challenges. "We are beginning to see some news organizations be more transparent about their unpublishing philosophies and practices, and building on that momentum is important," Dwyer said.
RJI Executive Director Randy Picht noted that the growing concern about online privacy and identity tracking is going to increase requests and expectations.
"This issue is squarely in the laps of all local newsrooms," he said. "Unpublishingnews.com will be a great resource for reporters and editors trying to figure out what to do."
"Unpublishing is a significant and growing issue for every working journalist," Alan Sunderland said. "The new website provides a fine introduction to the ethical challenges involved in unpublishing, as well as some handy tips on how to approach those challenges without undermining your work."
Dwyer's survey of 1,350 U.S. adults in 2020 indicates the public has high expectations of news organizations when it comes to unpublishing, some of which will likely come as a surprise to editors. For example, although de-indexing (or hiding) an article from search engines such as Google has become a common practice, less than half of those surveyed agreed that it was an acceptable alternative to removing the content entirely.
According to Dwyer, more than 80% of survey respondents also believe all news organizations should follow a set of standard guidelines about what information can and cannot be removed from their archives.
"That speaks to the expectations the public has concerning the profession's accountability and can lead to further drops in trust of the news media," said Dwyer. "Results show there is support for legal remedies if the industry cannot come to agreements on its own; 49% of respondents support legislation to force news organizations to remove some information such as old arrest reports from their websites."
Another key resource found on the website is a repository of newsroom unpublishing policies. The repository currently includes more than 50 policies, and Dwyer encourages other outlets in the U.S. and worldwide to submit their own guidelines. "The more policies we collect, the more information newsrooms have to review when developing their own policies. It also provides an opportunity to review those individual newsroom policies en masse to better understand what is occurring across the industry," she said.
As part of Dwyer's fellowship project, she also partnered with three U.S. newsrooms to develop, test and refine tools and processes that can be adopted or adapted by other newsrooms. News leaders at the Chattanooga Times Free Press, for example, signed on to the project with the goal of standardizing their unpublishing request submissions and internal management and retention process. "We receive a growing number of requests to unpublish material, and the submission and tracking system we're working on will help make the process as fair, uniform and objective as possible," said CTFP Editor Alison Gerber.
Other resources in development are a set of suggested unpublishing guidelines based on Dwyer's latest research, pre-publication policy suggestions that could help guard against future unpublishing requests, and an annotated policy guiding newsrooms through answering the big questions associated with setting acceptable standards.
In addition to sharing information and resources, Dwyer said she wants the site to serve as a conduit for those interested in advancing industry response to unpublishing requests. "I hope newsrooms will contribute through discussion and contribution of their own resources, as well as partner with me to develop additional tools," she said. "Working together, I believe we can better address some of the most pressing challenges related to unpublishing and begin to move toward a set of very basic, yet flexible, industry practices."
"Unpublishing is not an issue that any one of us can address alone. It will take the collective efforts of the profession to tackle the associated issues, and I hope the new website serves as a hub to promote and advance that work," added Dwyer.
Dwyer has conducted several research studies on unpublishing during her doctoral program at UNC-Chapel Hill. Her work has been highlighted in popular and trade media, as well as published in the Journal of Media Ethics.
Comments