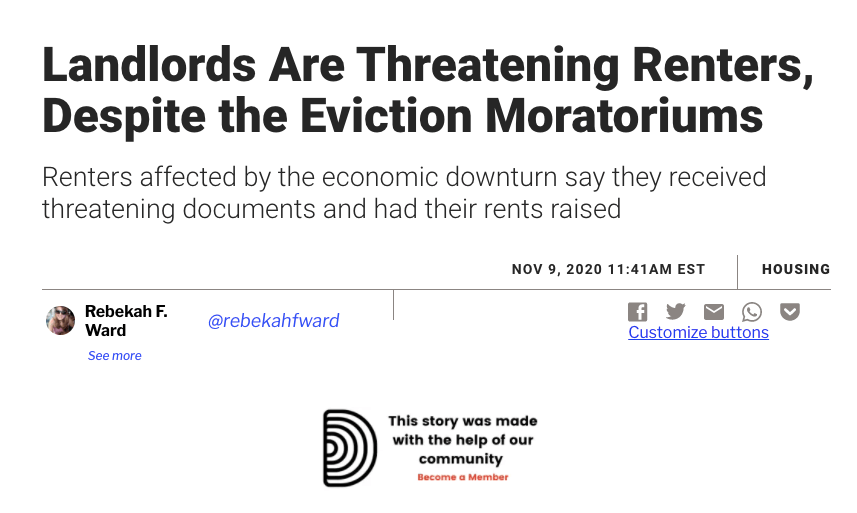 Answering reader questions builds trust and becomes the foundation of our community and newsletter
In the coming year, we hope to grow our efforts in multiple ways, specifically to reach new communities and publish in more languages.
Two weeks ago we published our third reader generated story. Readers of our WhatsApp group were regularly reaching out to send us photos of housing court documents that they had received, which announced that eviction proceedings had been initiated against them for nonpayment of their rent. Both New York State and the Centers for Disease Control and Prevention initiated a block on eviction proceedings because of the pandemic.
However, the reality is more complicated than this. Readers told us that their landlords have offered payments to get them to leave. Some landlords have filed eviction papers, which is legal but just won't go into effect until the future. However the immediate effect is clear. "You live with this stress, not knowing if she will come with a letter, if she can really kick you out of the house or not," one renter said. "The only thing we try not to do is to show the children that there are issues."
Having a direct line to the people affected most by the issues we cover has been invaluable for determining what topics to cover as a news organization. Our current audience is big enough that there is no shortage of questions and story leads provided to us. But what happens when it grows to tens of thousands of people? Our audience editor Nicolás Ríos is currently able to answer every single question posed to us. When that duty grows, we'll have to come up with a system to distribute the workload. However, more questions will mean more story ideas that come directly from the affected people. Answering reader questions builds trust and has become the foundation of our community and newsletter.
In the coming year, we hope to grow our efforts in multiple ways, specifically to reach new communities and publish in more languages. This will require building another community of readers from the ground up. Before we started Documented Semanal, Nicolás and Aldana Vales, who were both students then, spent months traveling to advocacy organization meetings to speak with community leaders and Spanish-speaking immigrant New Yorkers. Their goal was to figure out what information gaps existed, what subjects people needed more information on, how they received their news and what they thought about the current offerings for Spanish-speakers from news organizations. That research provided the underpinning data that helped inform many of our decisions in the early days of Semanal.
To reach out to new communities, we will have to repeat this process. We'll have to find community leaders, interview them and talk to community members. Operating in multiple languages will likely prove challenging, but it will be exciting to be a truly multilingual organization.
Our platform choice is also highly important. Readers who are underserved by the mainstream media often get their news from friends and family on social media. Platforms like WhatsApp and WeChat provide a natural home for a publication, but they also rely on technology owned and operated by private companies. In the past, news organizations have suffered when tech companies decided to reconfigure their algorithms to deprioritize news. WeChat poses a unique problem as it is closely monitored by the Chinese government. There is no perfect solution and as we mature, we will continue to examine this issue to see where we should be.
We envision a future where Documented can serve multiple communities in the way we do through Semanal, with all of the insights and input from our communities being funneled back through our English-language reporting. But first, we are off to start our research again.
Comments