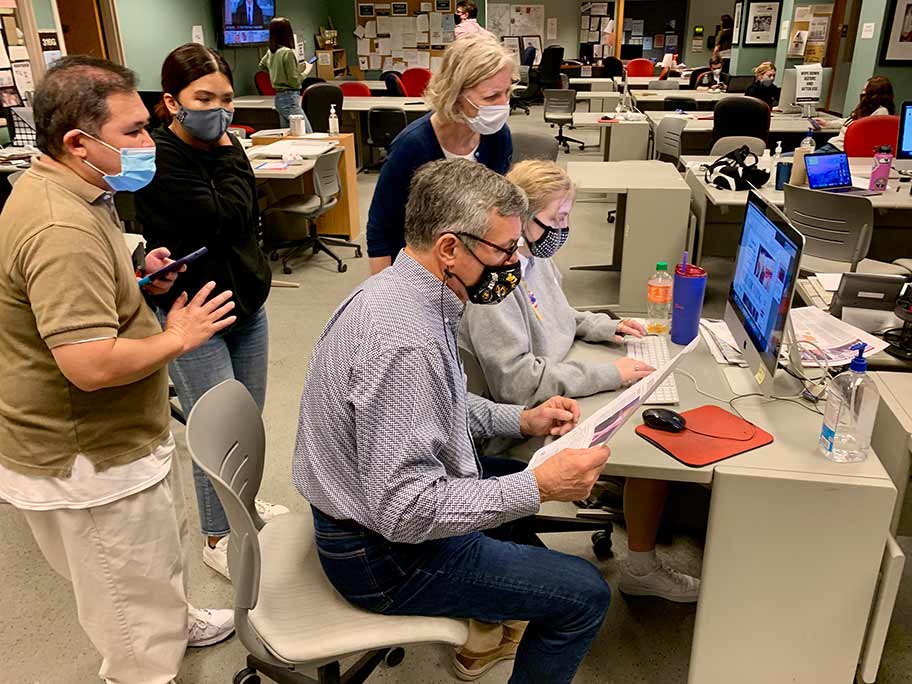 RJI searches for School of Journalism students to pair with local newsrooms on innovative projects
Missouri School of Journalism students and recent graduates will be pairing up with local news outlets this summer to work together on innovative projects as part of the 12-week RJI Student Innovation Fellowship.
Students and recent graduates can apply between Monday, Jan. 18 and Friday, Feb. 26. Newsroom partners are also needed for the fellowships and are encouraged to express their interest. (Students can choose their newsroom or RJI can assist.)
Fellowship projects must focus on an innovative idea such as new storytelling techniques, audience engagement strategies, delivery platforms and revenue opportunities. More specifically, projects could include Google analytics, Instagram video, virtual events or a revenue experiment. This past summer the fellows worked on projects that included creating newsletters, analyzing a push alert system and boosting audience engagement efforts. Fellow Caroline Watkins worked with the Chatham News + Record in Chatham County, North Carolina, to help share the Record's content on new platforms, particularly Instagram and TikTok, in better and more consistent ways.
"I think the RJI Student Innovation Fellowship is a great opportunity to apply the skills that you have learned in your classes at Missouri to a professional newsroom," says Watkins. "Through my fellowship, I was able to use the problem-solving skills that I learned in my convergence classes to make an impact in a newsroom that wanted to evolve its digital presence. … I think the biggest lesson that I learned through my fellowship was that experimentation pays off. I am grateful that Kat Duncan and my boss, Bill Horner III, supported me and allowed me to have that free rein to be creative, because it allowed me to produce meaningful and innovative work at The Chatham News + Record."
RJI Interim Director of Innovation Kat Duncan says the fellowships provide newsrooms a boost so they can innovate, even if they have limited resources.
"We want to help provide newsrooms with the opportunity to experiment with innovative initiatives — whether it's to build an audience, increase revenue, tell stories in new ways, reconnect with their communities or whatever they want to try," says Duncan. "Many local newsrooms don't have the time or resources to dive into new things, so having a dedicated fellow in their newsroom will help them accomplish their goals."
The small weekly, Chatham News + Record, in rural Chatham County, North Carolina, jumped at the opportunity to have a fellow in an area that was previously designated a news desert.
"She (Caroline) used her skills to help us focus our digital engagement efforts and build audience for us," says Bill Horner, publisher and editor of the Chatham News + Record. "For us, it was extraordinary. We're continuing to build on the work she did as we grow our brand and our footprint in the market."
During the fellowships, students work 30 to 40 hours a week with their newsroom between May 17 and Aug. 6. Each student fellow receives a $5,000 stipend from RJI.
The fellowships are sponsored by RJI's Palmer Innovation Endowment.
Comments