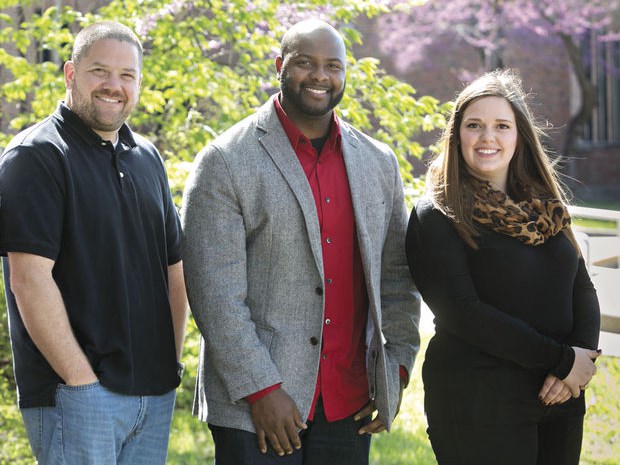 The possibilities are endless
Originally published on The Columbia Daily Tribune website
Looking back on this academic year, I am most proud of my time with the Talk Story, Write Story program. I knew it was going to be a huge inaugural undertaking but had no idea how much this scholarship effort would consume my life. From Day One, there were many moving parts — 25-plus people, complex scheduling and demanding rigor. By mid-semester I was looking for that 25th hour every school day and spent many Fridays writing emails and editing essays until midnight.
Despite the extra effort and stress, I grew to passionately believe in the program's process and goals. Now that college acceptances and scholarships are coming in, I can see all of the hard work and dedication by the whole Talk Story, Write Story team paying off (pun intended).
My biggest surprise was the relationships I built with students. I always wanted to have a direct impact on one student's future. Now, I feel I have become someone 10 students are certain they can depend on, who doesn't just say "I believe in you" but shows it, every day. Students I would not have had the opportunity to meet in a school of 1,600 students now come by my office just to check in or to talk when they need help and advice.
I have seen firsthand how one person can make a difference in a student's life just by showing up, cheering her on, encouraging him to reach for greatness. Talk Story, Write Story's one-on-one mentors made their students believe that greatness is achievable and that each is worthy of attaining it. All now have four more people — each student's individual mentor, Tad Bartimus, Dean Wariner and me — in their corners forever.
My vision for Talk Story, Write Story's future is bright. We have the full support of Columbia Public Schools' administration and Hickman High faculty. As a secondary educator, my primary goals are to help students graduate and make realistic post-graduation plans; this program assists me in achieving both.
Half of our 363 graduating seniors are not prepared to pay college costs next fall. By helping our students maintain a high grade point average and get money through writing and winning scholarships, we help them earn their way through college.
I will miss Tad and Dean personally and professionally. I wish they could stick around to see this program take off. But I know from working with alternate mentor Laura Erdel this year that Talk Story, Write Story is in good hands. Fran Atkins, a valued education specialist who is retiring from CPS this month, will be co-mentor leader.
The 2016-17 Talk Story, Write Story team will welcome a second group of qualified seniors in September to begin what I am positive will become an amazing tradition at Hickman and perhaps at other schools in Columbia, the state of Missouri and — who knows? As we tell our students, the possibilities are endless!
Top photo Kim Wade / Talk Story, Write Story. From left, Todd Maher, Eric Johnson and Jordan Reith worked on the high school end of Talk Story, Write Story to pair and support the mentors and mentees. Johnson is the Hickman High School principal. Maher is the school's counselor, and Reith is the counselor graduate assistant.
Comments