12 tips for 'Pitching like a pro' from 'Shark Tank' contestant Melissa Gersin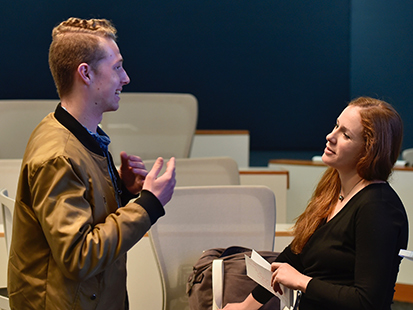 When asked how she might improve or change her pitch to "Shark Tank" investors, entrepreneur Melissa Gersin says, "I probably wouldn't change anything."
She says she feels this way because she went into the pitch well prepared and confident. In fact, the pitch felt easy because of all the prep work, she says. Hours of preparation and a viable business idea earned an offer from investor Robert Herjavec. Gersin, CEO of Tranquilo, pitched her product Tranquilo Mat, a solution she developed for calming fussy infants.
Gersin spoke March 19 to RJI Student Competition teams about her experience on the show and her growing business.
During her presentation at the Donald W. Reynolds Journalism Institute, she also shared pitching tips as the teams prepare to pitch their journalism products to judges this spring.
The following tips are also good for anyone who needs help speaking in front of a group of people, she says.
Keep your pitch short so there is plenty of time for questions.
Make sure your pitch answers the following questions.

What is the problem you're trying to solve?
What is your proposed solution?
Who are your competitors and why is your solution the better option?
Is there enough opportunity for this product in the market? Do you have information to back this up?
What makes you and-or your team qualified to solve this problem?

If you're allowed to use a slide presentation, keep it simple so people will stay engaged with your pitch rather than trying to read the slides.
Practice your pitch with friends, family, mentors and business coaches.
Repeat step four several times.
Have people ask you any questions they think an investor might want to know about your business.
Familiarize yourself with the organization or investors you're pitching to. For Gersin, this meant watching the show so she knew more about the sharks, their habits and which products they tended to be interested in.
Be prepared for things to go wrong. Technology will fail. You might trip over something.
Collect yourself and continue your pitch. Know your pitch well enough so you don't need to rely on a slideshow or cards. Gersin wasn't allowed to use either of these during her "Shark Tank" pitch.
Have confidence in yourself, your expertise and the product you're pitching.
"I like to go into pitches with the attitude that I am confident," says Gersin. "I know what I'm talking about. I know who I am. And I know what this product is."
If you struggle with confidence, check out the Ted Talk by social psychologist Amy Cuddy or listen to music that makes you feel empowered and strong, says Gersin.
Gersin walked down the hallway into the "tank" with confidence by placing her hand on her hip to give the appearance of her confidence, she says.
Know what you're willing to accept from the investors and when to walk away, she says. Be prepared if they try to devalue your business.
"I knew what my limits were," she says. "I knew what kind of offer I was going to accept and what kind of offer I wasn't. I did practice some negotiating as well just in case that came up. I tried to prepare for anything I may or may not see. I also relied heavily on my intuition."
Remember, the people you are pitching to are just human, too, she says.
Comments