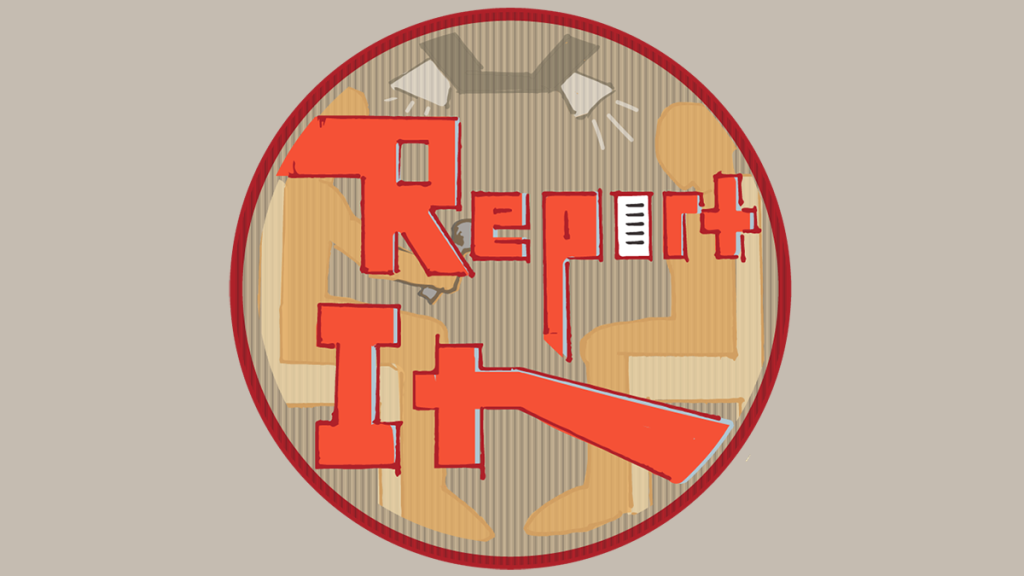 A Girl Scout patch: Exploring and building trust in journalism
Sarah Roelke, a 13 year old Girl Scout, built the Report It! patch program which follows a series of activities highlighting women in journalism, their accomplishments and exercises to demystify the profession
When it was time to create her Silver Award project Sarah Roelke, a 13 year old Girl Scout of Troop 4425 in northern Virginia, asked herself what affects young people like her. Journalism was her answer. Designed as a journey of learning, Roelke's Report It! patch program follows a series of activities highlighting women in journalism, their accomplishments and exercises to demystify the profession.
When Sarah and her mentor were looking for help in building this resource, we knew it was a perfect fit for RJI because it aligned with our mission to increase news literacy and inclusion. So we are excited to share that the Report It! patch program is available now for any girl scout to earn as a patch, and the framework is available on Github.
Trust grows from familiarity and Roelke's program peels back layers to explain the who, how and why of journalistic practices. She reached out to journalists asking for best practices in investigative reporting and dove into the Girl Scout Archives to find journalists who were Girl Scouts.
"Welcome to the Report It! patch program for Juniors and Cadettes, or anyone who wants to learn more about journalism." — from the introduction to the Report It! Patch program
Roelke highlights the work of Gloria Steinem and Nikole Hannah-Jones as journalists and Girl Scout Alums while providing a list of other influential women journalists to learn about and research.
Activities punctuate the program guide to highlight the pitfalls of unreliable information, explore what might have changed if the investigations had not been there and how to be a better informed consumer of journalism. And at the end, the directions of how to download the patch and how to file your own patch.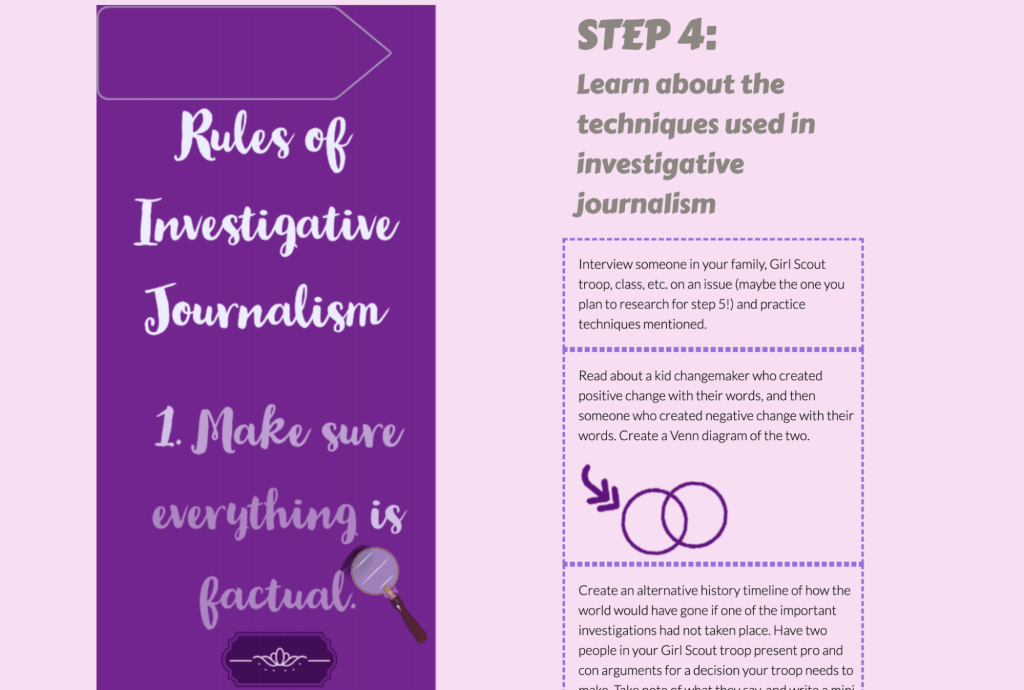 I sat down with Sarah Roelke, 13, over Zoom to chat about creating the Report It! Patch project.
Lager: What is it like being a Girl Scout?
Roelke: For me, being a girl scout is doing service projects and helping, and just having a lot of fun with my troop. We do lots of fun outdoorsy things, the things I wouldn't really get to do outside of Girl Scouts, like laser tag or splatter paint.
Lager: How did you decide to create the Report It! patch?
Roelke: I knew I wanted to do something like a patch for Girl Scouts in general, because I had done a lot of Girl Scout programs during the pandemic. So I wanted to give back to something that I had done a lot of, and then I just started thinking, what can I make a patch about? What affects a lot of people my age? And that was journalism.
I created this program because when I started brainstorming project ideas, a major issue in my local and broader community that came to mind was journalism, and the confusion in sourcing news. In today's world, many places people go for news may be unreliable, or they just don't appreciate the journalists and the work they put into bringing the news we read every day.
Many people don't know where to start, and when writing a paper or report for school, it can be useful to know how to determine if the information they found is trustworthy. To combat this I wanted to make a patch program that could be a fun and useful resource, as I myself have enjoyed completing patches on other topics. Even if you are not a Girl Scout, you can benefit from learning about the history of women in journalism, sports journalism, and more.
Lager: How does journalism affect people your age?
Roelke: Well, it's really important because obviously with school and stuff, you have to research a lot of things. And then just with the world around us, we're at the age where we start paying more attention to the news and the outside world. So it's important to verify where our information comes from and make sure we're getting information from good sources for both school and for just ourselves.
Lager: You highlight many women journalists in the program, did you expect to find so many were Girl Scouts like you?
Roelke: I definitely thought it was interesting. I didn't think that a lot of those people would have been journalists. I knew that obviously with Girl Scouts, having such a big population, that they would probably be a lot of Girl Scouts in general, but with the girl scout archives help, I was able to see a lot of women journalists that have been able to thrive in the world today that I didn't know, came from Girl Scouts.
Note: Journalists who are Girl Scouts Alums include Katie Couric, Gayle King, Lisa Ling, Gloria Steinem, Taylor Bryant, Savannah Guthrie, Nikole Hannah-Jones, Jo Ling Kent, Nina Parker, and Kate Snow.
Lager: What sticks out the most to you about creating the program?
Roelke: Probably the most significant memory for me was the first thing I did for creating the PDF was creating the back cover [the last page of the booklet] just to start working on the graphic side and get my creative juices flowing.
When I started working and I finally finished the back cover, I was like, "Oh, I'm actually getting started on this," because before I had just done research. Nothing was really working. So once I had done the back cover, it was something that like this project is actually coming together a little bit.
After finishing the cover, that was only the start of my graphics. Then came a lot more research for the steps 1, 2, 3, and four with the content aspect of it. I had to talk to some journalists that helped me iron out what would be good, what they think would be important to have people my age to learn about and what I think would be fun for people my age to learn about.
And then it just came to adding the graphics and all the little pieces that we're turning into a program with a lot of resources that people can use.
Lager: Do you want to become a journalist?
Roelke: I would say no. I don't think it's really something that I'm necessarily good at, and it's not something that I would think I'd particularly enjoy. I think it's important for somebody interested in it to do it, but I think I have other places to make my impact. I like math and science a lot, and I think that's where I'll probably end up.
Lager: Do you hope this project inspires others to become journalists?
Roelke: Yes, I think it'd be good if other scouts become journalists. Being a Girl Scout helps broaden your awareness of the world and what you can do, and boosts your confidence to help the world and make it better than you found it. It'd be really nice if other Girl Scouts could become journalists. Not only can you tell other people's stories, but just share really important issues.
Lager: When other scouts go through the patch program what do you hope they take away with them?
Roelke: I think for me, it'd be really nice for them to learn that there are lots of different aspects of journalism. It's not just like the front page, CNN or Washington Post or whatever talking about the latest on world leaders. There's also sports journalism, investigative journalism and more. There's all different types of journalism.
And when you're reading it too, there's a lot of stuff you have to pay attention to when you're getting your information. Not just looking at the headline or even the site URL, because there's a lot more to it.
(Note: Some of the exercises in the Report It! Patch program explore spotting fake news and finding good sources.)
Lager: What's next for you?
Roelke: I'll probably take a little bit of a break just over the summer to work on some other Girl Scout activities that I want to do, and then I'll start planning for my Gold Award because that would be the next step. I did my Bronze and then I did my Silver and then those are all just stepping stones to start my Gold Award, to do an even bigger project.
Lager: Do you have any idea what you want to do for your Gold Award project?
Roelke: Not yet. I think I'd probably do something related to building something in my community. But I have no idea yet, because I haven't started planning it out.
Editor's Note: This interview has been edited for clarity and length by Mikaela Rodenbaugh and Kat Duncan.
Comments