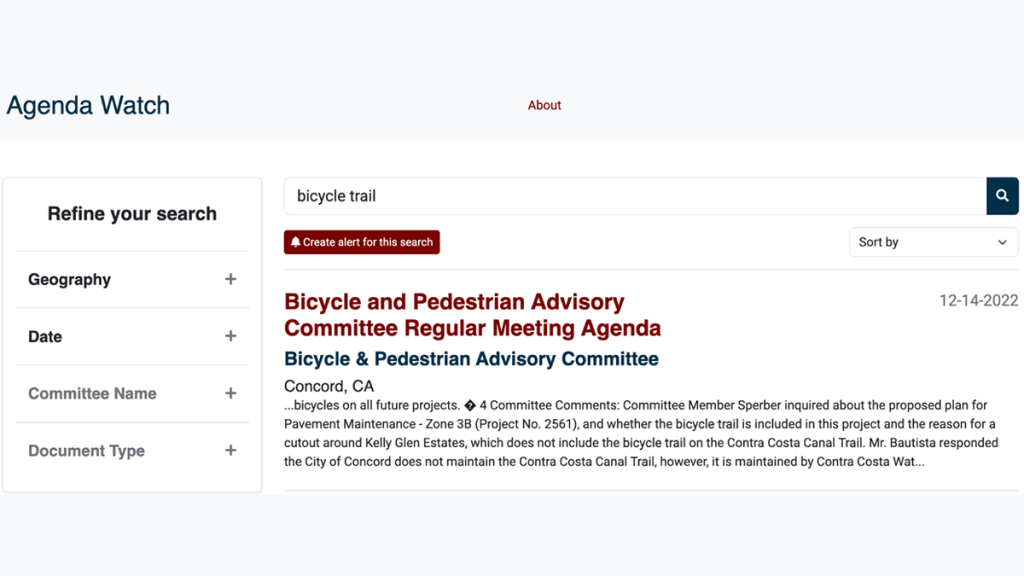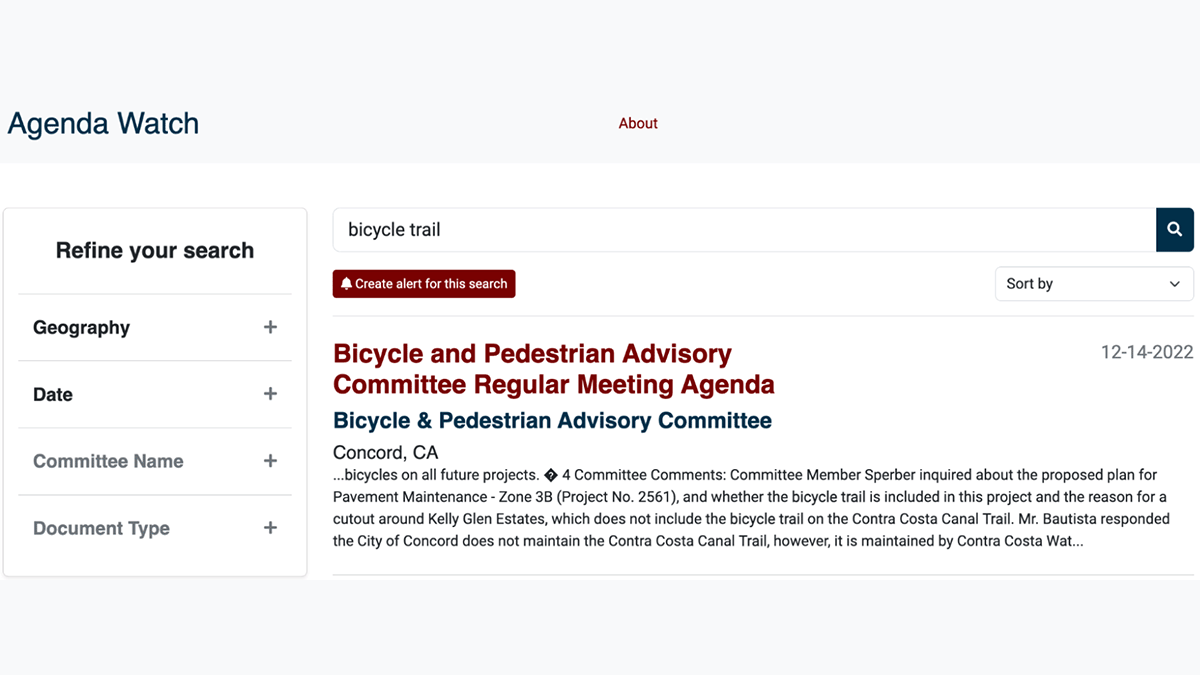 Agenda Watch debut approaches
Expected to be released in May, this new platform will help journalists keep tabs on local government
Journalists will soon gain access to Agenda Watch, a new platform to help them keep tabs on local government.
Agenda Watch has traveled a long road to reach this point. The idea was born in 2019 as a student project in Stanford's Exploring Computational Journalism course. Students created a prototype — still live at agendawatch.org — that enables reporters to subscribe to email alerts when keywords of interest appear in agendas and minutes from city councils and similar local bodies.
Positive feedback about that early prototype inspired Big Local News to carry on and expand the project. The new platform, planned for public release in May 2023, will allow journalists to search scraped archives of agendas and minutes as well as sign up for email alerts when potentially newsworthy items appear in such documents.
A year of progress
Agenda Watch has made big strides since Big Local News and RJI announced their partnership on the project.
Early last year, we hired DataMade, a software shop with close ties to the news industry, to help propel the project forward on multiple fronts. In the last year, DataMade has significantly expanded our capacity to gather documents from local agencies by extending our open-source web scraping library.
They've also helped us write code to bring these scrapers to life. By the end of March, we plan to start gathering documents from dozens of agencies in four regions where we have news partnerships: Atlanta, Los Angeles, Philadelphia and the San Francisco Bay Area.
By the end of May, we hope to have ironed out the inevitable scraping hurdles and scale to all possible areas covered by our scrapers — more than 2,000 agencies nationwide.
The documents we collect along the way will be posted to an open project on DocumentCloud, providing immediate access to journalists and the wider public. These documents will also eventually power the Agenda Watch platform.
We will continue soliciting feedback as we flesh out the rest of the platform, which will enable users to save useful queries and subscribe to alerts based on those queries. We hope to invite the news community into the platform by the end of May.
What's Next
The public release of the Agenda Watch platform is just the beginning.
The job of gathering documents from public agencies is a massive undertaking, and we're excited to engage civic coders, students, news organizations and others interested in helping expand our reach.
In particular, we hope to work more closely with smaller news organizations and in areas with little or no news coverage. Keep an eye out for announcements about hackathons and opportunities focused on building scrapers to serve such organizations and communities.
We also plan to work with journalists, researchers, and members of the public to help us find novel uses for our growing corpus of documents. For example, current Stanford computational journalism students are experimenting with ways to extract structured data from documents — people, places and organizations — to enable reporters to more easily locate documents that reference these entities. We're excited about the potential of such projects to help reporters better serve their communities through local accountability reporting, and we encourage you to reach out to us with your own ideas.
Ping us @BigLocalNews or via email with your feedback or thoughts. We'd love to hear them!
Comments