California trip makes us a stronger team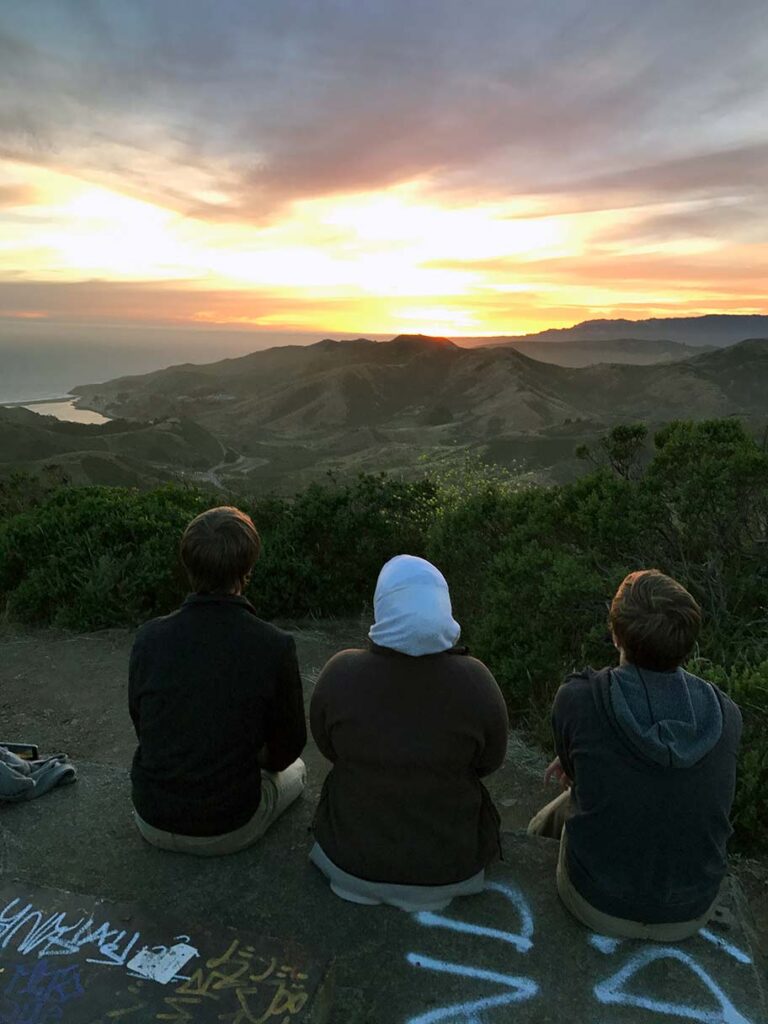 If you've watched the reaction video taken at the RJI Tech Showcase in late April, you probably already know just how shocked we were to win the app competition. We didn't even all know each other before starting the competition, so getting to this point was pretty surreal for us. We had no idea what to expect moving forward, and with finals coming up, we didn't have much time to think about it.
Before we knew it, we were in California ready to start our tour of Silicon Valley and the Bay Area. Our first stop was Stanford University, where we met Lorenzo Limonta, a Ph.D. candidate in Aeronautics and Astronautics doing research in artificial intelligence and mobile technology. Meeting him gave us a chance to talk to someone who had been working with venture capitalists. We're still in touch and will be discussing our app with him in the near future.
Banjo was the first tech company we visited. It's a small firm focused on showing where potentially newsworthy events are happening around the world, live, in a visual way. The most important part of this meeting was the free hats! Just kidding, although the hats were pretty great. We spoke with Rish Mehta, the director of engineering at Banjo.
Evan: My favorite work-related part of the trip was talking with Rish. He shared what they do and some of the solutions they have come up with for problems they have encountered. The most fascinating was when they reached out to Nvidia to develop special hardware they needed to analyze the sheer amount of live data they relied on. I also found some of their computer vision solutions elegant and impressive. Their workspace was also cool and fun, televisions lining the walls and fun paraphernalia adorning the desks.
Chris: Getting an inside look at such an innovative and successful company gave me a new perspective on startups as a whole.
Humera: I just loved seeing how passionate everyone at Banjo was and how much they believed in the work they were doing. I've always thought of successful companies as places that just crank out products for money, so it was inspiring to see most of the businesses we visited were passionate about the work they were doing and the service they provided people.
We also got a chance to sit down with senior staff engineer Peng Zhuang and software engineer Dan Wang at Google. Learning about their jobs and the way Google runs the company was interesting and insightful. We also got a tour of the campus and all the perks Google gives its employees.
Evan: I wasn't aware that the employees shared a code database for everyone, which was interesting. The way they build tools for themselves to make their employees work better is impressive.
Chris: Sitting down with Google employees and listening to them talk about their experiences gave me a sense of what I could expect were I to go work for a huge company such as Google.
Humera: I'll just say it — the campus was amazing! I mean, who hasn't wanted to see Google HQ? Ask Evan and Chris, I was freaking out the whole time. Seriously, they actually had 20 cafes there and a sand volleyball court. But on a more serious note, talking with Google employees was pretty great, too. Google is such an important part of our everyday life. Learning about how everything worked and how new products were developed was kind of mind-blowing. Google Hangouts and Gmail were developed just to make internal communication easier and then were later pushed out to the public. It just goes to emphasize how big of a company Google is.
In San Francisco, we split our time between tech companies and newsrooms. We got a chance to sit in on the San Francisco Chronicle's story meeting. That's where they decide the major stories for the day. We met Marissa Lang, the tech culture reporter for the Chronicle, and had a really great discussion about the intersection of technology and journalism with her. Just in case you were wondering, she confirmed to us that yes, tech companies really are like the TV show "Silicon Valley." Later, we stopped by Buzzfeed's Open Lab, where five fellows were working on projects related to this overlap between technology and journalism.
Evan: Marissa talked some about how automation really has a big role to play in journalism, and could make journalists more efficient in the future.
Chris: Listening to someone as passionate about their area of journalism as Marissa, in addition to that area being relevant to me as a computer science major, was really cool, and offered a lot of insights into the future of our project.
Humera: To me, it was really interesting to see the way a major newsroom incorporated technology into their storytelling. Ultimately, I decided to be a journalist because news provides a way of connecting people with information they wouldn't have otherwise and because it provides a platform for communities that don't always have a voice. I know we have a ways to go before we perfect that goal, but technology only helps us along in the process. Our job as journalists is to meet our audiences where they are, so if we're not incorporating new technology into our storytelling, we're already a step behind. Plus, finding ways of using technology in journalism is just exciting. You get to be more creative and innovative and you can find new, more powerful ways of telling and sharing the news.
One of our main meetings was with Matter, a business accelerator in the Bay Area. Matter focuses on helping media entrepreneurs with their startups. They host a 20-week process that provides rapid feedback. We pitched Informator to Pete Mortensen, director of program at Matter in San Francisco, who gave us detailed advice on our app and presentation.
Evan: Pete had the exact same glasses as me, which was pretty cool. His feedback was more than pretty cool, and I know we all took away a great deal from our pitch.
Chris: My favorite work-related part of the trip was getting to pitch our team's app idea to Matter. By doing this, we were able to receive feedback on things ranging from the style of our presentation to the structure of the app itself, all of which will undoubtedly be helpful down the road. In addition to this, we were able to see the process that successful startups have undergone in order to turn their initial ideas into profitable businesses.
Humera: At each of the companies, I've just been constantly reminded how much overlap there is between technology and journalism. And again, I really liked seeing how much the people working at Matter — and all of these companies — really cared about the work they were doing and how much they seemed to enjoy their jobs. Matter probably highlighted that the most and pitching to Matter was probably the most useful part of the trip for the team. We were able to get some advice from people who are actually specializing in helping businesses similar to Informator succeed.
We really enjoyed the trip and came out of it as a better, stronger team. We have some plans for the future and no matter how the future goes, we plan on sticking together.
Comments