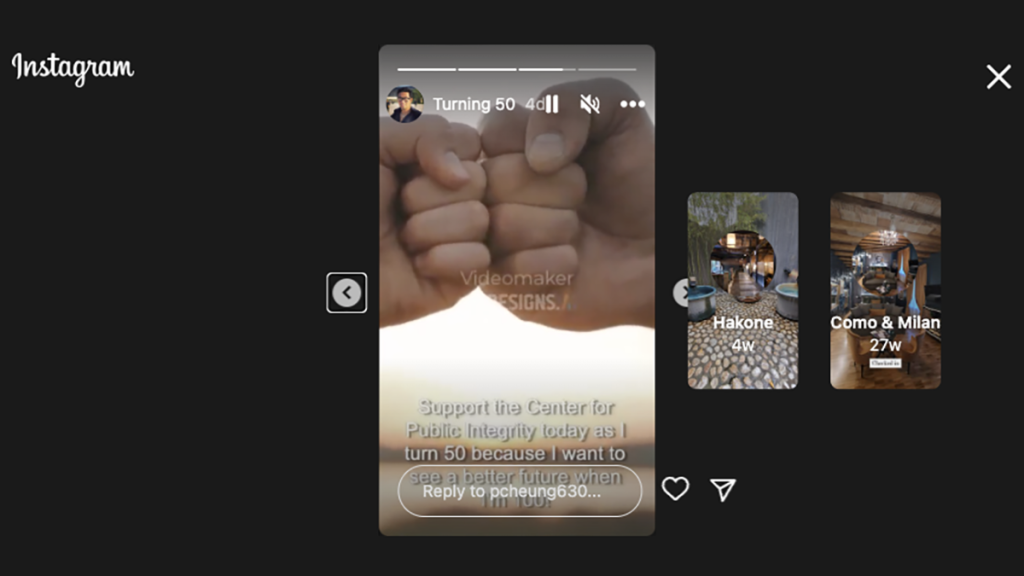 Four text to video AI tools for social video building
My rule was simple: To create a video in less than 30 mins and not spend more than 15 minutes learning the tool
Paul Cheung is a RJI Columnist who will explore how newsrooms and journalists with limited resources can use AI tools to improve efficiency and increase capacity in their daily development and audience operations.
Turning 50 marked a significant milestone in my life, and I wanted to celebrate by creating a birthday video fundraiser campaign on social media for The Center for Public Integrity. With the abundance of off-the-shelf "Artificial Intelligence (AI)" video services, I set out on a journey to find a "text to video" AI tool that would allow me to create a video effortlessly, within a short timeframe.
My rule was simple: To create a video in less than 30 mins and not spend more than 15 minutes learning the tool.
Before diving into the reviews, it's important to note that my evaluation is based on personal experiences, and I have not received any compensation or collaboration with the mentioned programs or companies.
Descript offers a range of impressive features, including multi-cam functionality and AI text-to-speech technology for cloning your voice.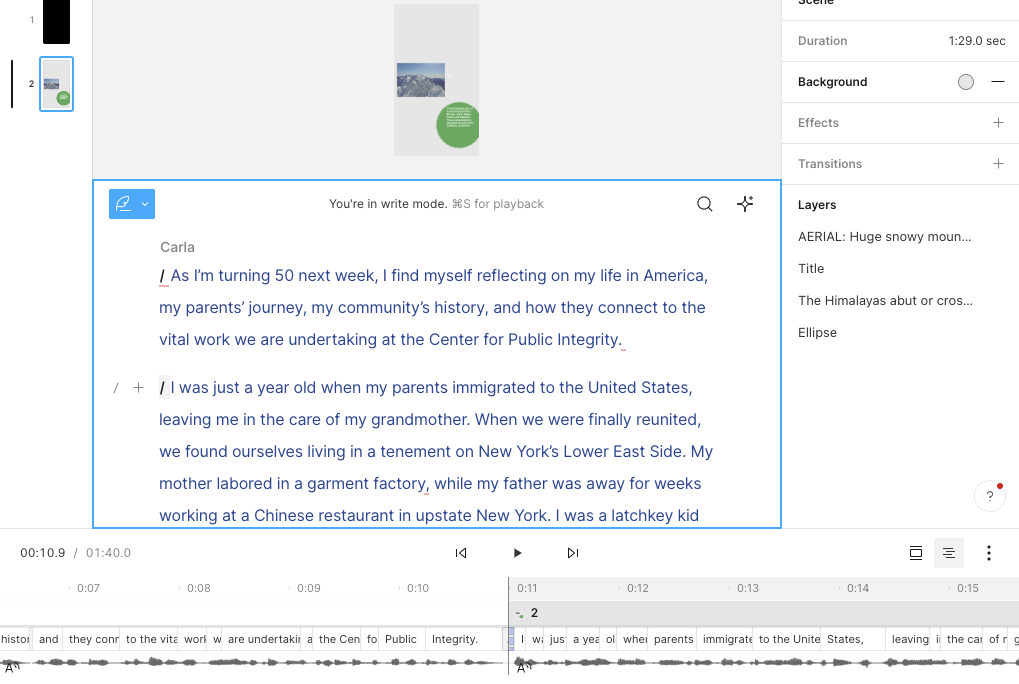 However, it failed to meet my criteria of creating a video within 30 minutes with minimal learning time. I gave it a good faith effort with Descript because the review from a variety of sources was pretty good. I uploaded my script and watched their tutorial for about 10 mins before I gave up.
The platform requires a bit more investment of my time to fully grasp its capabilities. I think it may be suitable for experienced video editors and producers.
Murf.ai impressed me with its user-friendly interface. By importing the script, the tool automatically segments the script into voice segments, allowing you to choose from their library of voices. While it supports both video clips and images, Murf.ai shines as an AI voice generator. The voice styling features, such as emphasis and pitch control, offer customization options.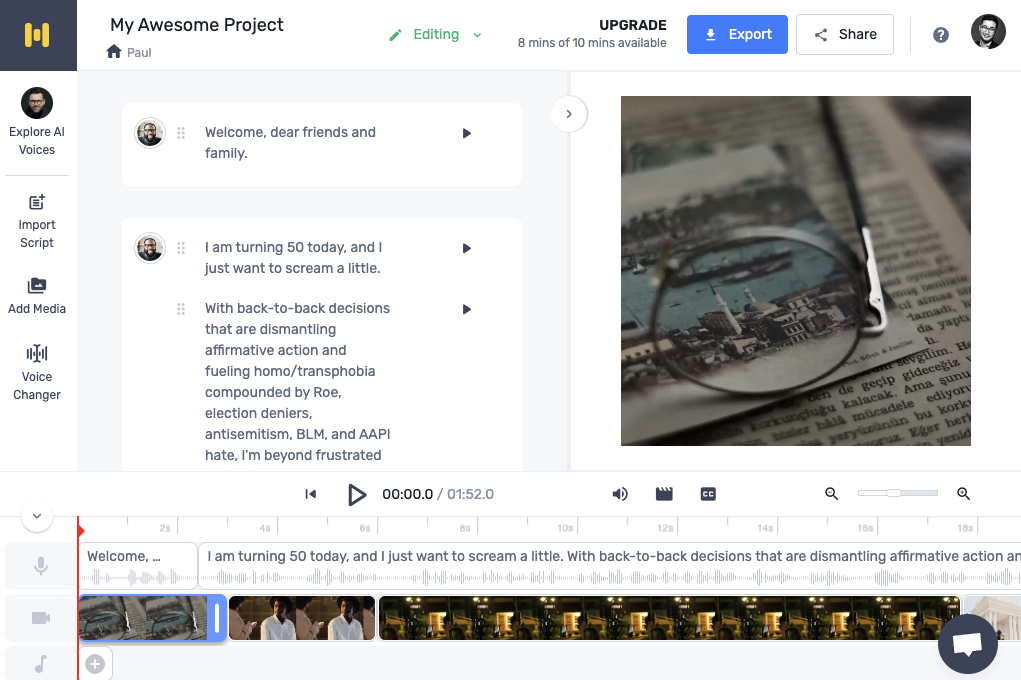 However, the stock images library could benefit from greater variety, and deleting photos within the timeline tool is not intuitive. Despite these minor drawbacks, Murf.ai did meet my goal of quickly generating a video with a specific voiceover requirement.
Murf offers 4 plans and each tier will unlock different kinds of features such as language and accents, voice changers as well as better customer support.
Free
Basic
Pro
Enterprise
$0
$228 per year /
$19 per month
$312 per year /
$26 per month
$5,940 per year / $99 per month
Wave.Video is a versatile video platform that enables users to start from a text script or choose from existing templates for further editing.
I was initially excited by the variety of templates available ranging from Tiktok videos to Instagram videos to reels and stories. However, I found the process to be time-consuming and not aligned with my goal of quick video creation.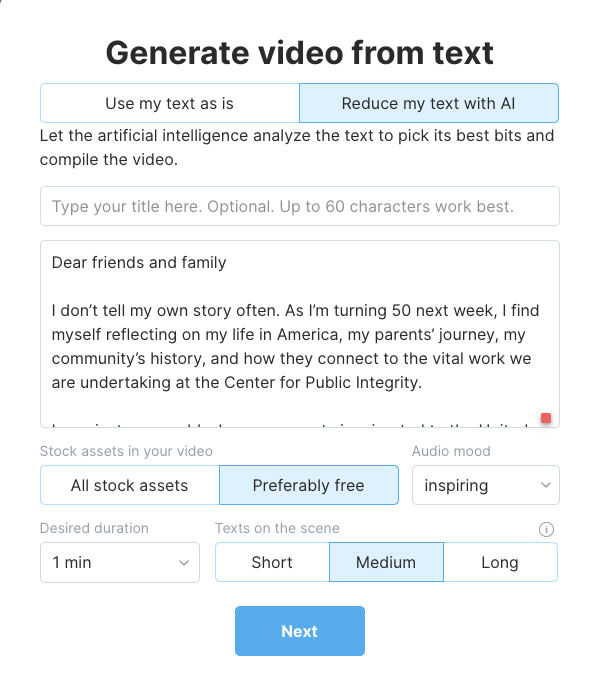 However, Wave.Video offers a different path of making video via their "generate video from text" tool. This option proved to be a more suitable option.
I can predefine the length of the video I want to create and also use their AI tool to reduce my text to fit the length of the video. Notice they say reduce instead of edit. Their timeline editing feature was pretty intuitive to use by allowing easy replacement of images and video clips. The platform also provides pretty good layout and design options but the text-to-speech AI can use more refinement. It sounded robotic and stiff.
They offer 4 plans and each tier will unlock different kinds of features: more stock library assets and templates, shared login, longer length video editing and processing and live streaming. I think this tool will be a good production for the 1-person social media team.
Free
Streamer
Creator
Business
$0
$192per year /
$16 per month
$288per year /
$24 per month
$576 per year / $48 per month
Designs.ai stands out as an integrated platform offering various AI-powered tools, including copywriting, logo generation, social post design, and video creation.
I was skeptical at first because there were an overwhelming number of options to choose from but Designs.ai turned out to be the tool of choice for my campaign video.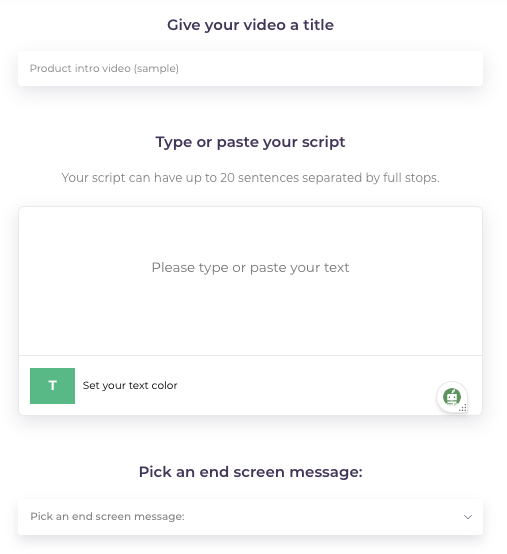 The UI was simple. With the "Text to Video" feature, I effortlessly copied and pasted my script, resulting in an auto-generated video utilizing their stock library.
The editing process was intuitive, allowing me to swap out images and clips from my own files or their library to align with my script's intent. For example, when I wrote "Join me in the fight to protect our civil rights!" The AI pulls a video clip of two people boxing each other because the AI used the verb fight as the keyword to select the video. The tool was not context aware of how I use fight so I had to use a different keyword to swap out the visual asset.
The only downside was the voice library. While it was less stiff and robotic than wave.video, it wasn't as nice as Murf.ai. I had the option to voice over the video but decided against it because I don't love the sound of my voice. This was the final product I uploaded to my Instagram stories.
Their free version is mostly for demoing. Since I didn't pay, you can see the design.ai watermark on my video. They offer three plans and each tier will unlock different features such as export storyboards in PDF or ust GPT advance for AI writing instead of GPT Basic for the basic subscription. I'll be inclined to pay the basics or pro to try their other tools especially their design maker to create social media content.
Basic
Pro
Enterprise
$228 per year /
$19 per month
$588 per year /
$49 per month
You need to contact them
So, choosing the right AI video service really does depend on your specific needs and budget. Fortunately, most of these tools are clearly priced out with options, typically ranging from $500 to $600 for their mid-tier service.
With some time investment, smaller news organizations lacking a video team and limited social media production capabilities can benefit from these AI video tools to enhance their video production, particularly on social media.
Comments