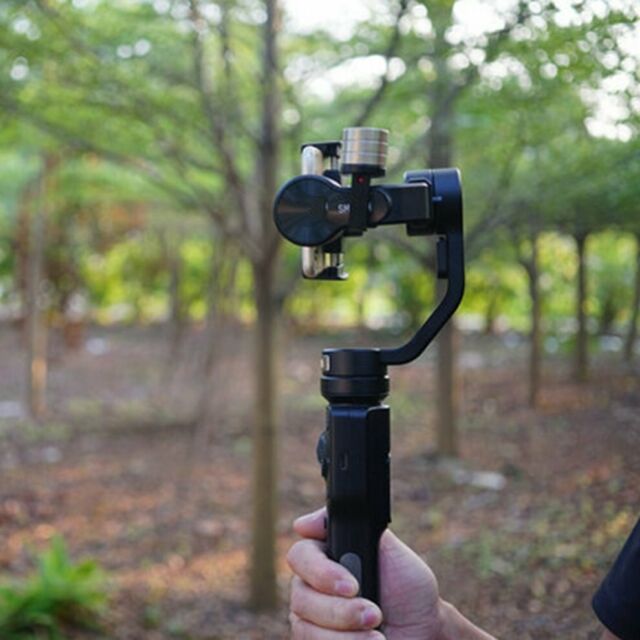 Story by Emily Kummerfeld
An iPhone gimbal is an easy-to-use tool to help a mobile journalist capture polished, smooth footage in a situation that is changing or moving constantly. There is a multitude of iPhone gimbals on the market with some more expensive than others depending on the gimbal's features and capabilities. Not to mention, with a few attachments you can connect a microphone and attachable iPhone lenses and transform most gimbals into a ready-to-go rig to rival that of any cinematographer. Most iPhone gimbals use a 3-axis stabilization system to reduce camera shake, but the most popular gimbals have features that go beyond simple stabilization. Thinking about how those features are helpful or possibly overkill for the stories you produce is the most important question in selecting a gimbal.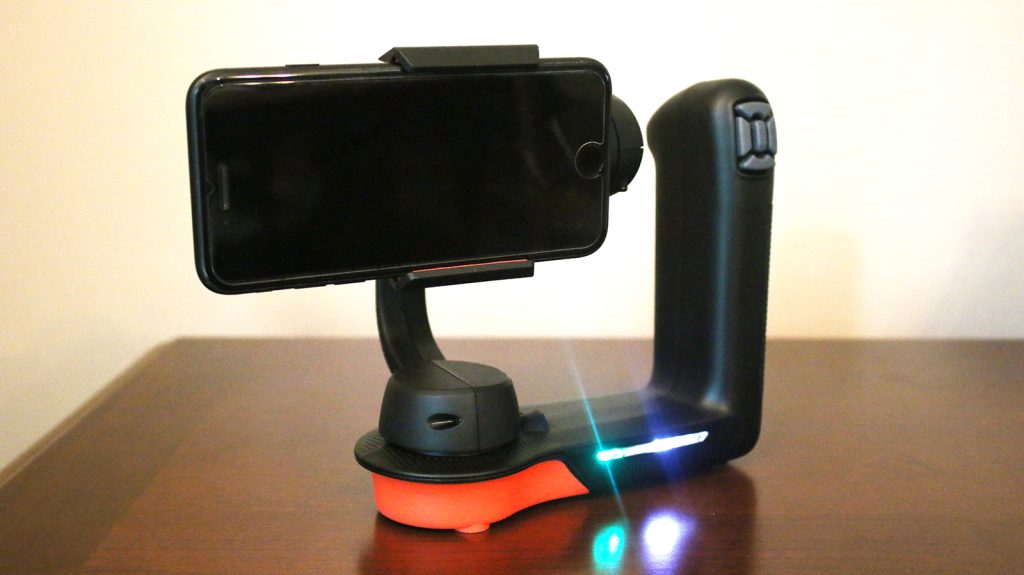 DJI Osmo Mobile 2
At its low-price point at just $113.99 on Amazon, this no-frills gimbal is a great choice for any journalist simply needing smooth footage in fluid situations. Like most gimbals, the Osmo Mobile 2 connects to the iPhone through the DJI Go app using Bluetooth. The button controls on the handle are minimal yet practical: a joystick button easily allows the operator to pan back and forth or tilt up and down, with a zoom control button on the side. Within the DJI Go app, one convenient feature is the "ActiveTrack" mode that will follow a moving subject and keep them at the center of the frame. Lastly, the Osmo Mobile 2 has a long battery life at about 15 hours and with a built-in USB port to charge your iPhone, you won't have to worry about battery life during those long video shoots.
Zhiyun Smooth 4
This gimbal is user-friendly with an assortment of controls that make set up easy when connected with the Zhiyun ZY Play app through Bluetooth. On the side of the gimbal is a wheel that switches between zoom and focus controls with the press of a button. The front of the handle features a menu button and click wheel similar to a DSLR camera permitting the adjustment of settings such as frame rate and white balance. It also has two helpful buttons on the back to control "sport mode" that increases the gimbal's response time and a second button that with a quick double tap will bring the gimbal back to center. For users wanting to try something a bit more creative, the Zhiyun Smooth 4 has a moving timelapse mode that allows users to choose the duration time and desired beginning A point and ending B point to achieve a perfectly smooth moving timelapse. Even with all these controls, perhaps the Zhiyun Smooth 4's greatest feature is its budget-friendly price of just $99 on Amazon.
Freefly Movi Cinema Robot
Last but certainly not least, for those journalists wanting to add a little cinematic flare to their footage there's the Freefly Movi Cinema Robot. Arguably the most highly-rated iPhone gimbal on the market, the Freefly Movi can help any journalist become an advanced visual storyteller. Unlike most iPhone gimbals, the Movi has an ergonomic side handle along with a flat bottom that allows the gimbal to be set down without an attached table tripod. But it's through the Freefly Movi app that this gimbal moves beyond capturing incredibly smooth footage and lives up to its namesake as a true cinematic robot with several programmable shooting modes — no jib or crane required.
One impressive feature is the "Echo" mode: Using the trigger button, the user sets a point A and B (whether up or down or side to side) and chooses the duration time. Then with another press of the button, the gimbal will move on its own at the perfect speed to achieve the shot. Other modes include the "Movilapse" mode, which is a forward moving timelapse, while the actual "Timelapse" mode is a combination of the arranged motion of Echo mode with time compression (similar to that of the Zhiyun Smooth 4). Other modes facilitate the handheld movement of the operator such as "Orbit" mode that rotates the gimbal around a subject and the "Barrel Roll" mode that rotates a shot upside down in one smooth motion. For basic shooting, a user can choose "Majestic" mode and adjust settings such as response speed and "window" width, which controls the amount space between physical movement of the Movi and when the gimbal will rotate to follow. For example, wider widows are best for slow moving subjects, while narrow windows work best when following a faster subject as in sports situations.
With all these bells and whistles, it's no surprise the Freefly Movi is one of the most expensive iPhone gimbals on the market at $299 on Amazon, but its easy-to-use capabilities certainly make up for the price tag.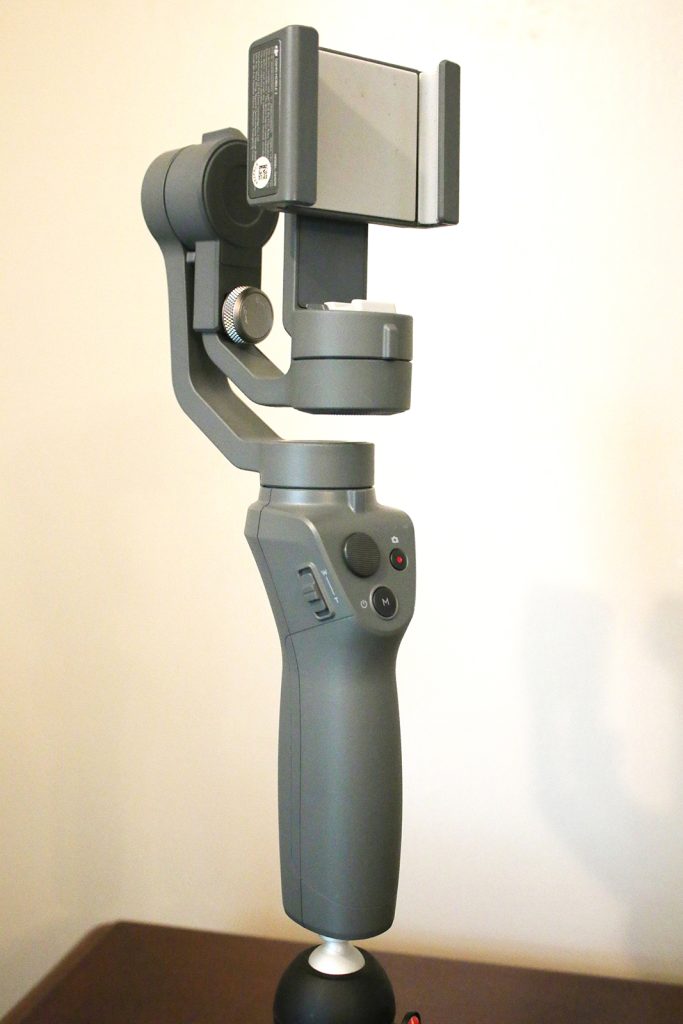 Attachments and Add-ons
Not only are the features of an iPhone gimbal itself important to consider, but also the potential for added gear like microphones, lenses and cinematography apps like FiLMiC Pro. Luckily, there's a range of possibilities to suit a variety of needs and budgets allowing any journalist to easily put together a quality rig.
Audio
Some journalists may prefer to record audio on an independent device like a Zoom recorder, but with a few accessories it's possible to attach a microphone like a Rode VideoMic to your gimbal set-up.
Many traditional-handled gimbals like the DJI Osmo Mobile 2 or the Zhiyun Smooth 4 have a 1/4″-20 UNC port on the bottom enabling attachment shoe accessories like the magic arm, L-bracket mount, or an extension bar plate. Another Amazon option is a ring shoe mount that fits around the handle for both the DJI Osmo Mobile 2 or the Zhiyun Smooth 4. There's even a shoe mount extension specifically for the DJI's extra 1/4"-20 port on the side of the gimbal.
While the Freefly Movi also has a 1/4″-20 at the bottom, Freefly makes an optional hoodie accessory mount with a 1/4″-20 mounting screw to attach a microphone.
Adapters and cords:
Whichever set-up you choose, make sure the cord connected to your lightening adapter is a compatible TRS to TRRS cord (iPhones are TRRS devices) versus TRS to TRS cords used for DSLR cameras.
Rode microphones in the VideoMic series use a 3/8″ thread, so to get a tight fit when attaching a Rode VideoMic to a gimbal you'll need a 3/8″ to 1/4″- 20 adapter.
Attachment Lenses
The attachment of an iPhone lens, like the popular Moment Lenses, are another easy way to improve the quality of your footage. But because the lenses are heavy most of time they will prevent the iPhone from balancing inside the gimbal and require the addition of aftermarket counterweights. Moment itself makes a universal counterweight compatible with the DJI Osmo Mobile 2 and Zhiyun Smooth Q , while a few less expensive options are available from Amazon sellers. Freefly as well makes a counterweight specifically for the Freefly Movi.

Gear sets for mobile rigs at moment.com
Comments