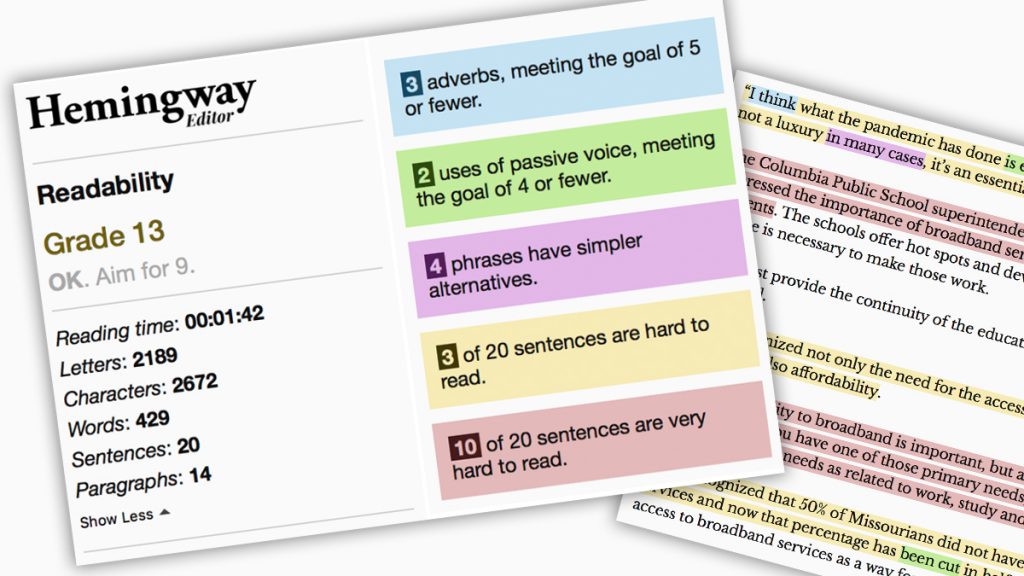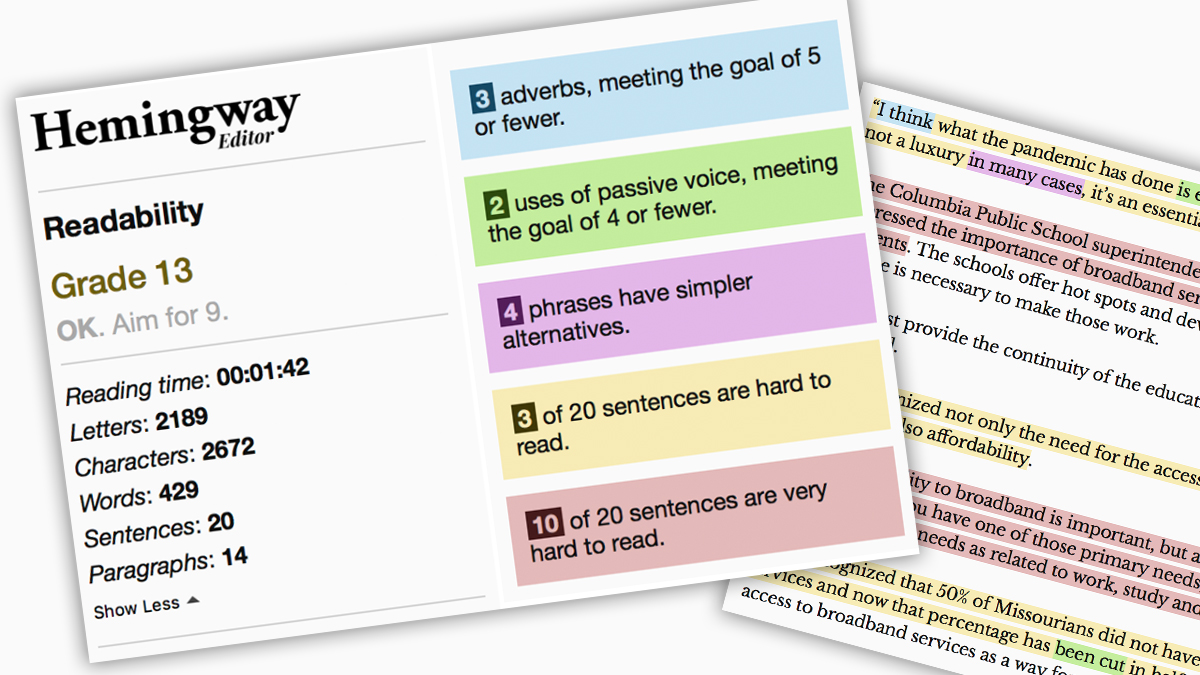 How does an AI news editor compare to a human editor?
There are pros and cons to using AI as your editor
The editing process is an essential part of any news piece. Artificial Intelligence technology is playing a larger role in some newsrooms to help with transcription, captioning and other duties. It is simplifying many tasks for journalists, and editing is not an exception.
This month I tried out the AI editing software: Hemingway Editor. To start, I reported a story on broadband infrastructure for the Columbia Missourian. For their published version, I followed the standard editing workflow by utilizing one of their human editors. At the same time, I pasted my draft into Hemingway to see how the two final stories would compare.
Pros of the AI editor
Hemingway has great features that catch passive voice, difficult-to-read sentences, reading time and grade level. Any journalist knows that passive voice should always be avoided when it can, so the tool was useful in highlighting those instances. It also served as a reminder that the news should be reported as simply as possible.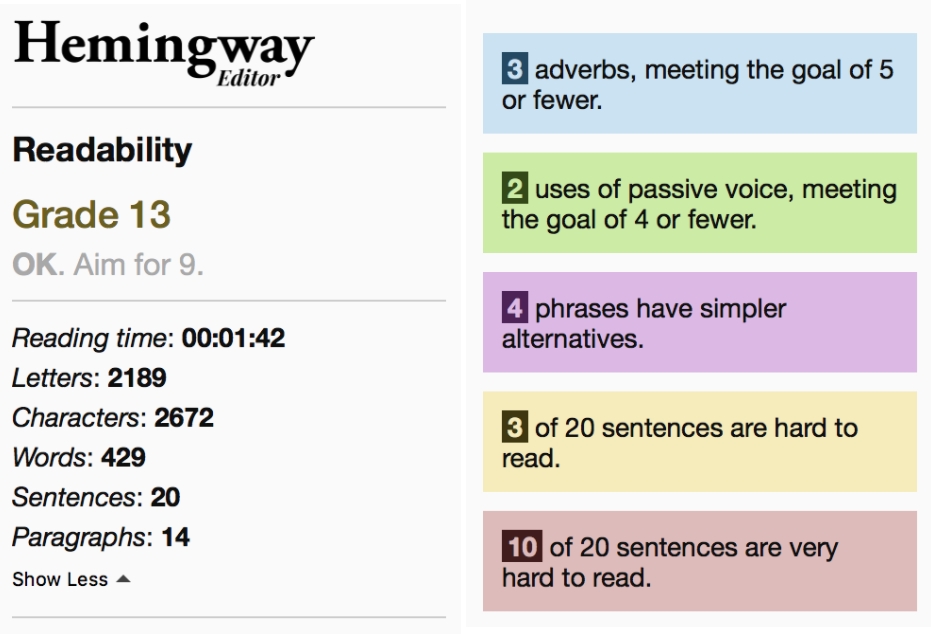 In fact, the tool even provided suggestions for more straightforward alternatives with certain phrases. I really took my time looking over all of the hard-to-read sentences highlighted by Hemingway, making sure to rewrite them to be as easy to understand as possible.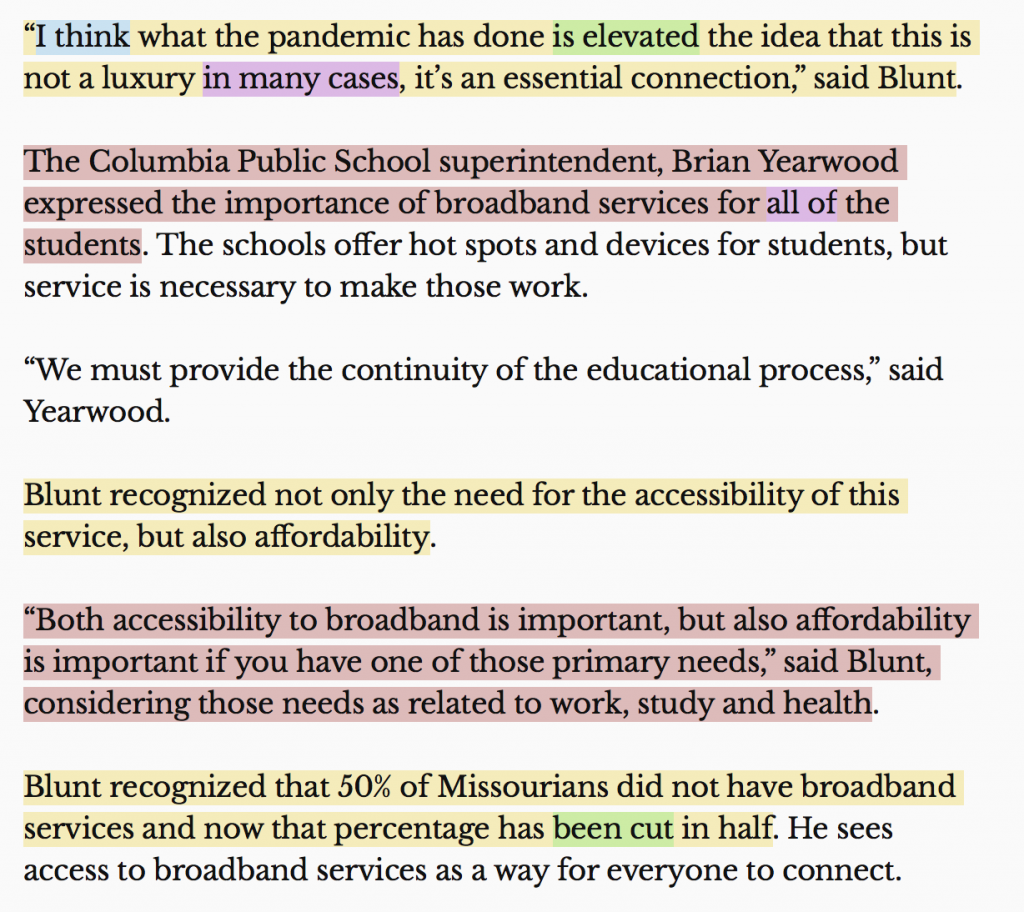 While all of those features certainly changed my original draft to a cleaner story, there are some things this AI editor couldn't do.
Cons of the AI editor
The great thing about a human editor is that they can work with you on many aspects of your story that will make it stronger. They will help you identify the lede and structure the story in a better way. An AI editor can't determine newsworthiness and doesn't provide any restructuring ideas or see where you need more context or sources. Not only that, it won't delete repetitive parts that may be unnecessary — a major role of an editor is to help your copy become more clear and concise.
Ultimately, I would say that a tool like Hemingway can certainly be useful, but can't replace a human editor, yet. Any reporters who want to make their story cleaner could try Hemingway before they turn in their next draft. But, the story should still end up in front of the eyes of a human before publishing to create the best result.
Comments