How to operate a WeChat newsletter with the help of the community
We introduced using WeChat for newsletters in the last article, including how to create a newsletter and the importance of WeChat in the Chinese community.
The next step is to figure out how to operate a newsletter consistently, especially when there are not enough Chinese speakers in the newsroom to give the newsletter leads a break. Building a team of designers, contributors, editors and community members to help you can add different skill sets and voices to your newsletter, in addition to making it not just one person's responsibility.
Edit content on external platforms
The WeChat platform is capable of editing all forms of content, but it feels and looks tedious. We used Xiumi, an external editing platform that can synchronize all editing of content to the official WeChat platform in real time. Xiumi has similar functionality to Canva with numerous visual elements and templates.
Here is a comparison of editing on the WeChat official platform vs editing on Xiumi. As you can see, there are more visual elements on Xiumi.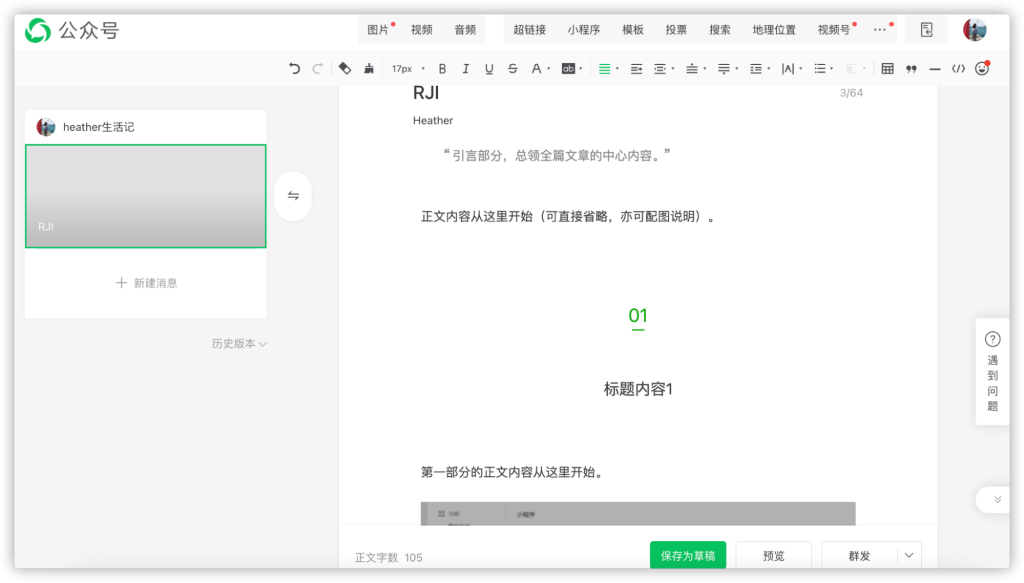 In WeChat, only account managers can log in to the account and edit the newsletter. On Xiumi, your whole team can contribute.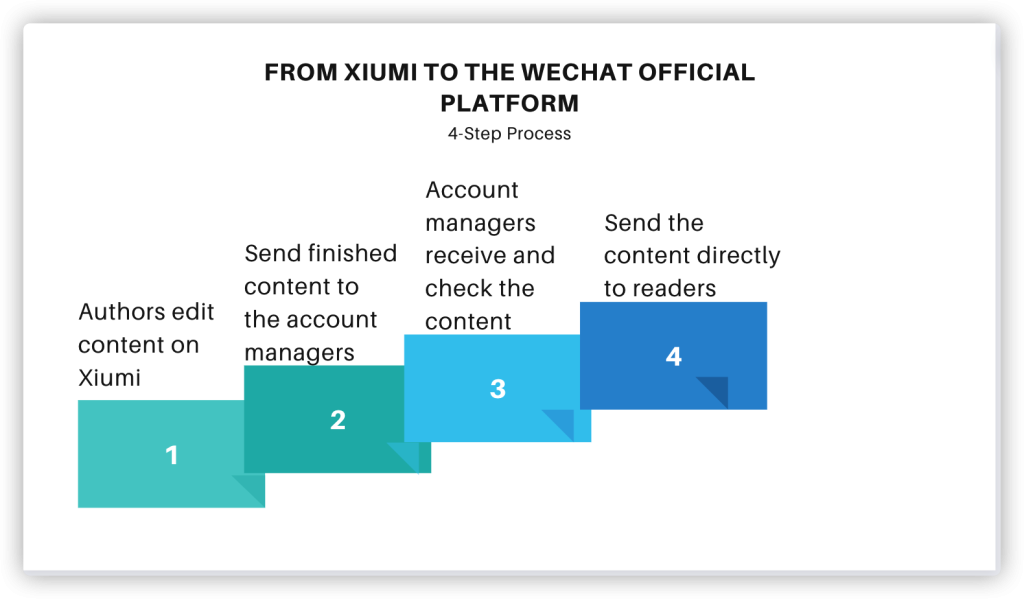 Xiumi users email the link to the account managers when they are ready to publish. Then the account managers will receive the content on WeChat and send it directly to subscribers.
Remember, you should always view the finished content on mobile before publishing it so you see what your readers will see. Xiumi can generate a temporary link to your phone to view it. Since most users read their WeChat newsletters on their phones, you want to make sure it is optimized for them.
Engage the community in building and sending the newsletter
The first obstacle I met was how to find help operating my chinese newsletter. Ideally we would be able to pay contributors and community members who help us. But whether volunteer or paid, there should be a selection process out of responsibility to readers.
The people we are looking for are/have:
Bilingual speakers who can at least read/write Chinese and English proficiently 
Journalism background or willing to be trained
My strategy for this newsletter is to look for Chinese journalism students in Mid-Missouri who want to get involved. That strategy worked since some Chinese students want work experience but are scared of stepping into English working environments. Being a bilingual editor helps them gain work experience on a project they're comfortable pursuing.
Here are some other places to look for contributors and support:
Reach out to U.S.-based Chinese newsrooms to collaborate. You may not notice but there are many Chinese newsrooms around the U.S., especially in big cities. For example, there are multiple Chinese newsrooms in St. Louis and Kansas City that serve the Chinese community in Missouri.
Work with local Chinese schools or programs. People who are learning Chinese may be interested in being bilingual editors.
Reach out directly to your Chinese community and ask them to be a part of the newsletter team. They may want to get involved and it will build your relationship and trust with the community you are serving.
Sign up for the Innovation in Focus Newsletter to get our articles, tips, guides and more in your inbox each month!
Comments