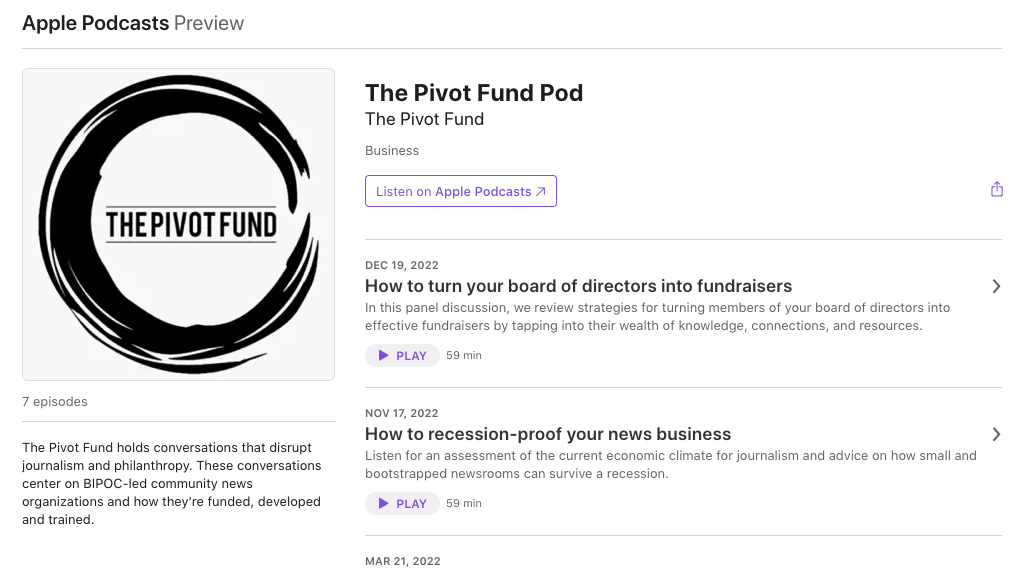 Pivot Fund Podcast creates audio playbook for news organizations
Pulling back the curtain to show how, and why, the work is being done to change how journalism works — and who gets to make it
The Pivot Fund isn't just about raising money, it is about pulling back the curtain to show how, and why, the work is being done to change how journalism works, and who gets to make it.
Focusing on the organizational questions that come up when building and strengthening news organizations, the Pivot Fund Podcast poses questions to founders, entrepreneurs and organizers who share their experiences and lessons learned. Jamaal Glenn, host of the podcast and Pivot Fund board chair, brings together leaders who share their experiences, the pitfalls they ran into and how they overcame them.
Glenn weaves the conversation between the guests as they engage community questions posed on the current topic. A recent episode, sponsored by RJI, tackled the question of how to turn a board of directors into fundraisers. Kyra Kyles, CEO of YR Media and Elisa Lees Muñoz, Executive Director at International Women's Media Foundation, shared how they approached the idea of utilizing a board of directors as fundraisers.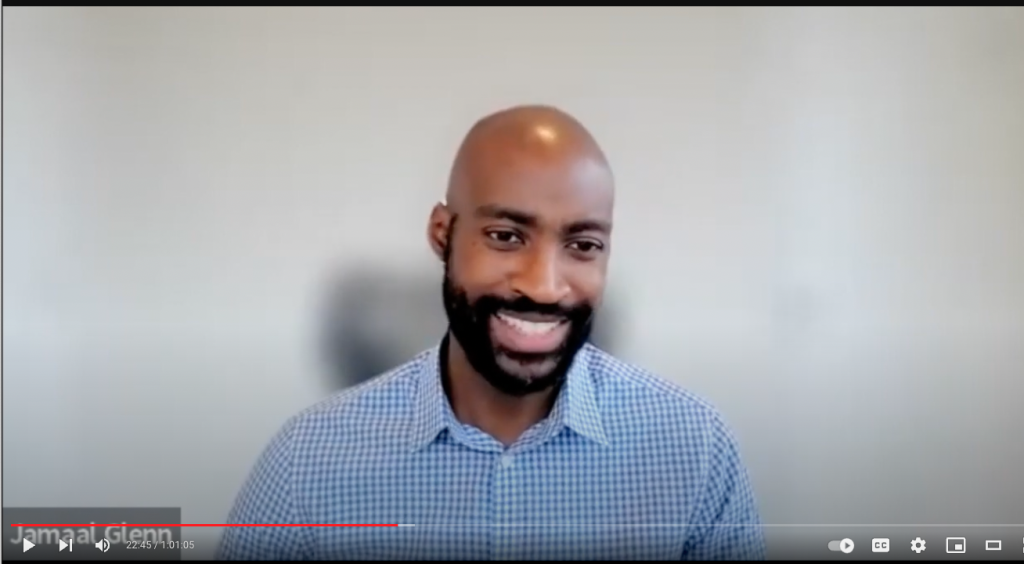 RJI partnered with Pivot Fund to sponsor a couple episodes of the podcast to explore the concept of creating an audio guidebook for news orgs who need assistance on commonly faced issues and questions. Each episode is a community event, from the pre-planned questions guiding the episode topic to questions posed by community members.
What we learned — tips for if you are going to do a conversational podcast
Make it a community event – invite the public to join in and ask questions during the event.
Use each episode event to build the next one — not every question might fit the guests on that episode, but the next episode could be built around that community question.
Building a critical mass of engagement takes time, and different audiences on different platforms, Youtube, podcast, webinars and others each require their own strategy.
If there is one constant in the podcast it is this: passively waiting for things to change is not a strategy for success. Each and every conversation, from building newsletter strategies to board recruitment tackles specific ways that leaders moved their organizations forward. But underlying each of these specifics was a foundation of a strong mission and a strong vision. If you want to build something new, you must do it with intent and stay true to the mission.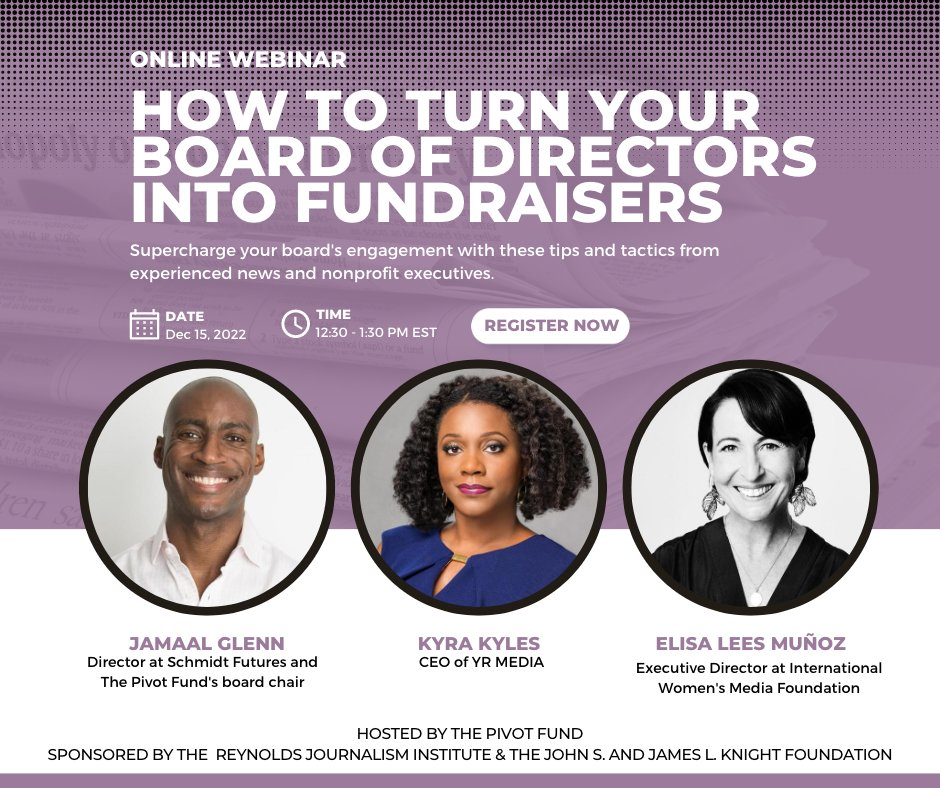 The conversation ranged from tactics on how to equip an existing board with the tools they need to be effective at raising funds, to how to recruit board members who filled a need for an organization. They touched on the education needed for board members so they know what their place on the board is and what makes it beneficial to be part of a board.
Muñoz shared how they take multi-year approaches to engage interested folks, utilizing referrals from trusted community members to shape a recruiting strategy. Kyles added how YR Media utilizes referrals and relationships between current and prospective board members to find folks that are a good fit. They also expanded on how to have conversations before individuals join the board to make sure everyone knows what they are getting into and shape expectations about what will be asked of them. They discussed how staff can shape the active recruiting process based on a set of guidelines created by the organization, and then identify those who will be great candidates.
Other episodes tackled difficult issues like how to strengthen the financial health of an organization in the face of possible downturns. They discussed how each organization future-proofed their ability to fulfill their mission.
Each episode is based around real questions that have come up through the Pivot Fund community, and future episodes will be shaped when new questions arise. There are no definite answers, each guest and founder brings their solutions to the questions posed to create a constellation of knowledge shared.
The Pivot Fund mission is to disrupt and reimagine journalism, to ensure equity for BIPOC-led community organizations through programs like this podcast series. To follow the series you can find the Pivot Fund Podcast on Apple Podcasts and on Youtube.
Comments