Post Episode 13: Teachers help test schools for lead, mold and asbestos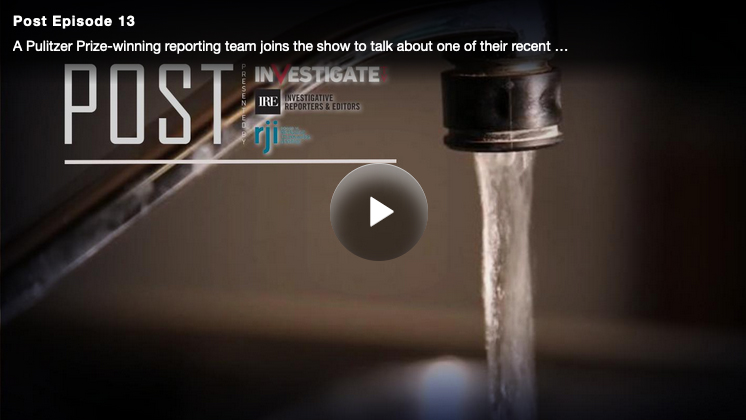 A Pulitzer Prize-winning reporting team joins the show to talk about one of their recent projects: Toxic City, which recently won an IRE award for innovation. Other environmental hazard reporting is highlighted throughout the episode.
In Episode 13, Post highlights reporting about environmental hazards. The pieces include some recent award winners in various national contests such as the IRE Awards, DuPont, and National Edward R. Murrow Awards. News organizations discussed include: the Philadelphia Inquirer, ProPublica, VOX, NorthJersey.com, Inside Climate News, PBS, NPR, and CBS Miami.
The majority of the show focuses on reporting from the Philadelphia Inquirer called "Toxic City: Sick Schools." The reporting project was a continuation of the paper's Toxic City series which aimed to look at toxins in the city that were potentially making people sick.
The series won the IRE Gannett Award for Innovation in Watchdog Journalism in this year's contest. Reporters Wendy Ruderman and Barbara Laker spoke to Post after the awards ceremony. In their interviews, they discuss how they sourced teachers to help them test for lead, asbestos and mold in area schools. Laker also talks about how they were able to find families who were facing health issues that might be tied to environmental hazards.
Other pieces highlighted include ProPublica's project with VOX that investigated the pollution left from old military sites in the United States, CBS Miami's in-depth look at a giant algae bloom in the coastal waters, and Frontline's television special investigating the long-term health problems faced by coal miners.
The conclusion of the episode features a recent investigation from InvestigateTV about water filter companies falsely claiming to have prestigious safety certifications.
Stories discussed in Post, Episode 13
Post is a media review program from InvestigateTV, Gray Television's streaming channel dedicated to in-depth and watchdog reporting. Post is presented in partnership with the journalism organization Investigative Reporters and Editors. The monthly program is taped at the Reynolds Journalism Institute at the University of Missouri School of Journalism, a partner of InvestigateTV.
Comments