Post Episode 15: Computer programming exposes online price spiking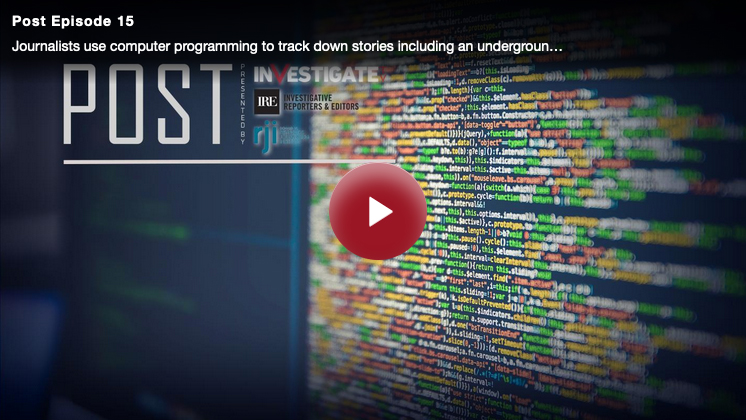 Journalists use computer programming to track down stories including an underground adoption ring and Amazon favoring its own products in searches. Tampa Bay Times data reporter Eli Murray also joins the show to discuss "zombie campaigns."
In Episode 15, Post showcases how journalists use computer programming and coding to uncover big stories in areas from politics to online shopping.
Media organizations represented in the episode include the Atlanta Journal-Constitution, Reuters, ProPublica, Arizona Republic and Tampa Bay Times. IRE Director of Data Services Charles Minshew joins the show to explain how reporters use tools like coding to sift through huge amounts of information online and uncover compelling, important stories.
For example, the Atlanta Journal-Constitution wrote scripts that crawled regulator websites to find medical board disciplinary documents. During the paper's year-long investigation, reporters found serious allegations against doctors, including sex abuse.
"Data journalism like this can help solve problems that have been created by patchworks of different laws throughout different states," Minshew said. "Sometimes if a doctor was accused of misconduct in one state, they might pick up and work somewhere else. Being able to use this computer science work, the AJC is able to look state to state to see who is working where, whose names may show up again."
Other journalists have done similar projects tracking teachers or police officers whose disciplinary pasts didn't follow them to a new job in another area.
"It's a newsroom being able to do the work that a federal agency doesn't exist to do. It's real, true watchdog journalism," Minshew said.
In another example, Reuters' investigation of online message boards turned up underground adoption rings, where children were sometimes moved from home to home multiple times. Through social media scraping, the news organization was able to find 261 children being offered up for "informal adoption." Minshew said the benefit of going beyond data to real people is showing the scope of an issue and helping more people.
"If you can look at these numbers and you find the story, that's great. But if you can put real people to these stories, it helps people that otherwise might not want to come forward to have the courage to do so," Minshew said.
The second half of the show contains an interview with Tampa Bay Times Data Reporter Eli Murray who worked on a project called "Zombie Campaigns." Murray used the Federal Election Commission's API to scrape one million campaign finance records. Those records showed multiple political campaigns continuing to spend huge amounts of money even after losing an election or leaving office.
One of the unique parts of the Tampa Bay Times investigation with WTSP was the journalists made their data public.
"Our main goal with that was to be transparent. We wanted people to be able to look at the records, see how we came up to the totals that we came up with for our various categories and do it themselves," Murray said.
Stories discussed in Post, Episode 15
Atlanta Journal-Constitution — Doctors & Sex Abuse
Reuters — Americans use the Internet to abandon children adopted from overseas
ProPublica — Amazon Says It Puts Customers First. But Its Pricing Algorithm Doesn't
AZ Central — Driving Up Auction Prices
Tampa Bay Times and WTSP — Zombie Campaigns
Post is a media review program from InvestigateTV, Gray Television's streaming channel dedicated to in-depth and watchdog reporting. Post is presented in partnership with the journalism organization Investigative Reporters and Editors. The monthly program is taped at the Reynolds Journalism Institute at the University of Missouri School of Journalism, a partner of InvestigateTV.
Episode written and produced by: Emma Ruby, InvestigateTV
Production by: Director Travis McMillen and assistant Sarah Sabatke, Reynolds Journalism Institute and University of Missouri
Editing by: Jamie Grey and Owen Hornstein, InvestigateTV
Comments