Post Episode 19: Journalists expose uneven power dynamics, greed and corruption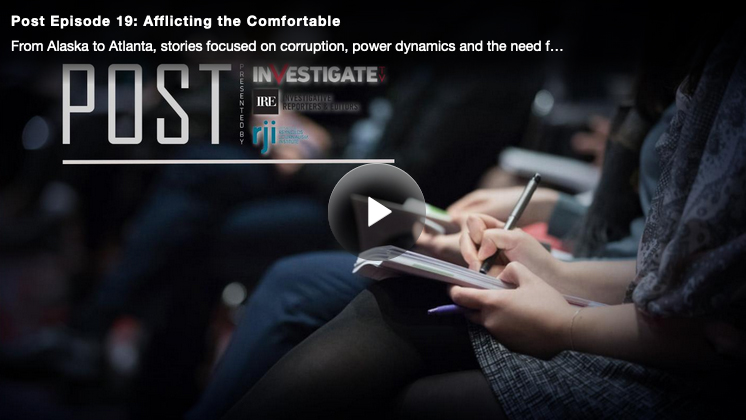 From Alaska to Atlanta, stories focused on corruption, power dynamics and the need for accountability are all highlighted in this month's episode of Post.
In Episode 19, Post discusses stories highlighted in the most recent issue of the Investigative Reporters and Editors Journal.
IRE Executive Director Doug Haddix joins the show to discuss reporting from student newspapers, local television stations, and large print outlets.
Media outlets showcased in this episode include Anchorage Daily News, ProPublica, Indiana Daily Student, WSMV-TV, and the Atlanta Journal-Constitution.
Stories discussed in Post, Episode 19
Post is a media review program from InvestigateTV, Gray Television's streaming channel dedicated to in-depth and watchdog reporting. Post is presented in partnership with the journalism organization Investigative Reporters and Editors. The monthly program is taped at the Reynolds Journalism Institute at the University of Missouri School of Journalism, a partner of InvestigateTV.
Episode written and produced by: Emma Ruby and Jamie Grey, InvestigateTV
Production by: Director Travis McMillen and assistant Sarah Sabatke, Reynolds Journalism Institute and University of Missouri
Editing by: Owen Hornstein, InvestigateTV
Comments