Post Episode 20: Journalists collect, maintain their own data to track COVID-19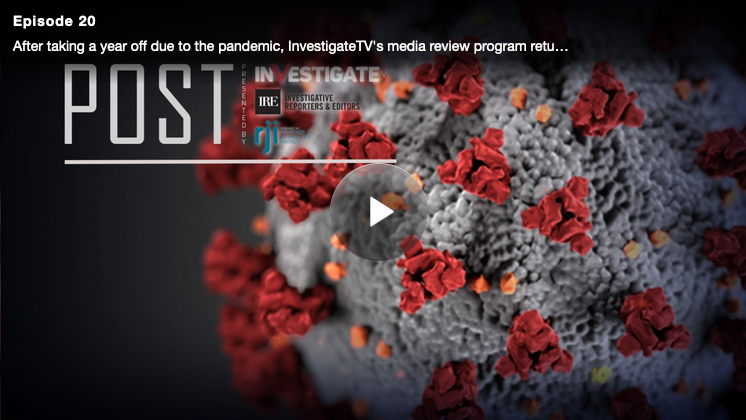 After taking a year off due to the pandemic, InvestigateTV's media review program returns to discuss investigative reporting about COVID-19 from New York City to Iowa
In Episode 20, two journalists join Post to discuss how collecting and maintaining their own records and data led to finding impactful stories during the coronavirus pandemic.
The show has been on hiatus since the pandemic erupted in the United States in March 2020.
In the first episode back, Post is joined by New York Times reporter and IRE board member Brian Rosenthal and Times Citizen editor Sara Konrad Baranowski.
Rosenthal and others worked during the explosion of COVID-19 cases in New York City to track down where patients were going – and where they were not. The team of reporters discovered disparities in care and how hospitals were admitting patients.
Konrad Baranowski and other reporters and medical professionals can be credited with discovering an error in the way the state of Iowa was reporting its positivity rates. By collecting and archiving her own dataset, she began to notice the numbers slowly showing more discrepancies with state reports. It turned out backdating was to blame.
Links to stories discussed in Episode 20
Why Surviving the Virus Might Come Down to Which Hospital Admits You – The New York Times
This Hospital Cost $52 Million. It Treated 79 Virus Patients – The New York Times
The Mistakes New York Made – The Daily Podcast, The New York Times
State admits it erroneously backdated COVID results – Times Citizen
State 'problem' has skewed COVID data for months – Times Citizen
Post is a media review program from InvestigateTV, Gray Television's streaming channel dedicated to in-depth and watchdog reporting. Post is presented in partnership with the journalism organization Investigative Reporters and Editors. The monthly program is taped at the Reynolds Journalism Institute at the University of Missouri School of Journalism, a partner of InvestigateTV.
Episode written and produced by: Jackson Hicks, InvestigateTV
Production by: Director Travis McMillen and assistant Grace Vance
Editing by: Owen Hornstein, InvestigateTV
Guest coordination by: Emma Ruby, InvestigateTV
Notes: For this episode, host Jamie Grey spoke with guests from her home via Zoom at the end of 2020. The episode was taped at the University of Missouri in February 2021.
Two weeks ago, Iowa announced it was again changing its reporting methods, addressing one of the issues discussed in this show. It will now report total tests as opposed to individuals testing, according to InvestigateTV affiliate KCRG.
Comments