Post Episode 21: Journalists, meteorologists use investigative techniques before and after storms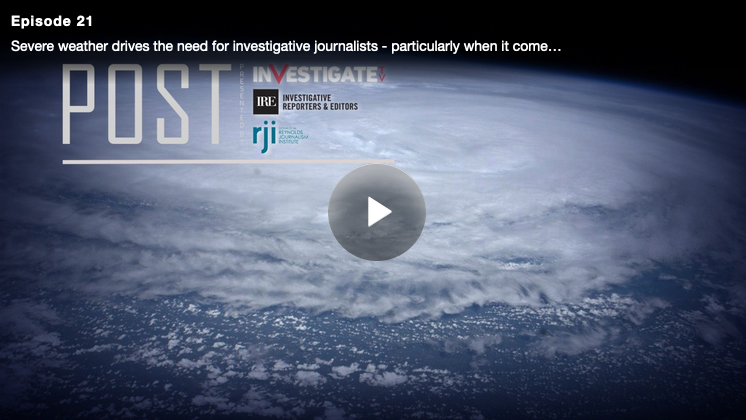 Severe weather drives the need for investigative journalists — particularly when it comes to government responses to disasters. Plus — New Orleans Meteorologist David Bernard discusses the investigation that goes into predicting severe weather
In Episode 21, journalists look at the government response to natural disasters, how weather patterns are changing and how meteorologists use investigative and data skills to predict the weather.
"Although you can't predict when a weather event will impact your work, I believe you can get some training beforehand to help feel more comfortable and authoritative when a disaster does strike," said IRE Training Director Francisco Vara-Orta. "I highly recommend checking out seminars and conferences put on by the Society of Environmental Journalists and Association of Health Care Journalists to better master reporting in the realm and with the ongoing pandemic, one silver lining is taking advantage of any virtual trainings."
Links to stories discussed in Episode 20:
Post is a media review program from InvestigateTV, Gray Television's streaming channel dedicated to in-depth and watchdog reporting. Post is presented in partnership with the journalism organization Investigative Reporters and Editors. The monthly program is taped at the Reynolds Journalism Institute at the University of Missouri School of Journalism, a partner of InvestigateTV.
Episode written and produced by: Jackson Hicks, InvestigateTV
Production by: Director Travis McMillen and assistants Grace Vance and Sam Olsen, RJI
Editing by: Owen Hornstein, InvestigateTV
Comments