Post Episode 23: IRE Awards recognize coverage of COVID-19, George Floyd and more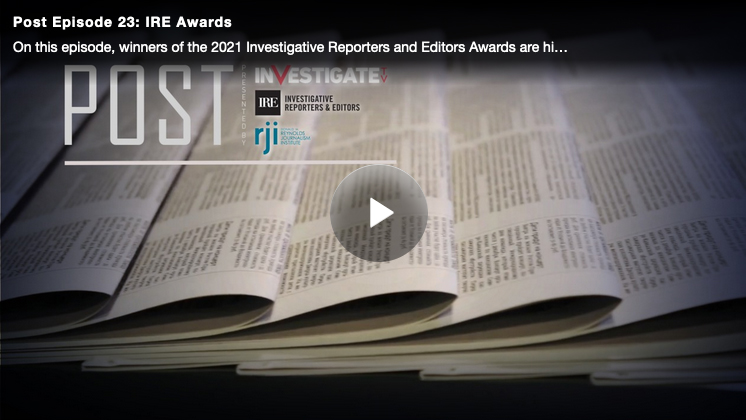 On this episode, winners of the 2021 Investigative Reporters and Editors Awards are highlighted
In Episode 23, winners are highlighted from the 2020 Investigative Reporters & Editors awards.
The annual contest recognizes news organizations from student to professional, small to large and includes entrants from radio, television, print and digital media.
The 2020 contest entries obviously came from a busy news year, and hundreds of journalists submitted entries.
"It's a huge honor to even be a finalist, and it was really tough decision making because of the caliber of work and what the year demanded of journalists," said Bethany Barnes, co-chair of the 2021 IRE awards committee.
A number of entries had to do with COVID-19 issues and other developing or breaking stories. For example, the winner in the breaking news category was the Star Tribune for its coverage of George Floyd.
"Whether or not your newsroom is going to have the hopefully rare event of everyone coming to your backyard and the world watching you that creates a lot of pressures, you inevitably will have some sort of breaking event. And there's a lot of lessons here to be applied, particularly in framing," Barnes said. "When you have those tight deadlines, you have to know, 'Okay, I'm going after X, Y, Z. What could we look at? What's important to push on?' And they picked all the right moments here. It was everything you'd want to know, told concisely, really buttoned up, nailed down, and quickly and accurately."
Links to stories discussed in Episode 23
Post is a media review program from InvestigateTV, Gray Television's streaming channel dedicated to in-depth and watchdog reporting. Post is presented in partnership with the journalism organization Investigative Reporters and Editors. The monthly program is taped at the Reynolds Journalism Institute at the University of Missouri School of Journalism, a partner of InvestigateTV.
Episode written and produced by: Payton Romans, InvestigateTV
Production by: Director Travis McMillen, RJI, production assistant Anna Watson, RJI, and production assistant Cory Johnson, InvestigateTV
Editing by: Jon Turnipseed and Jamie Grey, InvestigateTV
Award Video Courtesy: Investigative Reporters & Editors
Comments