Post Episode 9: Mothers dying at an increasing rate in the United States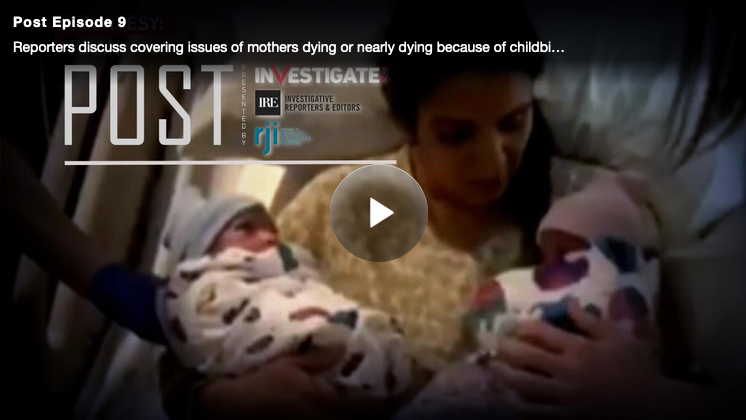 In Episode 9, Post reviews reporting about maternal health care in the United States. As reported by various media outlets, mothers in the U.S. are dying at increasing rates — while those rates are dropping in most other developed countries, including in Germany, France and Japan.
This show highlights in-depth reporting by 11 Alive television, USA Today, New York Times Magazine, KXAN television, NPR and ProPublica.
Investigative Reporters and Editors Editorial Director Sarah Hutchins joins the show to discuss recent reporting on the topic, including why there is an increased interest and ability to report on mothers who are dying during or after childbirth.
ProPublica's Nina Martin also spoke with the show's episode producer, Antoinette Miller, about her extensive reporting over the last several years with her team's project, Lost Mothers. She explains how journalists used crowdsourcing to find sources, how different factors like race have entered into the conversation about maternal risks and outcomes, and the importance of talking about this topic.
The second half of the episode features an interview with journalists from KXAN television in Austin, Texas, who were inspired by ProPublica's work and began looking specifically at maternal health care, death and near-death experiences for mothers in the state of Texas. Investigative Reporter Arezow Doost and Director of Investigations and Innovation Josh Hinkle discuss how they gained the trust of sources, why data about maternal health care is deficient and how a state lawmaker is proposing a system to better track maternal deaths and near-deaths.
Post is a media review program from InvestigateTV, Gray Television's streaming channel dedicated to in-depth and watchdog reporting. Post is presented in partnership with the journalism organization Investigative Reporters and Editors. The monthly program is taped at the Reynolds Journalism Institute at the University of Missouri School of Journalism, a partner of InvestigateTV.
Stories and organizations discussed in Post, Episode 9
Comments