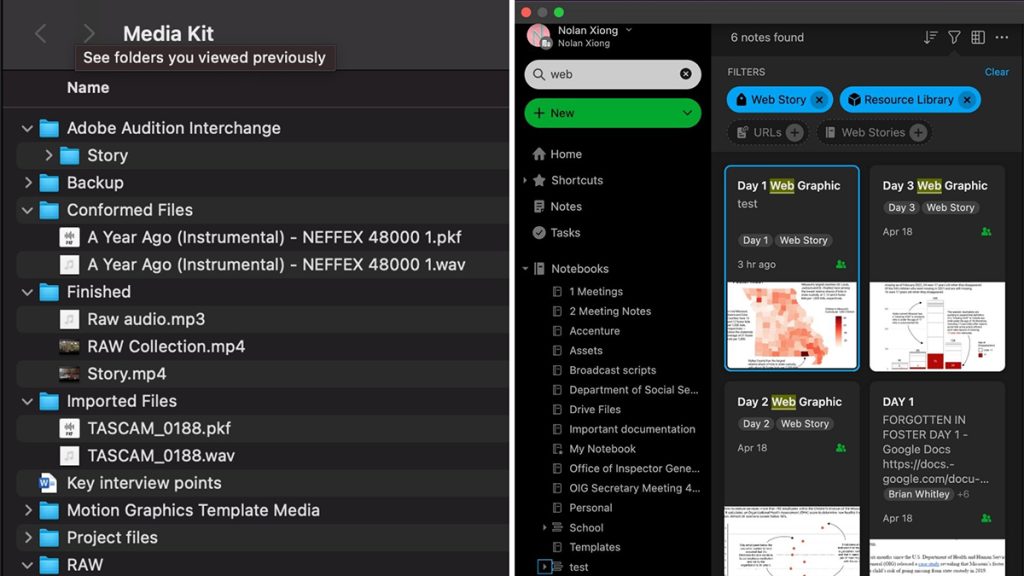 Simplified information management for journalism
Improve your workflow with new tools, faster search and additional organizational features
Core skills of journalism include data recall, information gathering and verification, so creating systems for organizing the large amounts of data gathered for reporting can make a big difference in simplifying the daily workflows of reporters.
For this experiment, we worked with Matt McCabe, Avery Everett and Matt Zdun, reporters for KOMU, helping them develop an organizational structure for one of their ongoing investigative projects, Forgotten in Foster Care, a series examining children left behind by Missouri's foster care system.
To create an information management system for this project, we tested Evernote Teams, Microsoft Teams, and Google Workplace to help you maximize collaborative note-taking and organization that allows for efficient communication among partners. We also discuss a few other tools that could be helpful depending on what priorities your newsroom has for information management.
Making the case for information management in your newsroom
Having an organizational system in place is invaluable for when documents need to be recalled quickly and efficiently.
Dealing with large quantities of documents
Easy recall in the case of legal action such as a subpoena
Public transparency about the reporting
Collaboration on investigative projects
Revisiting past stories for historical context
Preparation for organization
Before starting an organizational system for your team or for yourself, there are some groundwork principles to establish to ensure your system will be reliable for years to come.
In the case of collaborative documentation, it's best to lay down ground rules for how your team will format documents and which programs you will be operating out of. Once this is established, having an internal guide that lays out the format styles and used programs can help any new team members who join the project mid-development adapt to your document ecosystem.
Another important consideration for your info management process is to consider what security programs and protocols you or your newsroom utilizes, as this will affect what programs you are or aren't limited to.

Creating a search/tagging intensive info management system
This project involved a team of three reporters who have been working on recurring stories about Missouri's foster care system for several months. Not only were they developing a large catalog of documents during their time covering this project, but they also were working asynchronously as well as handling several other independent projects at the same time.
Several factors the team considered in developing an info management system were:
Staying on the same page with each other over extended periods of absence/inability to interact daily
A quick way to remember where they left off on the project and what still needed to be done while managing other reporting projects
Categorizing a wide range of documents spread across multiple platforms, with some being physical paper, others drive files, and others within personal computers or team communication platforms.
Having a sustainable platform for organizing that does not require an ongoing subscription (because of this the team ended up not sticking to Evernote Teams as their main information hub because they will lose access to it after this experiment)
To begin, we had them agree on a single platform that would act as their information hub, in this case, Microsoft Teams. This program had to be something they all had access to with the added benefit that everyone knew the capabilities and limitations of the tool.
We then had them agree on the major themes, keywords, and subjects of the story, for example using tags like OIG (Office of the Inspector General) case study, DSS (Department of Social Services), Foster Care. These will act as their tag labels and allow them to look for documents based on these factors rather than trying to deduce the location of where a particular piece of information may reside.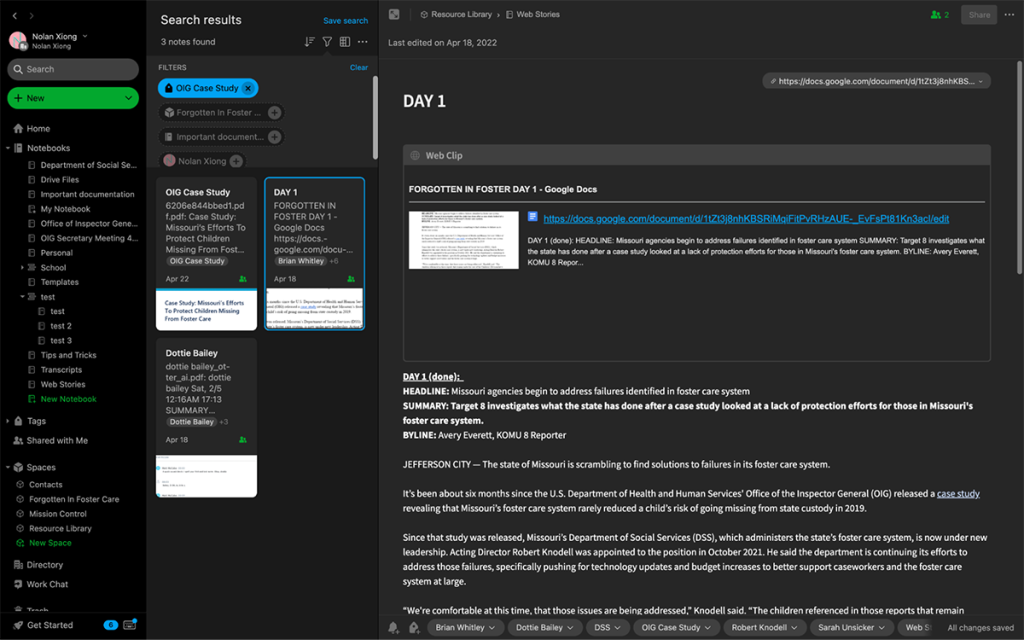 We also suggested they utilize a task management function like a checklist or list of assignable action items from within Microsoft Teams. That way, they could easily identify what tasks their teammates were currently working on as well as any approaching deadlines that needed to be addressed.
Features of Evernote Teams
Evernote Teams is designed to synchronize your team's notes, documents, and schedules in a single package. It also possesses a task management feature that allows you to delegate tasks and set deadlines.
With the use of their homepage function, each team member can view what tasks they have yet to finish and the deadlines for each task. The homepage is also a customizable dashboard, that allows each individual team member to arrange their respective homepage to fit their needs and viewing priorities, such as adding notepad, pinning key documents that may be relevant to their current task, or adding shortcuts to quickly get to document sections that they utilize frequently.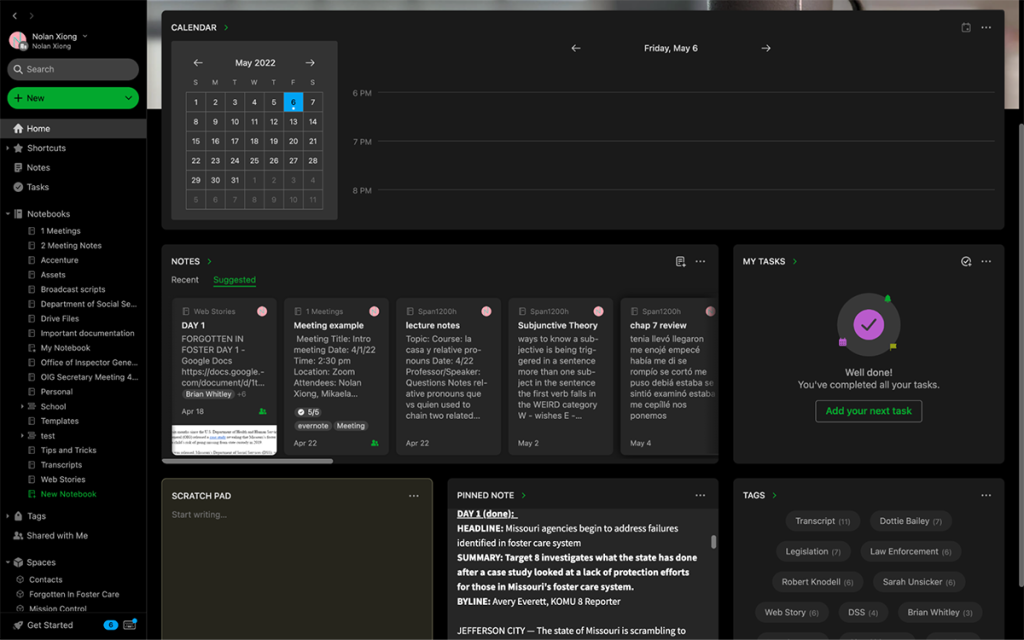 Evernote Teams can be paired with two other functions, their phone app and their Google Chrome Extension Evernote Web Clipper, a tool that allows you to import online documents (such as emails, articles, or web pages) into Evernote Teams. The tool also provides a hotlink so you can return to the original web document source whenever necessary.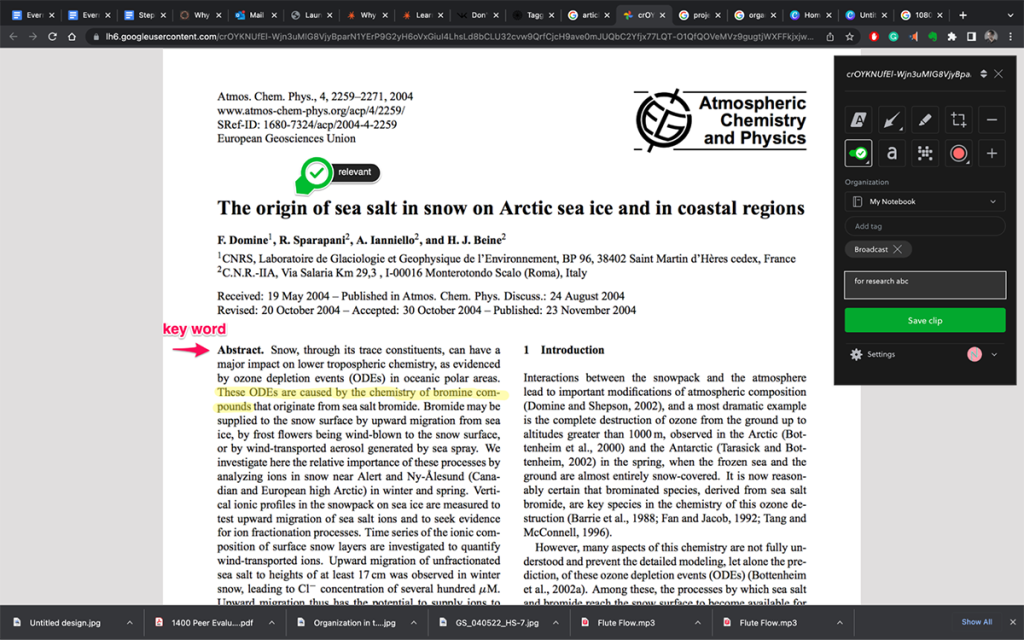 Evernote Teams allows you to scan and upload handwritten notes and has an AI search functionality to read handwritten text. If you need to be able to quickly search your own notes or even another journalist's notes, having a filling system that utilizes this feature can make finding specific notes easier.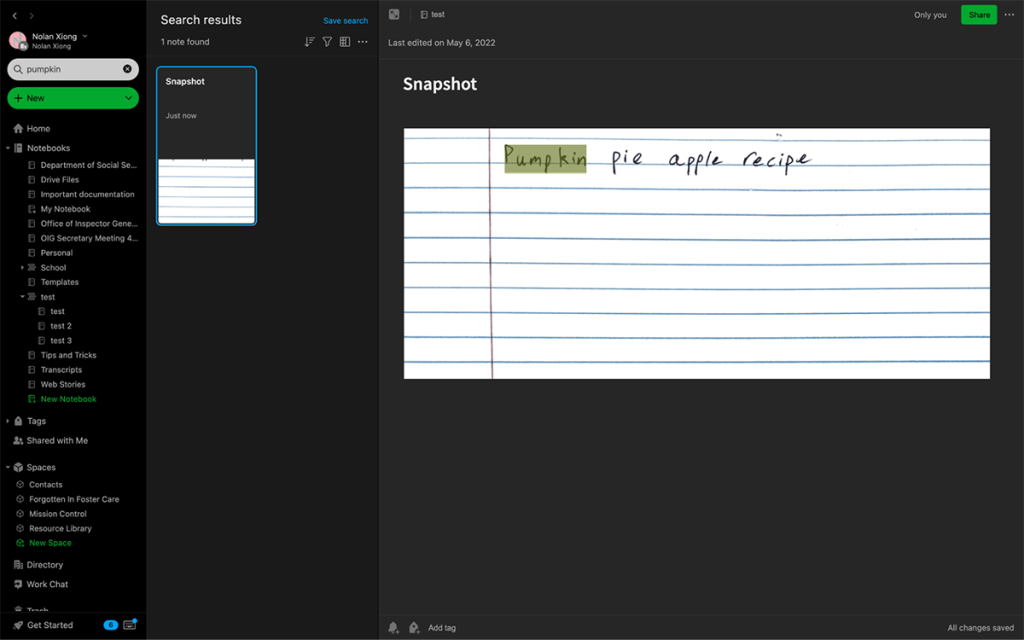 Evernote Teams also has the ability to text search PDF and DOC files. Their tagging feature allows for you to tag documents with relevant words of your choosing, saving the tags for autofill options in the search bar or for creating tags on new documents for consistent labeling.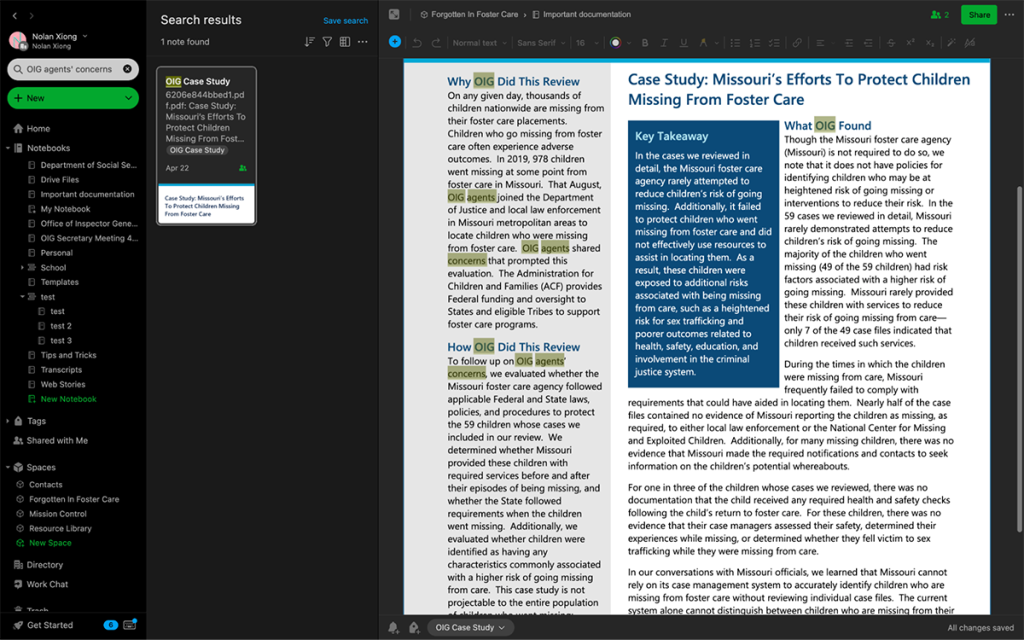 Pick your tool based on your priority features
Different information management tools have different features that depending on the project, may be a better fit for your newsroom.
Some tools that may also be helpful:
Its corkboard function is beneficial for building story outlines as well as giving you visual cues of how your story beats are arranged.
Similar to Evernote Teams with minor varying features between the two. It's an alternative depending on the financial/security/personal preferences.
Being able to assign colors to different documents and tasks helps orient your team's time management. By implementing color coding, you could designate different attributes to documents, such as priority levels or stage of development.
Gives you the ability to leave comments is extremely useful for communicating to other team members about relevant pieces of information within a document or dialogue about any possible questions or considerations about a document.
Final thoughts
There are many tools that can help with information management, but in general, it's best to start with a clear plan in place for what your newsroom's greatest priorities are, how easily the system is suited to collaboration and asynchronous work, and what your specific goals are when designing this system. Once your mission is clear, putting in the work to design a system ahead of time for large reporting processes will make your workflow easier and faster in the long run.
This article has been edited by Mikaela Rodenbaugh and Kat Duncan.
Comments