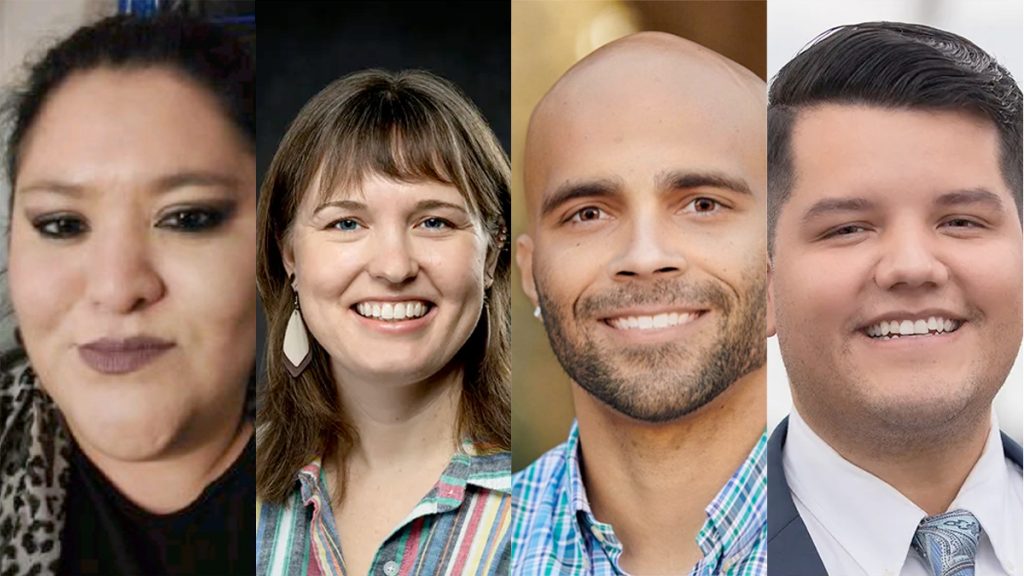 Startup newsroom founders visit RJI, Missouri School of Journalism to share what they have learned
Last week, two of the startup newsroom founders supported by the Reynolds Journalism Institute (RJI) — in partnership with the Tiny News Collective — visited RJI and the Missouri School of Journalism to share their insights and expertise.
Luella Brien, founder of Four Points Media, and Nora Hertel, founder of Project Optimist, spoke with students in a variety of journalism classes to relate their firsthand experiences with building a news startup from scratch.
"Founding a news startup has never been easier or harder, depending on the day," said Randy Picht, executive director of RJI. "Sharing that experience with students and the RJI audience is extremely valuable."
Brien, whose Four Points Media covers the Crow Indian Reservation and the surrounding communities in Crow Agency, Montana, spoke to classes studying community news, science writing and investigative reporting. To Professor Mark Horvit's investigative reporting class, she recounted some of the lessons she has learned from reporting on a tight-knit community that includes many of her friends and family.
"You have to take care of your source the way you take care of yourself," Brien said, noting that talking to someone about their loved one's death is one of her most difficult tasks. "We spend an hour sometimes asking a source about their day before we ease into the difficult conversation."
Brien recently partnered with Showtime for a documentary, "Murder in Big Horn," exploring some of the cases of missing and murdered indigenous women she has covered both before and since founding Four Points Media.
In addition, Hertel spoke to Professor Elizabeth Brixey's reporting and writing class and sat down with Picht on RJI Insight to discuss Project Optimist, which began as a newsletter but has expanded into a digital newsroom focused on solutions-based journalism of interest to the Greater Minnesota area.
"We look at the problem and then we tell stories around solutions," said Hertel, who said the strategy is itself a potential solution to the phenomenon of news avoidance, in which audiences are increasingly disinterested in negatively-tinged news about war, social strife and other popular news topics. "Solutions journalism brings people in, because it's a different style of reporting."
Hertel and Brien also took the opportunity to record promotional material utilizing RJI's state-of-the-art studio, which will assist them in continuing to attract sustainable funding for their projects.
"It was wonderful to see our students learning from these innovative news founders who are serving people in stronger and more equitable ways," said Kat Duncan, director of innovation at RJI. "They are doing amazing work for the underserved in their communities and it was a pleasure to get to bring their wisdom and experience to the students at the J-School."
Along with Fernando Soto Gaulden and Brandon Silvers of The People's Beat, the founders will continue to collaborate with RJI as they work to grow their operations into influential, impactful presences in their communities.
Follow along with the founders' journeys here on rjionline.org, where they post about their successes and tribulations to help other startup organizations learn from their experiences.
Comments