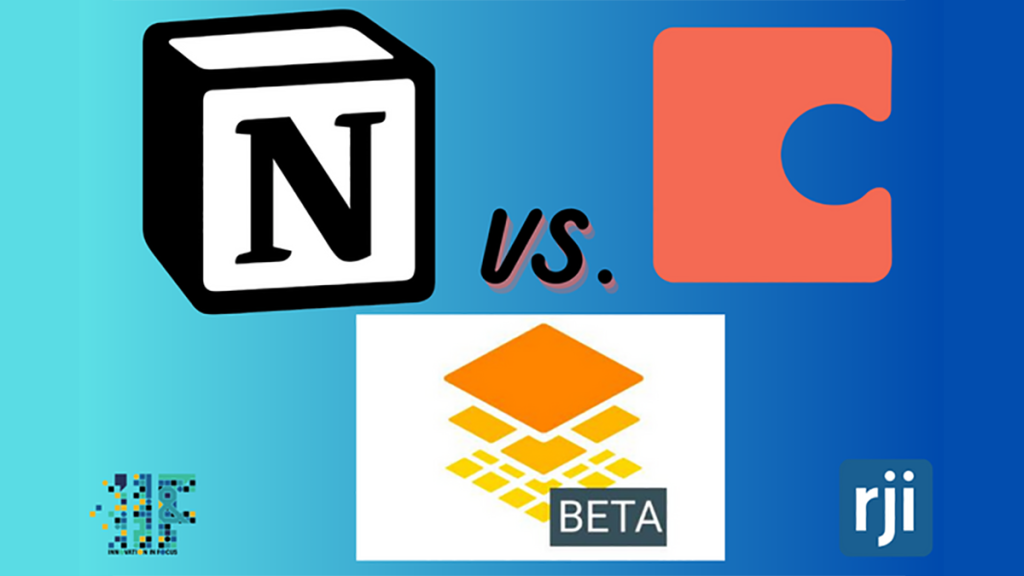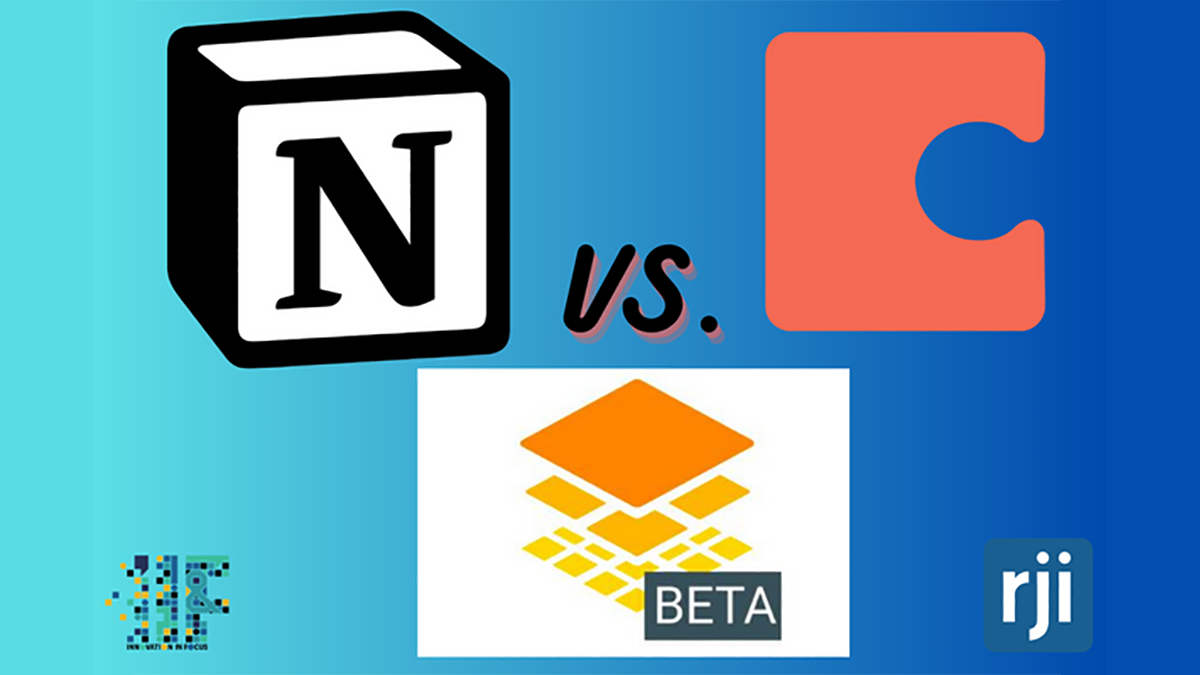 Testing tools to promote better collaboration in editorial budgets
How Notion, Coda and Google Tables (beta) stacked up
In an effort to foster more collaboration between multiple newsrooms, we worked with the Columbia Missourian to explore alternatives to Airtable for creating, sharing and updating editorial budgets.
While the Innovation in Focus team introduced Airtable to the Missouri School of Journalism's professional newsrooms a few years ago, editors have found it increasingly difficult to share their budgets and track changes with multiple users accessing the databases. Before upgrading from the free version to $20/seat, the newsroom wanted to identify other, more affordable tools.
We focused on three alternatives: Notion, Coda and Google Tables. These tools can help you create tables similar to AirTable's layout but provide key distinctions that could ease organization and add more collaboration between newsrooms.
No need to start from scratch
To prepare for a smooth transition process for the newsrooms, we created a mock news budget with each proposed tool, using the Columbia Missourian's daily budget as a template.
For each platform, we found the process of importing a CSV file from Airtable to be very simple. Coda and Notion seamlessly populated some of the budget's categories, like page numbers and sections (news, sports, opinion, etc.).
By uploading a separate spreadsheet of Missourian contacts, we could link that table to the "Supervising Editor" column in our budget. This allowed all the editors (and their contact information) to automatically populate. While we were able to do this with each tool — known as "Relations" in Notion and in Coda, and "lookups" in Google — Coda seemed to provide the smoothest process.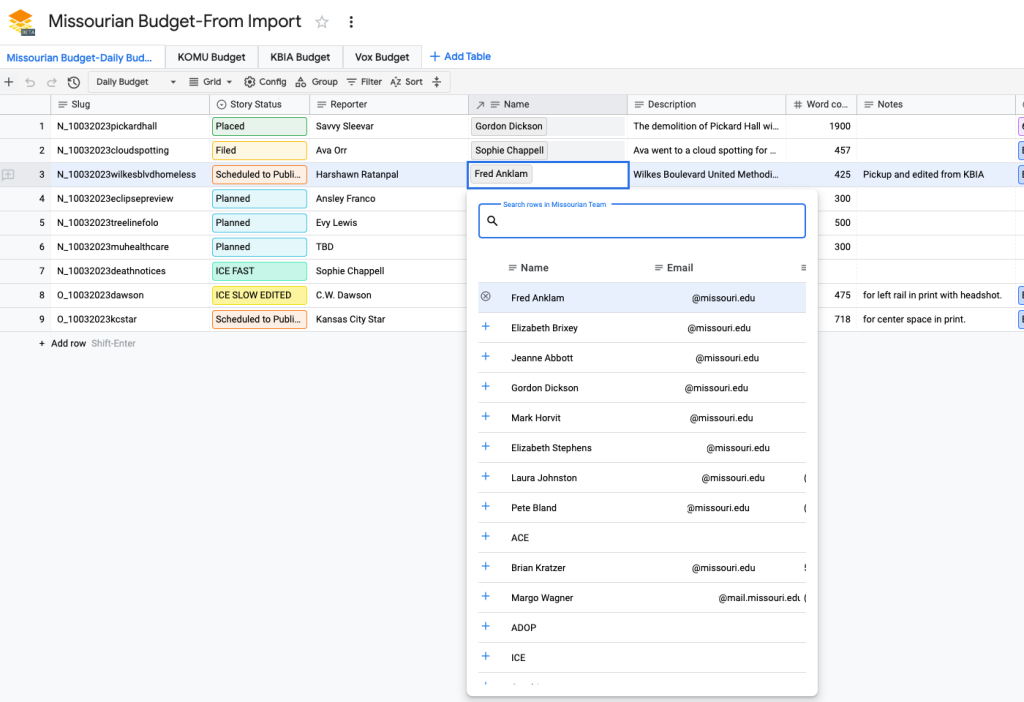 All three tools also offer a variety of templates if you want to build an editorial budget without importing a CSV file first.
In Google Tables, which is still in its Beta stage but moving to Google Cloud soon, we chose the Project Tracker and the New Document Approvals/Reviews templates to experiment with. We appreciated that Google Tables provides simple formats for newsrooms to quickly transition to, and it offered a familiar user experience to other Google products. Overall, though, Notion and Coda often offered more sophisticated templates and features for creating a collaborative editorial budget.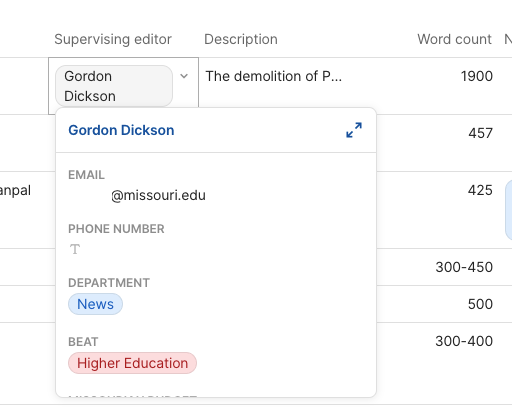 Editing and sharing features
One unique feature in Tables is its forms, which could allow newsrooms to create a singular place for story pitches. Users are restricted to one form in the base-level version and 20 in the upgraded plan. This could change if Google starts charging for Tables.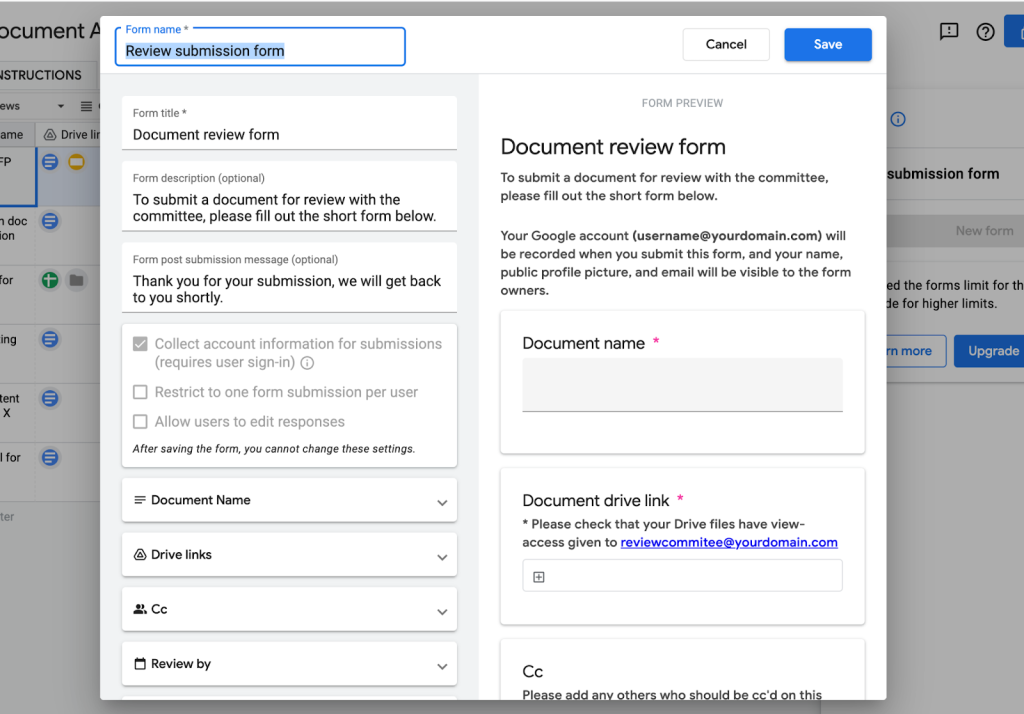 All three tools provide options to leave comments and collaborate on a document or table, but Coda has a particularly slick comment feature that allows you to thread a conversation and the ability to "suggest changes." Its pricing structure also makes it affordable to have multiple editors. For these reasons, in our experience, Coda provided the most capabilities for editing, sharing and the most potential for a smooth transition from AirTable.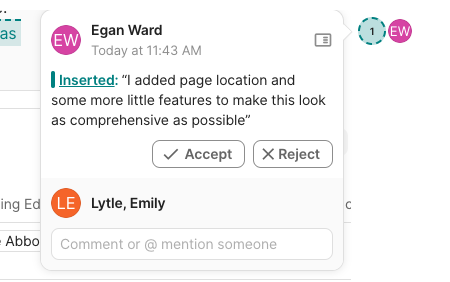 Free vs. paid versions
Each of these tools boasts a free version, in which users can access primary functions with limited additional features. For now, if a news organization was committed to using a free tool, Google Tables in beta is your best option because it will remain free with the ability to make up to 1,000 tables and attach 10GB of data.
Notion's free version allows for 10 guest collaborators — external team members who may work on specific pages, not an entire workspace. Additionally, Notion's free plan includes one synced database (to outside sources like Github) and up to 5 MB in space for file uploads. Pages are unlimited for free users, but they only have a 7-day page history to track changes. Once you start adding members to your teamspace, you also have a limited number of blocks, which are basically anything you add in Notion — from a row in a table to a checkbox in a to-do list. We did not run into this limit during our experiment.
Coda's free version is also limited by a 7-day page history but includes several features that may entice users on a budget. Coda recently unveiled "Coda 4.0," an update that did away with document size limits. It's important to note that Coda's free version includes document size limits for shared documents, though. When creating multiple templates, we ran into this limitation as each template was shared with three users. Coda has also introduced a new feature that allows users to embed outside documents (like a Google Doc or Canva link) in the sidebar, making documents easily accessible in one place.

Coda includes another unique feature: free public "Packs" — a way to connect your Coda doc to popular apps. The free version includes apps like Google Drive, OpenAI, Wikipedia and 25 others. With each upgraded plan, more packs are included.
All three tools also offer some level of automation that you can experiment with in these free plans:
Google Tables includes a set amount of bot actions, such as sending automatic email reminders or scheduled summaries.
Both Notion and Coda offer more advanced generative AI tools and chat assistants to try for free, but Coda includes AI in its paid plan and Notion charges extra for it.
Notion & Coda: opportunities to customize tables
The ability to tailor planning templates for your newsroom's specific needs is something that is appealing with tools like Notion, Coda and Google Tables. Each tool allows for customization, but some features provide more opportunities than others.
Similar to AirTable, each of these three tools has the capability to create and toggle between different views. These views allow you to keep information separate while housing them under one shared space. For the Missourian, which works with several other newsrooms like Vox Magazine, KBIA/91.3 FM and KOMU/NBC, this allows for easy collaboration between different teams.
Google Tables currently only allows five views with its base-level version, but users can currently upgrade for free to add 50 views. Google's tool is equipped with a dropdown menu that lets users change views easily.
We found Notion to have the most effective system for views. It has a clean layout that makes toggling between views easy. Additionally, Notion makes it simple to utilize pre-set views that users can toggle between.

While Coda does not allow for users to toggle between views with a horizontal menu at the top of the table like Notion does, a workaround is simply adding a new table to the same document (Insert > Tables & Views > Drag "table" into your doc > Connect it to your existing table). The ability to collapse and expand tables avoids a long, messy document.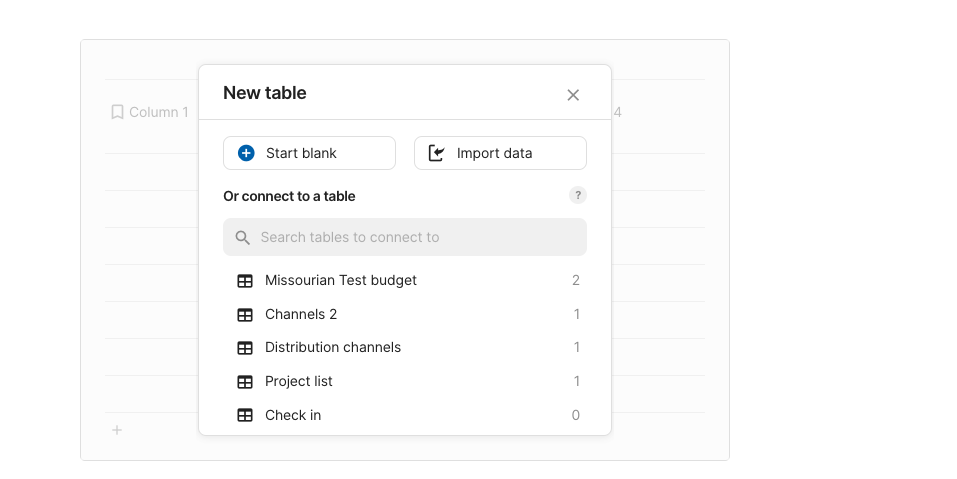 Another option is to place connected tables in separate documents, where they appear like a menu of views on your sidebar. The linked tables work the same way as "views" because if you change one table, that will affect all linked tables.
Note: After creating multiple views, we reached our document size limit for Coda.
Each tool also allows for different filters, which give users the capability to find information based on specific criteria. For newsrooms, the ability to make universal changes, or make changes only visible to some users, will be important.
To replicate a long-range planning budget beyond the daily stories, we needed to use multiple filters and groups. To do this in Notion, we used the board view, instead of the table. We could only use one group and one subgroup. With Coda, we were able to add multiple groups, but it was a little messy and may take time to organize the way you want it.
Coda's filter feature is slightly clunkier than the others, but their tool allows for unique customization by creating your own formulas for filters. Users can also add a filter bar that allows information to filter without changing other users' views. Google Tables filters are simpler but will not allow users to repeat filters.

The best choice for those willing to pay for helpful features
Because of the size limit for shared documents in Coda, as well as its collaborative capabilities, it may be worth paying for the Pro version, which is $10 per month for each document maker. Coda only charges for document makers, those who create documents or pages, not collaborators or editors, which distinguishes it from other tools like Notion and Airtable.
Notion's pricing is per member; for example, members can create and edit pages. Notion's Plus plan is $8 per month/user when billed annually or $10 per month/user when billed monthly. If you add more members later, you are charged based on the time they've spent in your workspace and your current subscription's rate. This plan includes 100 outside collaborators for free.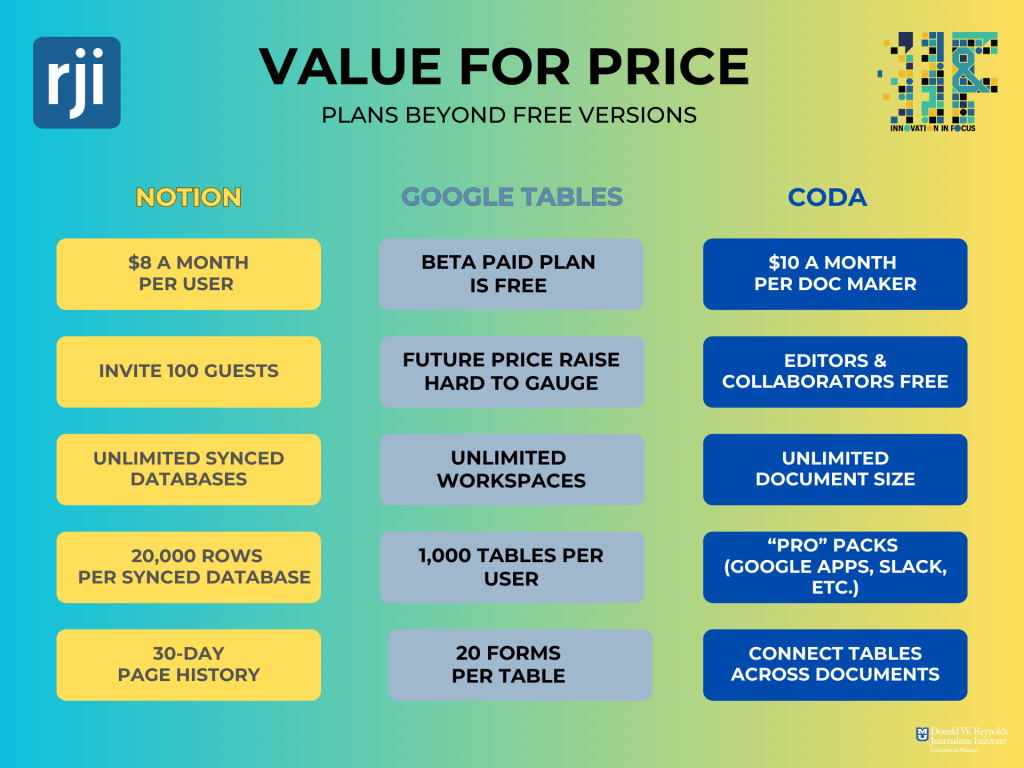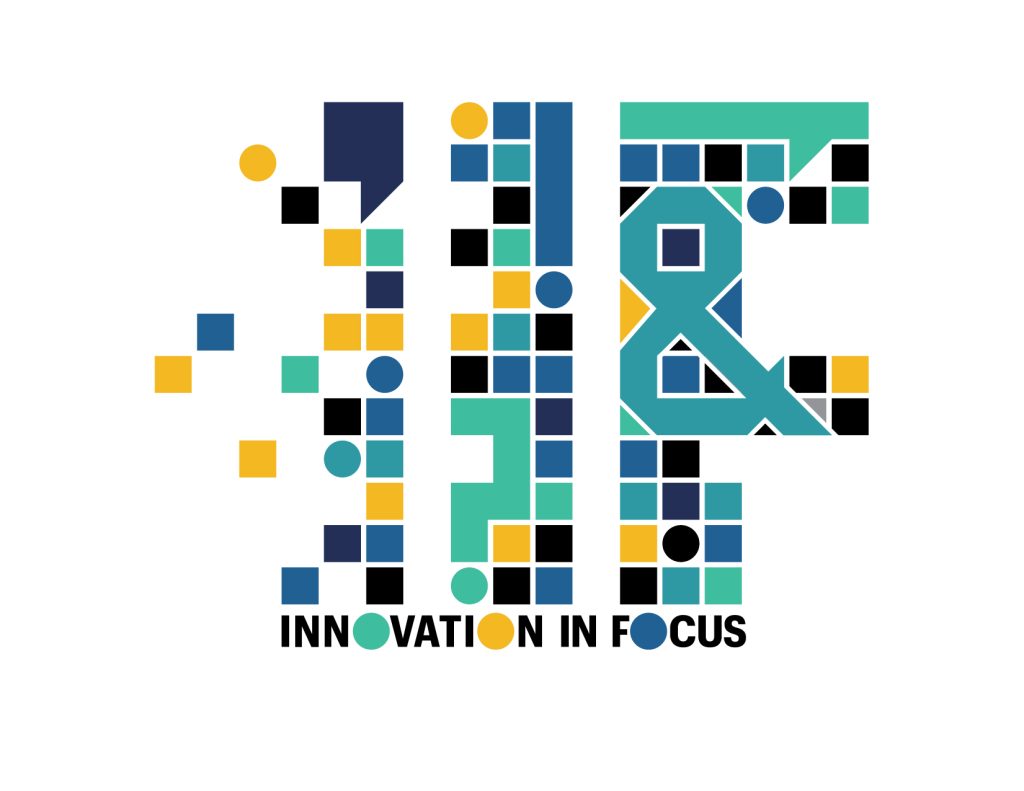 Sign up for the Innovation in Focus Newsletter to get our articles, tips, guides and more in your inbox each month!
Comments