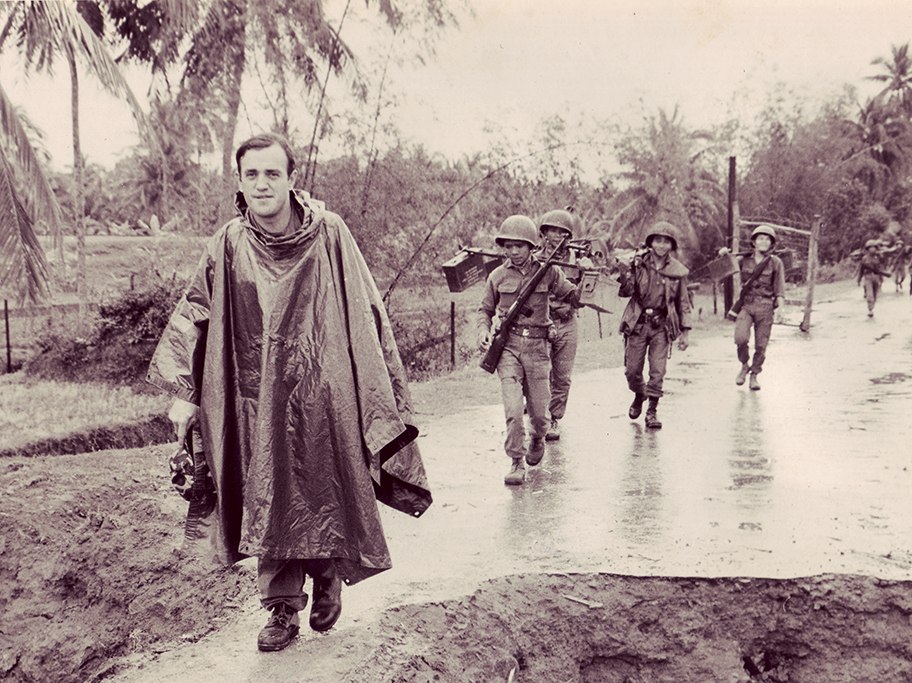 War stories: How Arnett's efforts to save Saigon articles inspire today's preservation efforts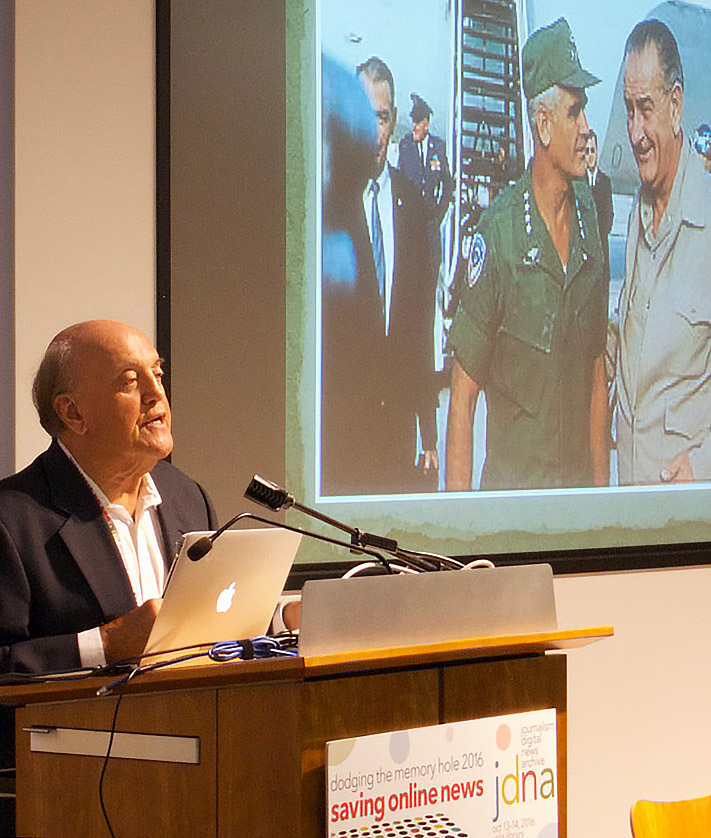 I'm no hero-worshiper, far from it. Yet there are people who I admire, people who have certain principles along with the courage of their convictions. A number of such commendable individuals joined us at the Dodging the Memory Hole: Saving Online News forum last month at UCLA. Among them was journalist Peter Arnett, who won the Pulitzer Prize for his coverage of Vietnam for The Associated Press. Millions of people know his name and face from his years at CNN, where he famously solo-reported the first 16 hours of the Gulf War live from Baghdad. Arnett is an amazing, admirable, brave and brilliant journalist, but that's not why I invited him to speak to our assembly in Los Angeles.
What could this veteran reporter, who had dodged bullets on battlefields from Vietnam to Iraq, have in common with an assembly of librarians, technologists, data nerds, archivists and civil servants? Why would someone who once sat face-to-face with Saddam Hussein and Osama Bin Laden agree to not only speak, but also fully participate in the conference proceedings? The answer: Arnett played a critical role in secretly saving a large portion of AP's Saigon bureau stories and photos from annihilation during the Vietnam War.
In 1972, Arnett was at AP's New York headquarters talking with Wes Gallagher, the agency's top executive. The conversation turned toward Arnett's frustration regarding stories that never ran because of technical limitations: The Telex system used at the time was too slow to transmit all stories AP produced each day. When a major story was breaking, many other stories were relegated to trash bins for lack of bandwidth on the AP wires. But bureau reporters and photographers, including Arnett, naturally wanted to keep copies of their creations.
Peter Arnett: Saving the AP Saigon bureau archives. View a video of Peter Arnett's presentation at Dodging the Memory Hole: Saving Online news.
When Arnett brought this backlog of unpublished stories to Gallagher's attention, the executive said, "Peter, we have the best of the Vietnam stuff here. Go back and make sure yours is destroyed." Arnett was shocked and concerned. Having struggled to locate information when researching news reports in the past, he knew the AP archives in Manhattan were in disarray.
"Now I was a loyal AP man," Arnett told DTMH attendees, "but I also treasured everything in our files. My own sweat had dripped on to some of these pages … to stories [that] hadn't made the wire. These were not amateur bloggings or airy Twitter-like expressions of opinion. They were finely crafted stories from some of the best-trained young reporters in the United States, who risked their lives to write them.
"I told the bureau in the summer of '72 that I would undertake the responsibility of destroying the files by taking possession of the scores of binders and removing them from the bureau. I loaded them into several dozen large tin trunks and quietly shipped them to the port of New Jersey – final destination – and the storerooms of my apartment building on the Upper East Side of New York."
For the next 33 years, Arnett shepherded those metal trunks and their contents, 136 binders of original news reports and related records. When he inked a deal with Simon and Schuster in the early 1990s to write his autobiography "Live From the Battlefield: From Vietnam to Baghdad, 35 Years in the World's War Zones," his ace in the hole was knowing he had access to the trove of facts and figures he had kept safe in those trunks.
When I asked him about the value of those Saigon bureau archives in writing his book, he replied, "For the Vietnam half of the book, the yellowing pages in my basement boxes provided essential details about locales, personalities and quotes that helped me illuminate the drama of the war. For example, in writing about my experiences during the Hill 875 battle in the Central Highlands of South Vietnam in late 1967, I used my saved AP files with their complete roster of stories and office messages to retrace my own … activities and reports [and those] of other AP reporters who were there. This helped me achieve verisimilitude in describing that significant battle and its relationship to the other actions taking place at that time. Very little of that original material was available in the purged files at AP headquarters in New York."
In 2005, 11 years after Arnett's book was first published, Valerie Komor, director of AP corporate archives, convinced him to repatriate the records by donating them to the AP. Three years later, in an article in the journal Atlanti, she wrote, "The files are of incalculable value, as they provide a 12-year chronological record of the Vietnam War, the most comprehensive day-to-day account of the conflict that exists anywhere."
Arnett's intimate tale of saving a chunk of world history was a vital part of the DTMH 2016 forum. Telling his story brought home the gravitas of this high-stakes quest to save the graphic record of human events. Under orders from the top to destroy the Saigon bureau archives, Arnett could've taken the safe and easy road and burned them. Instead, he decided to take personal responsibility for honoring the blood, sweat and tears of those who bore witness to a turning point in U.S. history. His actions honor the professional reporters and photographers who gave their time, energy, talent and sometimes their lives so that we as a democratic society would have the credible, fact-checked and verified resources we needed to make informed decisions.
Today an equally important question confronts us regarding the fate of born-digital news content worldwide. While contemporary journalists pursue the next scoop of the nanosecond and news executives focus on making enough profit to meet the payroll, vast amounts of news content are lost forever. The enemies of born-digital journalism are sown at the time of its creation: Technology is designed to create and distribute news, not to keep it permanently. Many people working in news organizations are unaware of just how much of their efforts to chronicle our time will be lost forever.
Let's review what Arnett did with the Saigon archives. First, he took action. He packed the articles into sturdy luggage and protected it, essentially, through benign neglect. Although far from ideal, it works for print and other analog formats. Contemporary electronic systems are vastly more complicated, yet digital content is much less durable. We are beginning to create the proper software tools needed to collect, preserve and share online news content. An increasing number of DTMH attendees at UCLA were information technologists. Guided by the cultural heritage community, these computer scientists, cyberneticists, hack-hackers, data nerds and other digerati are realizing critical mass and making meaningful strides to advance the knowledge and practice of digital preservation.
More importantly, Arnett took ownership. The current crisis of vanishing digital news content will only be remedied when each of us resolve to fix it. Each of the past four DTMH events has helped build awareness of the problem — and highlighted success stories that demonstrate how individuals and organizations have made a difference in this area. Significantly, Arnett also chose to let go of ownership when it made sense to do so. He couldn't do all the things required of a good steward, so he worked with others who could fill that role. Likewise, it will take a broad community effort to maintain a sustained and successful effort to save born-digital news.
The wicked problem of how to save online news content is in our face every time we read the news from a glowing screen. Any imaginable solution will require a complex combination of knowledge, financial resources and cross-sector cooperation. Faced with this challenge, it might be easy to throw up our hands in exasperation. Shall we give up? Shall we keep faith?
What would Peter Arnett do?
Comments