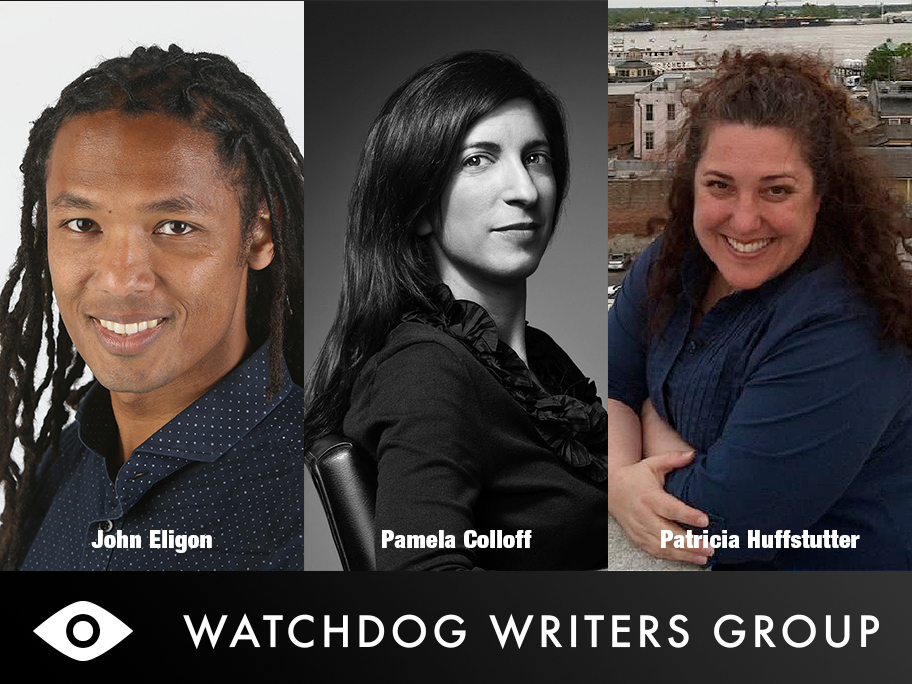 Missouri School of Journalism's Watchdog Writers Group announces first fellows and student reporters
The Missouri School of Journalism has selected the first two authors to receive its Watchdog Writers Group fellowship, a $50,000 annual stipend that will allow the journalists to write a book and help mentor a student reporter at the university. The program also selected the first author to receive a $10,000 book development award, to assist in the early stages of launching a book project.
The first two fellows are Pamela Colloff, a senior reporter at ProPublica and staff writer at The New York Times Magazine, and Patricia "P.J." Huffstutter, a senior reporter covering agriculture for Reuters in Chicago. John Eligon, a New York Times correspondent covering race from Kansas City, received the book development award.
Colloff is writing a book that expands on her ProPublica-New York Times investigation into jailhouse informants, "False Witness," which received a National Magazine Award for Reporting in 2020. Her book, "A Deal with the Devil," is an account of America's most prolific jailhouse informant, Paul Skalnik, and the people and institutions that enabled him.
Huffstutter is working on a book that builds off her groundbreaking reporting at Reuters, documenting the economic crisis that is unfolding across rural America.
Huffstutter has been at the forefront of this story, and her work shows how rising debt levels and the Trump Administration's trade wars have combined to cause a downturn in farming communities.
Eligon has been a lead reporter this summer for The New York Times covering the killing of George Floyd and the nationwide protest movement that it spawned. This coverage builds on Eligon's years of reporting for The Times, on issues from gun violence, to the changing face of American suburbs, to the 2014 protests against police violence in Ferguson, Mo. Eligon will expand his reporting into a book idea about the rise of the Black Lives Matter movement, and the experiences of people of African descent.
"We are honored and thrilled to support these three amazing journalists. They are writing vitally important books that will inform the public about complex issues that affect our country. This is exactly the kind of journalism that the Watchdog Writers Group was founded to support," said Christopher Leonard, executive director of the WWG.
Colloff, Huffstutter and Eligon will each partner with a Missouri School of Journalism student who will help them report on the topics of their book, while also producing an original investigative story that will be published in a partner media outlet.
Colloff will work with graduate student Steven Garrison, who covered the criminal justice system for six years at newspapers in Wisconsin, New Mexico and Indiana before pursuing a master's degree in investigative journalism from the School of Journalism. Garrison was recently named the recipient of the James and Patricia Atwater Memorial Writing Prize for his coverage of severe weather and flooding in mid-Missouri.
Huffstutter has already begun work with Peng "Fion" Chen, who received her master's degree at the Missouri School of Journalism in May 2020 with a focus on data journalism. Chen has worked with Huffstutter to build a unique database of federal farm loans to examine trends in debt and loan failures across the Farm Belt. Chen and Huffstutter's analysis of the data revealed the flaws in the system and helped Huffstutter narrow the focus of her investigation. Chen previously worked as a newspaper reporter for more than five years in Taiwan, where she is from.
Eligon's student reporter will be assigned this fall.
Leonard will also write a book, about the Federal Reserve system and its increasingly important role in the American economy, expanding on his recent article about the Fed for Time magazine. Leonard is working with senior Kelly Kullman, who is reporting on the modern history of U.S. banks and banking regulation. Kullman is pursuing a degree in business journalism with a minor in economics and French. She is a reporter with Missouri Business Alert, a business journalism publication housed in the MU School of Journalism, and the 2020 recipient of the school's Jerry Heaster Scholarship in Business Journalism.
The Watchdog Writers Group, established in 2019, has a dual mission: to financially support authors as they write a deeply reported nonfiction book in the public interest, while simultaneously training the next generation of young reporters. In June 2020, the program received a $1.1 million, three-year grant from the 11th Hour Project, the grant-making arm of The Schmidt Family Foundation. The foundation was founded by Eric and Wendy Schmidt in 2006 and it supports organizations and solutions that build resilient energy and food systems and protect human rights. The foundation also supports independent journalism at universities and publications around the country.
The WWG is housed under the Missouri School of Journalism's Donald W. Reynolds Journalism Institute. RJI is focused on helping journalism create a sustainable future to continue the necessary and critical role it plays in democracy and civil society.
"Journalism needs creative solutions to keep doing good work," said Randy Picht, RJI's executive director. "And the WWG is the latest example of a smart collaboration that checks all of the boxes."
You can support the work of the Watchdog Writers Group by visiting Mizzou Give Direct.
More details about WWG can be found at watchdogwritersgroup.com.
Comments