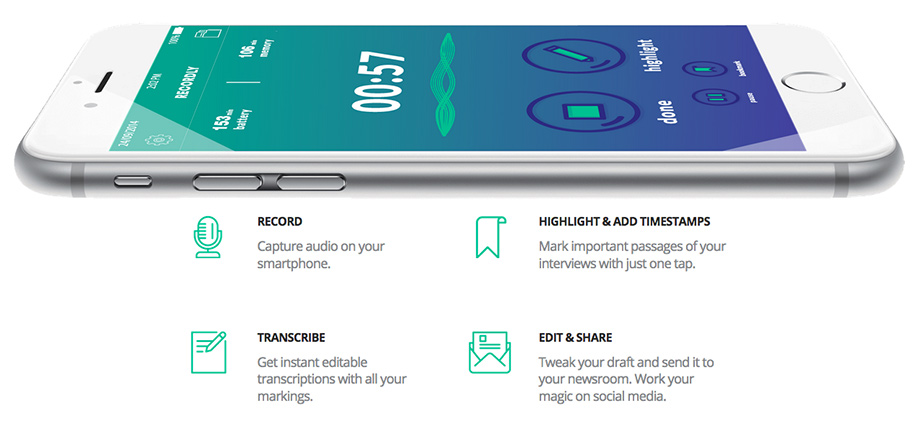 Chicago incubator to help student-developed transcription app move toward launch
The 2016 RJI Student Competition winners who created a recording and transcribing app for journalists are one step closer to launch with the help of a 16-week incubator program for female entrepreneurs.
Recordly was recently selected as one of 12 startups to participate in 1871's WiSTEM (Women in Science, Technology, Engineering and Mathematics) fall cohort, which begins this month in Chicago. The team of journalism and computer science students from the University of Missouri created the Apple Watch app for the RJI contest.
"We brought them [Recordly] in for an interview and we were very impressed with the team and the service and thought it was a viable company," says Jessica Williams, WiSTEM co-facilitator. "We're really looking forward to helping them move to the next step."
The program prepares startups for accelerator programs, says Williams. According to the program's mission statement, its curriculum is "focused around three primary areas—connecting women technology entrepreneurs to capital, technology and community."
The startups are at various stages of development and growth, including fundraising, business model development, marketing and branding. Therefore, each startup will participate in the curriculum but the program will be customized to fit the needs of each startup, says Williams.
Recordly co-founder and MU alumnus Anna Maikova said her team will spend time during the program continuing to develop and test the app with consumers. The team's goal is to launch the app in the Apple Store, as well as develop and test the desktop application, by the time the program ends in January. Students Yaryna Mykhyalyshyn, Sintia Radu and John Gillis are also part of the Recordly team.
At the end of the program each female founder and her team will demonstrate and pitch their companies and products to potential investors, customers and partners during the annual WiSTEM showcase.
Additionally, two companies will vie for a $25,000 investment through a partnership between WiSTEM and Village Capital Communities. According to Williams, the companies will be reviewing and rating one another to determine which two "top" companies will receive the investments based on various factors of viability and sustainability.
Maikova said she's thankful for the support of women entrepreneurs in an industry often dominated by males.
"It's a really great opportunity for us," she says. "Right now the tech industry is not gender balanced. Programs like WiSTEM and others are supporting women and that's really needed."
Comments