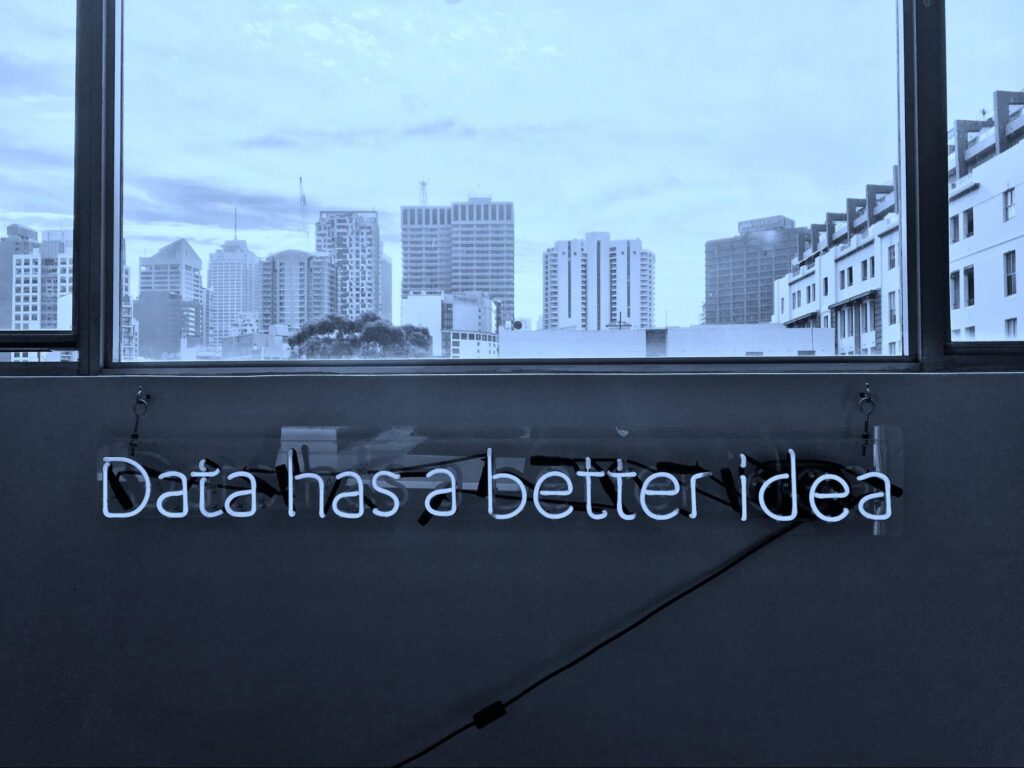 How to build data capacity in your newsroom
Introducing DUG, our beta data unit guide
Forget the gist of the photo up there—the one reading "data has a better idea." I don't buy it. (Lovely photo though, no?)
Data rarely has a better idea, because data doesn't think. People think. Sometimes data can help people think a little better. The problem is that it doesn't always feel that way.
Over the course of this fellowship, I've thought a lot about how to integrate climate data into more of our reporting pipelines; about cheap and easy manners in which climate journalists can be better data reporters. But I've also noticed that building data capacity in small and/or nonprofit newsrooms isn't as easy as it ought to be—regardless of subject matter.
And so while much of my work here has been borne out at the environmental magazine Grist—relaunching this month!—a large portion has recently been directed at the organizational questions hinted at above.
If you're a small newsroom interested in building out a data journalism team, where do you start? There are plenty of guides out there for 'how to be a data journalist'. There aren't that many for 'how to build a data journalism team for as few dollars as possible'.
Today, in partnership with RJI and RJI Innovation student staffer Tatyana Monnay, I'm launching the Data Unit Guide. It seeks to offer some pointers toward the aforementioned goal.
In particular, we want to offer start-up resources for small-to-medium and nonprofit newsrooms interested in building out their data journalism capacity. The guide's ideal reader is, well, someone at one of those organizations tasked with doing exactly that. The guide is free to use, and we've sought to integrate as many free and open-source tools as possible throughout. It's 2021. Data journalism doesn't have to be expensive.
Speaking of: DUG is an open-source project. Take issue with any of our advice? Are we missing a tool? Are we missing a whole section? Fill in the blanks for us on GitHub! We see today's launch as the 'beta version'. In an ideal world, this thing grows over time.
Mostly broadly, the current manifestation of the project covers people, organizational structure, tech and tools, measuring value, and fundraising. DUG relies on the premise that different newsrooms will be approaching the issue at different stages in their organizational trajectories. Your newsroom might already have a data unit. It might already have one and not consider it to be one. It might have one and call it something else, or it might employ the constituent employees of a data unit but scatter them throughout the organization without the anchors of camaraderie and appropriate business cards. DUG seeks to offer a set of best practices for thinking about the size, position, and organization of such a team in your newsroom—regardless of the stage it's at.
In other words, just like there's no one way to build a story, there's no one way to build a data team. But just because that sentence sounds like a cliché doesn't mean we don't have anything marginally useful to say elsewhere in the guide! If you're tasked with recruiting this kind of talent to your newsroom—or you want to rethink how your own team is organized—DUG has some concrete ideas for thinking through these organizational processes.
The guide is live at https://dug.news! Check it out—and better yet, submit a pull request!
As for me… I'll be working on implementing this guide at good ol' Grist, the magazine where we've been workshopping a lot of the principles at hand. If you'd like to stay in touch, my contact info is below. Thanks for all the messages and tips thus far, thanks for reading, and thanks for building this thing with me! Onward.
You can get in touch with Clayton Aldern at caldern@grist.org on Twitter @compatibilism.
Comments