Innovative strategies: 5 tips from Instagram news fellows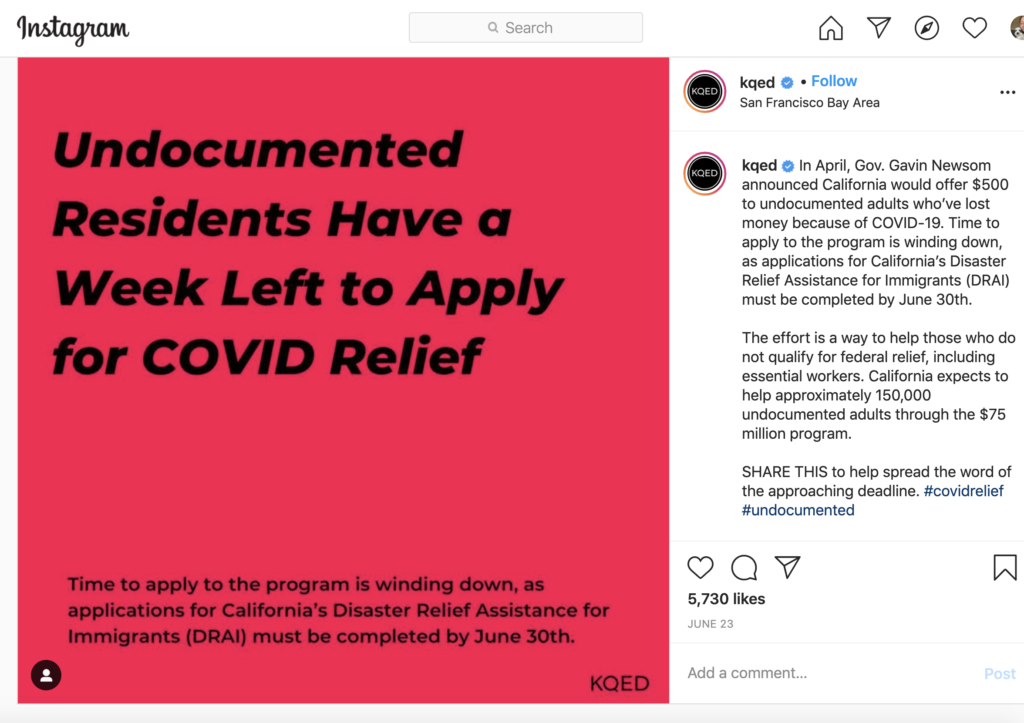 The Reynolds Journalism Institute launched the 2020 Instagram local news fellowship in collaboration with the Facebook Journalism Project, through which 22 college seniors and recent college graduates joined local newsrooms across the country as Instagram editors. For 10 weeks this summer, the fellows are innovating on their newsrooms' Instagram strategy to advance the organizations' business goals. The fellows are now halfway through the program and already seeing tangible results from strategic shifts they have implemented.
Below, find five tips to honing your own Instagram strategy to increase engagement and convert followers into subscribers.
Target "deep engagement" metrics such as saves and shares
When most people think about Instagram engagement, they think about likes and comments. But there's a lot of value in focusing on engagement signals such as saves and shares, as KQED fellow Alexis Angelini has found. They are strong indicators that your content is resonating with your existing audience, and they help bring in a new audience. Alexis has developed a three-pronged approach to encourage "deep engagement":
Digestible content: Having observed typical Gen Z behavior, Alexis understands many of her peers are seeking bite-sized pieces of information that are easy to consume and just as easy to pull into their own story to share with friends.
Clear call-to-actions's: Alexis has been adding direct call-to-action messaging to captions, such as "share this with a friend" or "save this for later."
Tag related accounts: Leverage tags to help your audience discover accounts that do similar work. People will save your post so they can revisit and explore these related accounts.
Alexis points to this post on KQED's feed that generated upwards of 11,000 Shares and over 2,500 Saves, which blends all three aspects of her strategy.
Lean into Instagram stories to reach the next generation of news consumers
Instagram surpassed 500M daily active stories users which means programming for stories is no longer just a recommendation – it is vital for anyone who wants their content to reach an audience. Chicago Tribune fellow Fatoumata Ceesay noticed that her newsroom did not post stories consistently which felt like a missed opportunity. She sought to establish a daily posting schedule as well as refresh the look and feel of the Tribune's stories. She explored various tools and landed on the app Mojo which she says is easy to use, versatile, and offers animation integration. Importantly, Mojo's free tier is robust enough that the newsroom can keep iterating after her tenure ends.
Incorporate interactive elements to learn more about your audience
Birmingham News fellow Olivia Wales was tasked with rebranding the Instagram account for @reckonalabama. After analyzing their audience, she landed on a visual rebranding that leans heavily on shareable graphics, handwritten fonts, and animation. She's also exploring interactive storytelling, incorporating the question sticker and reposting the replies she receives, and fashioning weekly quizzes using the quiz sticker in Stories. Since the start of her fellowship, the account has seen a 700% growth in followers. Similarly, fellow Ajibola Bodunrin with the Chicago Defender has been soliciting follower feedback in captions to encourage engagement, ending many feed posts with an open-ended question.
Use video to help fill a storytelling gap where static posts fall short
El Diario New York fellow Estefania Mitre was inspired by Telemundo's daily posting of video assets and ramped up video posting on her newsroom's Instagram account. In her first month on the job, she posted 40x more videos to feed and IGTV than the month previous to her arrival, and views have been up 18x. She's found that "deep engagement" metrics are higher on video posts compared to static, even when they touch on the same topic. A video about Vanessa Guillén's disappearance, for example, generated 5x the shares and 2.5x the saves compared to a photo post about the missing soldier. More information is packed into video than can be included in a post, Estefania theorized, which led her to pilot an Instagram Live series dubbed #ElDiarioChats that allows Latinx businesses to tell their own stories about how COVID-19 has affected them.
Daily news roundups can turn your Instagram audience into onsite traffic
Times-Picayune fellow Elie Levine was asked to increase conversion on her newsroom's Instagram account to recruit more newsletter subscribers. She implemented weekly headline roundups in Stories that summed up the biggest news of the week with a "Swipe Up" call-to-action element to learn more. Once users swiped up, they were asked to submit their email address to receive the news in newsletter form. This strategy was so successful that Elie upped the roundup cadence to daily and has seen subscription rates double. Recruiting newsletter subscribers is also a goal for Diana Riojas, a fellow with 100 Days in Appalachia. She found that mixing photos, audio and video in a carousel post in feed is the most effective way to get people to check out the link in bio, which directs followers to sign up for the paper's newsletter.
Comments