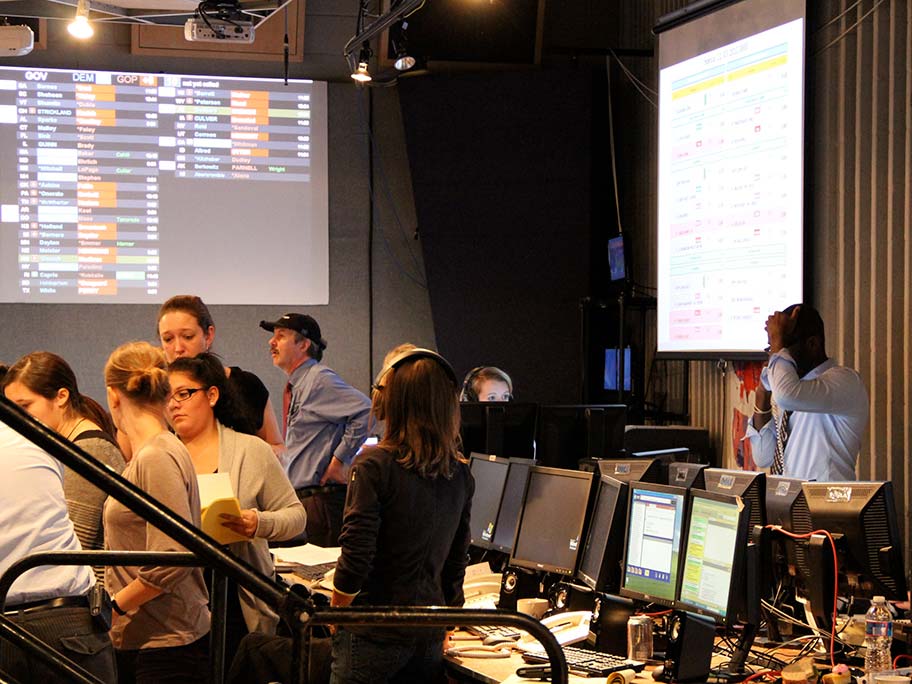 Newsroom Notes: Covering pandemic, protests provides three valuable reminders
I know it's been a while. Three months, 30,000 new and returning students and we're on the verge of the biggest pizza-night in local television. If you don't recognize that line, you haven't worked Election Night. For most of our student journalists, this is their first national Election Night. We are reviewing assignments and rundowns, but still need to have our "Murphy-meeting." Haven't heard about that? Longtime friend and colleague Jill Geisler explains "Murphy-time" as only she can.
University curriculums are notoriously difficult to change as I explained last fall when the Missouri School Journalism embarked on its most recent overhaul. Still, the beauty of The Missouri Method is the ability to teach real-world lessons If you have been following our postcards, you know that KOMU evolved its workflows in a matter of days when the University sent students home last March. As we — like you — continued covering the pandemic along with protests in support of racial justice, we've discovered three important lessons worth teaching in every newsroom.
Move beyond "either-or" reporting
Join me in banning the phrase "both sides" from our story discussions. We live in a complex world and most important issues defy the either-or and yes-no equivalencies. In our daily reporting, it's too easy to fall into false equivalencies. It is that important. And, it's difficult to teach in the rush of daily copy editing, but easier if you make it part of your daily conversations. A year ago, I was in upstate New York as the measles outbreak made headlines. I found myself pushing back on a reporter always wanting to include opponents to public health vaccinations. This year's mask debate brought those same emotions. NPR's Public Editor Elizabeth Jensen documented her organization's struggle with the vaccine story more than a year ago. Poynter's Kelly McBride did a good job of unpacking some of the issues. The hyperbolic political atmosphere only makes this more important. In the days, weeks and months ahead, we will be reporting on complex issues and we owe our audiences clear reporting.
Don't serve "number soup"
How can we MORE effectively tell stories filled with numbers? Do you recognize the trope that we got into journalism because we couldn't do math? Yes it can be mildly offensive stereotype to some of our math-focused colleagues. And, we need data journalists now more than ever. COVID-19 dashboards abound and just as we think a particular metric tells a meaningful story, we learn that metric is compromised. When a school district or county health department publishes a new dashboard, who on your team can see through the maze. Metrics like positivity rates and rolling averages can be meaningful, but only if we invest the time to verify the underlying data and explain why they matter.
Transparency builds trust
The local nature of the twin storylines around COVID-19 and the summer protests against racial inequity combined to build trust in local news organizations. We told you about an ongoing audience research project from research and consulting firm SmithGeiger showing two-thirds of daily users trust their local news organizations. Make sure you remind everyone on your team that every story, every broadcast, every push-alert is an opportunity to reinforce that trust—or a chance to erode it.
Next week — the story of launching a brand-new website and new apps — two weeks before Election Night!
Comments