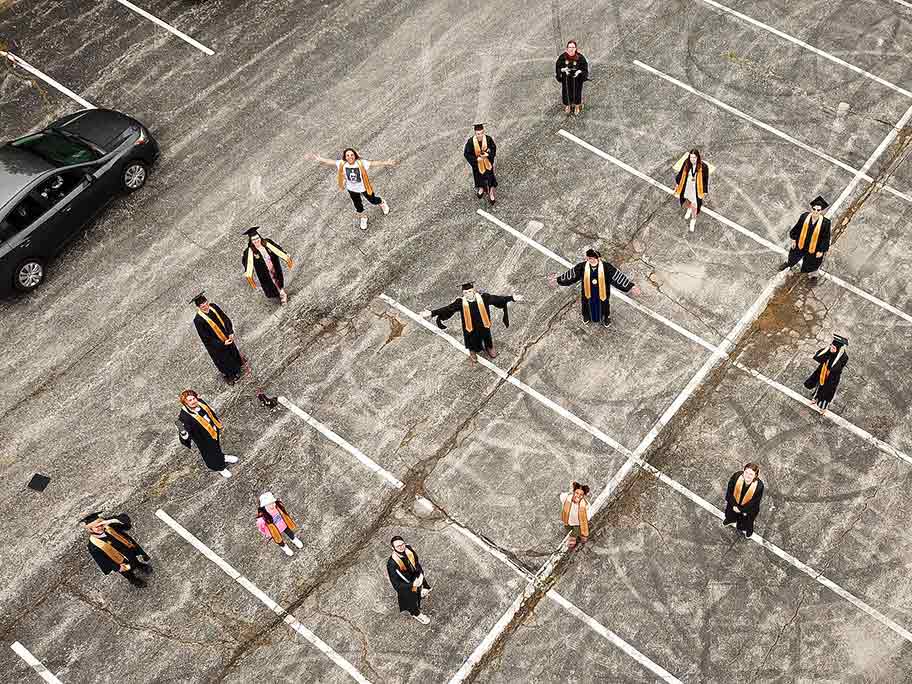 Newsroom Notes: The more things change, the more they stay the same?
How do you run a newsroom through these unusual times? We're providing a first-hand view from an industry veteran who agreed to lead the KOMU Newsroom during a faculty search process—just as the COVID-19 crisis began unfolding.
When it comes to the global pandemic we find ourselves in, are you tired of hearing the quote attributed to Winston Churchill? "Never waste a good crisis." Maybe you're also tired of quickly hearing the spirited debate about whether he actually said it. For some of us in the newsroom, we're experiencing similar fatigue with the debate about local journalism.
Will COVID-19 forever change local news reporting? What is the "new normal" when interviewing newsmakers? What about looking over a producer's shoulder to view an edit? And will furloughs become a recurring newsroom occurrence?
Think about this: Poynter and others are chronicling layoffs at local newspaper giant Gannett and its former broadcast division, spun off in 2015, Tegna, survived a shareholder vote led by a rival broadcast owner. Did both have a pandemic connection? Did neither? Did one but not the other? It probably depends which talking head (or keyboard) you follow.
But here in the KOMU newsroom, while thinking about what's next is never far from our thoughts, we're learning that a global pandemic can really reinforce some basics. That is one thing we're learning in our take-one-day-at-a-time approach.
I call your attention to a couple of recent research reports with implications for sustainable local journalism:
Pew Research Center just completed a survey of 10,000 adults. A solid majority said the COVID-19 pandemic has changed the way journalists report the news, but only a third think this will have an impact on sustainable journalism.
Perhaps more telling, a late March survey from SmithGeiger survey of 1300 adults nationwide. Over three quarters of the respondents gave highest marks to local news coverage. That is 15-percentage points higher than network news and 23-percentage points higher than the Centers for Disease Control. "Local news is delivering highly relevant information," said survey manager Seth Geiger. Social media continues as a major element of the news eco-system, but the SmithGeiger study noted an interesting divide. "The more you watch local TV news, the more you trust it," noted Geiger adding "the more you use Facebook, the less you trust it."
So, what to make of all this?
Reporters spending more time reporting and less time in the newsroom is a good thing. I'm reminded of a sales manager telling me that account executives rarely make sales in the office. Zoom and Facetime can be less intrusive than a reporter showing up in person, but our reporters need the tools to be safely in the field where they can do real reporting.
Collaboration is important hard work. TV reporters who lamented the invention of the multimedia journalist often missed the point. We all needed to learn to shoot and edit video, but the "one-person" reporting team also created new responsibilities for newsroom leaders. Not every traditional reporting team was genuinely collaborative, when the ones that were turned out much better stories.
Producers will always be the 'newsroom glue." As we move toward on-demand content, we need to evolve the role of the newsroom producer. Newsroom automation brings important efficiencies, but it is far too easy to turn producers into stackers and coders.
Find places for excellence. An excellent videographer can tell a story with precious little writing. An excellent writer can focus us on what is really important. An excellent interview can elicit important answers. I often compare local newsrooms to the cast of M*A*S*H. We live in the 24/7 world of local news, but there is always room for excellence.
A footnote from our last missive: Missouri Governor Mike Parson saw the wisdom of giving up his role as a TV anchor. His team found a way to regularly accommodate a handful of statehouse reporters. And, he is sitting for extended interviews like this one with our own Emily Spain. Maybe this crisis is a time for a reset of the relationship between Governors, and other sources, and the journalists working hard to put stories into a meaningful context.
I have been ending these Newsroom Notes with a verse from Ecclesiastes Chapter 3. "To everything there is a season, and a time to every purpose under heaven."
Comments