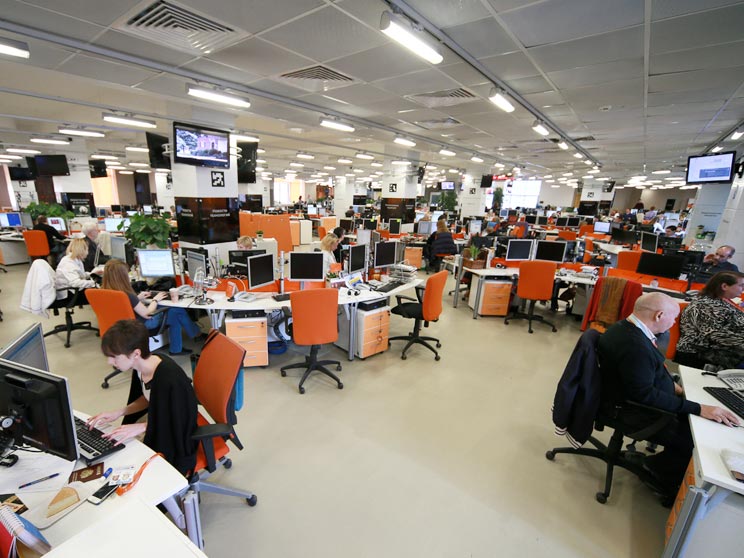 RJI seeks newsroom partners for millennial-driven innovative projects
With shrinking newsrooms and tight budgets, it can be a challenge to come up with fresh ideas or enough hands to work on all the innovative projects your newsroom thinks up.
To help, the Donald W. Reynolds Journalism Institute is looking for media outlets interested in partnering with advanced students from the Missouri School of Journalism as part of its RJI Student Innovation Fellowship program. Fellows are embedded in a newsroom for a full semester to help with projects employing innovative technologies, storytelling techniques and revenue models.
New media partners are now being considered for the Spring 2019 semester, which begins in January. Interested news outlets should contact Mike McKean, RJI associate director, by Oct. 15.
Recent partners have included ABC News, Mic, NowThis, PolitiFact, Raycom Media and The Seattle Times.
How the fellows are helping news outlets
Mic fellow Rachel Thomas has helped craft the organization's Instagram strategy and prototype a new daily video product. This is the second semester that Mic has participated, and they plan to participate again, says Marcus Moretti, VP of product.
"Students bring fresh perspective and enthusiasm to our business," he says.
ABC News fellows have helped gather and analyze finance documents and track and visualize campaign spending. The fellows have brought much-needed skills, says Stacia Deshishku, deputy bureau chief at ABC News.
"Though we have many amazing journalists working for our organization, not many have the background in data journalism," says Deshishku.
The fellowship program prepares students for jobs after graduation and offers employers an opportunity to see if the student might be a good permanent fit.
Graduate student Soo Rin Kim, a former fellow for ABC News, was hired after her graduation in May 2018.
Each media outlet partners with RJI to provide a minimum stipend of $4,000 to the fellows to help with living expenses. The company is also asked to provide a mentor and to allow the student to publish on the RJI website lessons learned that could transfer to other news organizations.
Getting the most out of your innovation fellow
Some of the fellowship sponsors offered these words of wisdom to future media partners:
"Look closely at areas where you wish you had stronger journalistic impact and ask for innovation fellows who have those skills," says Deshishku. "It becomes a two-way street, for the employees and the fellows, to learn from and to teach each other."
"Make sure to structure the fellowship in collaboration with the fellow," says Moretti. "We defined three objectives for our fellow that she co-authored, and it has been very successful. Also, don't aim too low. [These] students are ambitious and hardworking. They should be assigned moonshots."
"Sit down and listen to the fellow that you take on," says Aaron Sharockman, executive director of PolitiFact. "Take a minute to figure out their interests and specialties and then try to marry what you need with what they want."
Comments