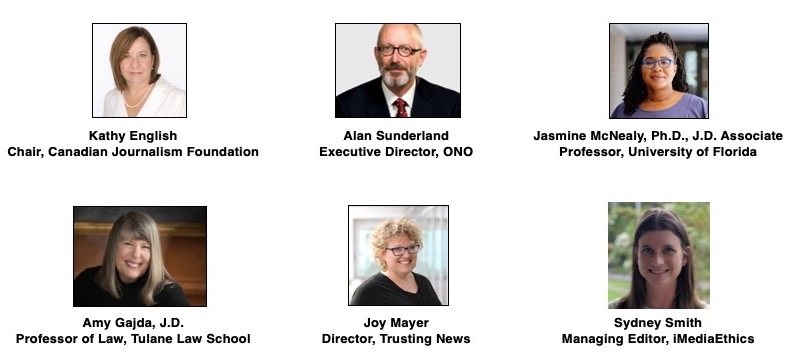 Unpublishing project advisory board gets rolling
The unpublishing project has gained significant momentum in the last few weeks, including an unpublishing webinar with editors RJI hosted in August. Much of the work has been behind the scenes, cementing the foundation I need to ensure the final result is valuable to newsrooms across the country. There is much work to be done in the coming months, but the advisory board I have assembled has the expertise and passion to help me make it happen.
The powerhouse of experts who will serve on the unpublishing project's advisory board are an important component of the project for two reasons.
First, their collective knowledge on issues related to unpublishing is unparalleled. As we know, unpublishing is a simple word to describe a highly complex set of challenges with tentacles invading virtually every aspect of the journalism profession. From editorial practices and ethics standards to legal and policy implications, the advisory board's expertise will ensure this project maintains its commitment to excellence—and relevance—in support of newsrooms across the country.
Secondly, the advisory board will help hone the tools I build with partnering newsrooms by offering input during the development process. The objective of this high-level, yet critical review is to identify potential issues or improvements that we need to consider before finalizing the resources for wider use. The feedback may lead to simple tweaks, or they could raise more significant issues related to legal or technological challenges. Again, tackling unpublishing is complicated, and it will take a village to ensure we address it appropriately.
Assembling a team of expert advisors can be time consuming, which takes it off the table for many overworked newsrooms. Sometimes, however, a big win can arise from a very small effort. Many of these connections originated from a quick email to say I appreciated the person's work; others were bigger "asks," such as asking for an in-depth interview for my previous research on unpublishing. Finding the most prolific writer covering unpublishing in the news industry was a "cold call" connection, as was bumping into one of the biggest law scholars in this area at a conference. RJI helped make another introduction.
A clear description of your need and why the person is who can help typically gets things rolling. I've found that people want to help, especially when it comes to projects that will benefit local newsrooms.
Without further ado, I'm proud to introduce the Unpublishing Project Advisory Board
Kathy English
Chair, Canadian Journalism Foundation
Kathy is the former public editor of The Toronto Star and has been instrumental in raising awareness and suggested standards to the news industry. She wrote the first industry report on unpublishing based on a survey of editors in 2009, and her work has been instrumental in my subsequent research.
Amy Gajda, J.D.
Professor of Law, Tulane Law School
Professor Gajda is an expert in a variety of legal topics, including privacy and how the European Union's Right to be Forgotten legislation affects the American press. She is an invaluable asset to ensure we consider "all things legal" as we develop tools in the newsroom.
Joy Mayer
Director, Trusting News
Joy is dedicated to ensuring newsrooms implement high-quality editorial practices that increase audience engagement, public trust, and ultimately, newsroom credibility. She brings a wealth of insight about the current state of journalism and media organizations' relationships with their audiences that will help ensure our audience outreach is effective.
Jasmine McNealy, Ph.D., J.D.
Associate Professor, Department of Telecommunication
Associate Director, Marion B. Brechner First Amendment Project
The University of Florida
Dr. McNealy's expertise at the intersection of information, communication, and technology make her an incredible asset to the board. Specifically, her focus on privacy and online media—as well as her existing work on unpublishing—will be critical to the group's consideration of the often-overlooked implications of unpublishing practices.
Sydney Smith
Managing Editor, iMediaEthics
Sydney has written more articles about unpublishing than anyone I know. Her historical and current knowledge of what is occurring on the ground combined with her critical understanding of the ethical issues unpublishing raises will ensure the group is well educated on specific challenges U.S. media are facing on the topic.
Alan Sunderland
Executive Director, the Organization of News Ombudsmen and Standards Editors
Alan has been an instrumental part of my previous research on unpublishing, and his willingness to serve on this advisory board further demonstrates his commitment to moving the industry toward both editorial and ethical excellence. As the former head of editorial policy and editorial director of the Australian Broadcasting Corporation and a working journalist for more than 40 years, his expertise will ensure the specific challenges for broadcast news are addressed.
What's next?
We're off to a quick start. The advisory board held its kickoff meeting on Sept. 1 and reviewed goals for the project, the scope of the effort and some of the initial steps we'll be taking with two newsrooms that have signed on to help test and develop the tools and strategies we're considering.
Next month, I will announce those news organizations and the specific tools we plan to develop. The ongoing discussions are exciting, and both I and the news editors believe they can truly make a difference in confronting the unpublishing dilemma facing journalists across the country.
The unpublishing website is in development as well. I can't wait for it to become your one-stop resource for all things unpublishing.
In the meantime, if you have questions or suggestions, please reach out! You can reach me at unpublishingthenews@gmail.com or on Twitter at @unpubthenews as well as find previous articles about the fellowship project here.
Comments