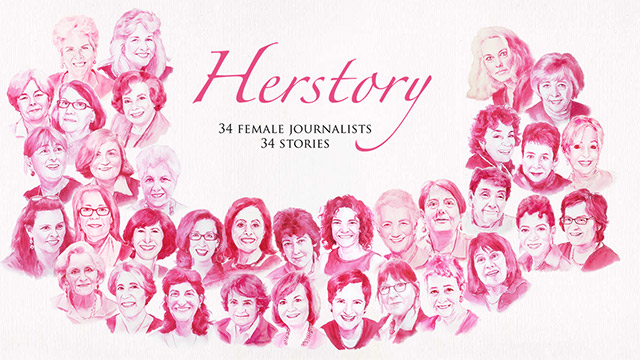 RJI Fellow's oral history website shares stories, challenges and inspirations of female journalists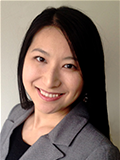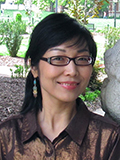 An oral history website chronicling female journalists' fight for gender equality in the Fourth Estate launches today.
Herstory tells the stories of 34 veteran female journalists and the challenges, struggles and triumphs they faced in a historically male-dominated profession. The women were interviewed as part of the 2013-2014 RJI Fellowship of Yong Volz, an associate professor at the Missouri School of Journalism. Volz served as project leader of Herstory.
Most of the journalists featured in Herstory — including Tad Bartimus, Linda Deutsch, Peggy Simpson, Betsy Wade and Jean Gaddy Wilson — began their careers in the 1960s and 1970s during the second-wave feminist movement. Pam Johnson, founding executive director of the Donald W. Reynolds Journalism Institute, is also featured. All are members of the Journalism and Women Symposium (JAWS), which is celebrating its 30th anniversary this year.
The site also includes a tribute to Kay Mills, "one of the key drivers of JAWS," who passed away in 2011, says Volz.
Through a series of audio and video clips, the women share the inspiration and camaraderie they felt as members of JAWS, which meets annually for its Conference and Mentoring Project (CAMP).
Volz and two team members, Youn-Joo Park and Teri Finneman, doctoral students at the Missouri School of Journalism, spent several months traveling individually to Washington, D.C., Vermont, New York, Minnesota and Kansas to interview the women as part of Volz's original oral history project.
RJI Senior Information Specialist Jennifer Nelson visited with Volz and her colleague Ying Wu, who designed the Herstory website.
Jennifer: As you interviewed these women, how willing were they to share their stories?
Yong: The ones I interviewed were very open. After I turned off my camera, a few of them shared some additional stories with me about their newsroom experience and private life. I honored their off-the-record requests. Those were very helpful to me to understand the struggles they had when they tried to balance family life and professional life, which is still very relevant today in the workforce. I was actually surprised at how open they were. There was a little resistance from some members when we requested the interviews but once we sat down and began the oral history conversation, they were very honest, very sincere, very authentic.
Jennifer: How has this project changed and evolved since it began?
Yong: Originally, I conceived of the project as more of a research project. But once we began the process, the oral histories we collected turned out to be more than just research data but stories with deep intimacy and moral cores. I wanted to share it not just in the form of scholarship but also as part of public knowledge. That's how we decided to put together a website. I wanted the website to be more than just a collection of materials, but to tell a story, Herstory. Ying Wu, who is my colleague at the Missouri School of Journalism, volunteered to work with me on this website.
Jennifer: What did you hope to accomplish with this oral history project?
Yong: It was not just a way to give the women a voice or to rediscover missing voices from history. I feel many issues and experiences they shared are still very pertinent to today's media and the dilemmas women are facing. Some of the people we interviewed are prominent figures in the field of journalism but others are not as recognizable. So I thought that was the beauty of the oral history.
One thing I want to focus on in both my research and on the website is the collective voices. These are not individual, separated voices. This is a collective voice, like a choir. They may not always agree with each other on some specific issues. What they do agree upon is the need for gender equality, the need for women empowerment, and the need to advance the status of women in the field of journalism and in society at large.
Jennifer: Why did you use watercolor portraits of the women for the website? Can you tell me more about the creation process of this Web design?
Ying: Yong gave me the photos of the interviewees. But the photos did not have a consistent style; some were very professional and others were taken at home. This project is about fighting for equality. I think we should treat everybody the same. Though all these women have their own distinct personalities and experiences, I wanted all the photos to have the same style.
Then I told myself, "I can paint. How about I just paint them?" I think the watercolor style and pink color are quite fitting for this theme. I started painting them myself and then asked my friend J. J. Zhan to finish the portraits. It took about one month to complete the portraits.
After finishing all of the portraits, I started the design for reading experience. Since these are oral history stories, voice and sound should be the key components. So I wanted to include an audio quote on each interviewee's page. When you see the interviewee's portrait and listen to her voice, you will feel like she is telling her story with you in the same room. Including the quote is also for social media sharing. People get a lot of information from social media every day, and the quote is a very popular format in social media sharing. Later, I added background music and did sound editing. I wanted to create a pleasant reading experience, which can trigger human emotion, so readers not only read the story and hear the story but also feel the story.
Jennifer: The development of the site involved volunteers from different departments across the University of Missouri campus. Could you tell me more about the team?
Ying: A. J. Million, a Ph.D student from the School of Information Science and Learning Technologies, volunteered for part of the Web-developing job. He also has a background in historical studies. Haley C. Myers, a student from the MU music department, created the piano pieces. She took one month to finish all of them. Then her instructor, William J. Lackey, professor of composition, helped with live recording and music editing. They did a wonderful job for this project. Yong: Youn-Joo Park and Teri Finneman, two doctoral students at the Missouri School of Journalism, helped greatly with the research, writing and editing for the website. Katie Parkinson, a 19-year-old freshman in our school, took a keen interest in this project and helped me in every way including the audio and video editing, profile writing and archival research. So many of my colleagues at the Missouri School of Journalism and the Reynolds Journalism Institute have provided concrete help and useful feedback on the project. Notably, Dean Mills and Esther Thorson were really a driving force that allowed this project to move forward. And, of course, JAWS leaders, especially Kat Rowlands and Becky Day, have strongly supported the project. Most importantly, the JAWS women who were willing to share their stories with us. This website pays homage to them.
Jennifer: What's next for the Herstory project?
Yong: Most of the oral history interviews we conducted are three to four hours long, with a wealth of information on the work experiences and professional lives of women journalists at different historical times. Eventually we would like to share the full videos and transcripts with the interested public. We will also share this project with scholars and historians who are interested in conducting, presenting and publishing oral histories. Meanwhile, I will continue developing a book project that is based on these oral histories and additional archival materials.
Comments