Circa app adds breaking news alerts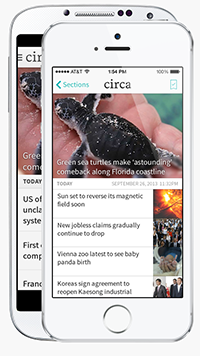 Breaking news alerts are among the key features of Circa News 2, the latest update to the mobile news startup. Released last week, the feature is also included in Circa's new Android app.
Circa launched in October 2012 as an app on iOS devices and identifies itself as a news source that delivers news in a format "native to mobile lifestyles with an experience built for a world in motion."
Circa staff hopes to help alleviate some of the challenges often associated with keeping up with breaking news.
"Right now breaking news is very hectic," said David Cohn, director of news at Circa and 2010-2011 Reynolds Fellow. "There's this race to be fast and a lot of times that results in kind of a poor experience. The breaking news push often brings you to an article where there's very little known information. And they just sort of leave you there."
If readers want to learn additional information after receiving an alert, they often have to visit another source, which often just provides them duplicative information, said Cohn.
When readers choose to follow breaking news alerts on Circa they will receive periodic notifications when new information has been added to the storyline. The breaking news will appear at the top of the storyline with the older information at the bottom.
To learn more, visit cir.ca.
Comments