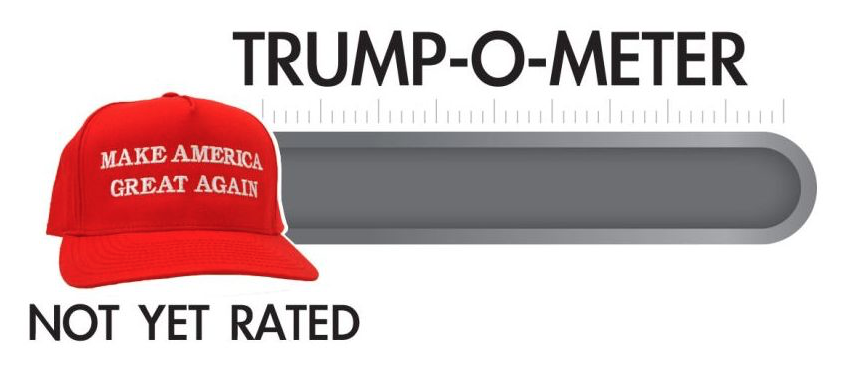 Coming 2017: the Trump-O-Meter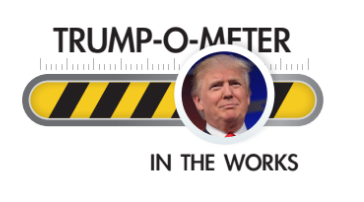 A lot of you have asked, so we won't hold back the news any longer: Yes, absolutely, we'll be tracking the campaign promises of Donald Trump.
Meet the Trump-O-Meter.
The Trump-O-Meter will launch officially sometime after Jan. 1, 2017, and we'll start tracking President-elect Trump's promises on Inauguration Day Jan. 20.
We've been planning this for quite some time. Since September, we've been working with students at the University of Missouri and the Reynolds Journalism Institute to develop the new promise meter for the next president. So to answer your next question, yes, there were dummies for a "Clintometer" or "Clinton-O-Meter."
Along with cataloging Trump's promises, we are writing special reports on his biggest promises to help readers understand what they mean and the challenges Trump will face to achieve them. We're including videos and graphics in our multimedia reports, too.
We've been tracking the campaign promises — more than 500 of them — of President Barack Obama since January 2009 on our Obameter.
Obama promised big changes — like signing a "universal health care bill into law by the end of my first term as president" (Compromise). Others were narrowly focused, such as establishing a credit card bill of rights (Promise Kept).
Our work on the Obameter won't wrap up before the end of the year, but we can say that Obama achieved much of what he pledged to voters. Overall, 45 percent of his promises have been rated Promise Kept, while 23 percent are currently rated Promise Broken.
That same work will soon begin for Trump.
Trump's list of promises won't be nearly as long as his predecessor's. We have identified around 100 promises that we likely will be tracking beginning next year.
You know about building a wall, of course. But Trump has promised a host of large-scale changes that we'll detail in the weeks and months ahead.
To create the Trump-O-Meter, we've been poring through speech transcripts, TV appearances, position papers and campaign websites looking for promises. Email us at truthometer@politifact.com if you have a promise you particularly want us to track.
However, a promise is not a position statement. We define a promise as a prospective statement of an action or outcome that is verifiable. All of our promises list the source.
The promise meter has six levels. The first three provide a broad picture of whether the official is making progress; the final three indicate whether he or she kept the promise.
Not Yet Rated — Every promise begins at this level and retains this rating until we see evidence of progress — or evidence that the promise has stalled.
In the Works — This indicates the promise has been proposed or is being considered.
Stalled — There is no movement on the promise, perhaps because of limitations on money, opposition from lawmakers or a shift in priorities.
Compromise — Promises earn this rating when they accomplish substantially less than the official's original statement but when there is still a significant accomplishment that is consistent with the goal of his original promise.
Promise Kept — Promises earn this rating when the original promise is mostly or completely fulfilled.
Promise Broken – The promise has not been fulfilled. This could occur because of inaction by the executive or lack of support from the legislative branch or other group that was critical for the promise to be fulfilled. A Promise Broken rating does not necessarily mean that the executive failed to advocate for the policy.
Promise ratings change whenever the circumstances change. For some promises, it's possible that the status could initially go to In the Works, but then move back to Stalled if we decide the proposal has hit a lull, and then go back to the In the Works.
We're excited to show you more of our work in the coming weeks. Stay tuned!
Comments