Post Episode 12: IRE Award winners expose safety concerns and create public resources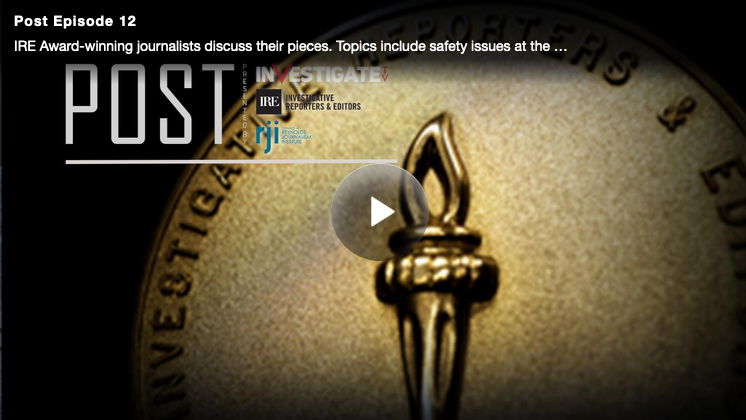 In Episode 12, Post highlights three journalism projects that were recipients of some this year's IRE Awards. This show highlights reporting and interviews from journalists working for Reveal, the Tampa Bay Times, and NJ Advance Media.
IRE handed out the awards in June during the organization's annual conference held this year in Houston. Some of the award winners spoke with Post before and after the ceremony.
Reveal from The Center for Investigative Reporting, PRX, and KQED won in the large radio/audio category for their extensive and detailed reporting about safety concerns at the Tesla factory. The team combined public records with interviews to prove employees had been seriously injured. Ziva Branstetter, formerly of Reveal and currently of the Washington Post, spoke to Post about how the partnership worked, how they worked to get Tesla to respond, and changes that happened after publication.
Reporters from the Tampa Bay Times won in a tie in the medium print/online division for their reporting on issues at Johns Hopkins All Children's Hospital. The series, called "Heartbroken," exposed children dying at an alarming rate in the hospital's heart surgery department. Neil Bedi talked to Post about the extensive and continuing changes at the hospital.
Dallas Morning News also won in that category for its series Pain and Profit, which Post profiled in a previous episode.
The team from NJ Advance Media won the Freedom of Information IRE Medal for its project titled "Use of Force." The journalists capitalized on a new court ruling that made police use of force records public. They painstakingly cataloged and analyzed every report, creating a publicly-accessible database. Disha Raychaudhuri spoke to Post about how they worked through a high volume of data and why their work will have long-standing effects.
The August edition of Post (Episode 13) will feature the Philadelphia Inquirer, which won the Gannett Award for Innovation in Watchdog Journalism.
Stories discussed in Post, Episode 12
Post is a media review program from InvestigateTV, Gray Television's streaming channel dedicated to in-depth and watchdog reporting. Post is presented in partnership with the journalism organization Investigative Reporters and Editors. The monthly program is taped at the Reynolds Journalism Institute at the University of Missouri School of Journalism, a partner of InvestigateTV.
Comments