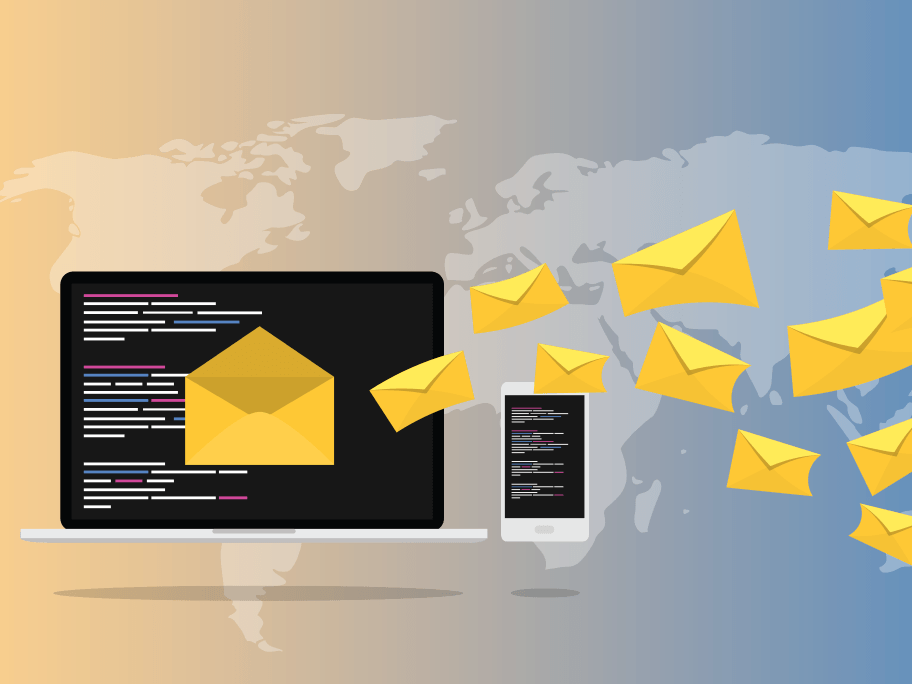 Why the email newsletter is 2020's MVP format
If, back in 2015, you had to choose a single format to be the centerpiece of a successful digital media strategy, chances are you wouldn't have picked email. But the email newsletter has become exactly that for many news organizations not to mention a growing cadre of maverick journalists looking to cultivate their own brands. Now 2020 has elevated the newsletter format to a new level of relevance.
It's not hard to see why. The sheer gravity of the COVID-19 pandemic has galvanized readers like never before, but it also happens to be exactly the kind of crisis newsletters cover extremely well. The event is urgent, but ongoing, and the nature of the information practically demands thoughtful curation. The Washington Post was one of many news websites to report massive engagement around newsletters based on COVID updates and analysis, and Substack, one of the most popular email systems for individuals says that both active readership and number of active writers on its platform have doubled since March.
But newsletters were surging long before "coronavirus" became a terrifying part of the lexicon. Once dismissed as a relic of the Web 1.0 era, email newsletters started making a comeback in the 2010s as smartphones reached more of the population, and readers became more mobile. Devices got better, email clients got cleaner, and push notifications ensured you would never miss an issue.
"We're almost in like a golden age of newsletters," Nick Johnston, Editor-in-Chief of Axios, told me. "I think one of the reasons is that it's become a safe space. If you're looking at a website, there's like a pop-up, there's a pop-under, there's a banner ad… on social media, I don't know if this is a Russian bot or a white supremacist. But the inbox is control. Spam filters are really good — things I don't want in my inbox don't get there."
The right way to do a newsletter in 2020
Better tech is only half the story. Over the past several years, media companies have distilled what a good newsletter is. It turned out that blasting out a bunch of links to stories — what most news organizations defaulted to when spinning up a newsletter — was far from the best choice, though it's easy to see why anyone in the content business, with ad rates determined by page views and unique visitors, went with this format.
A better way: treat the newsletter as a standalone product. Forget trying to drive readers to a website — to keep readers subscribed, opening, and reading, a newsletter needs to serve up content that isn't just tailored to a smartphone screen but also worthy of the push notification it creates and the inbox real estate it takes up. An email newsletter is the inbox equivalent of appointment television; whether it's a wholly original work or a curated selection of stories, the reader isn't subscribing to the content so much as the lens of the writer, editor, or brand.
"It should come from a person," says Johnston. "And this is not me being a genius — everyone has figured this out. You want to understand that a person whose perspective I value is going to tell me something. They're going to flag for me what is important."
This more evolved newsletter format rapidly caught on, and over the last few years it's become the template for many successful email strategies. It also turned newsletter-first companies like theSkimm, Morning Brew, and The Hustle from scrappy startups into growing empires.
At the nonprofit investigative publication ProPublica, Vice President of Strategy and Operations Celeste LeCompte says the organization began a big newsletter push about 18 months ago and has been largely successful, boosting subscribers from 134,000 to 360,000. But that was just step one.
"We set a goal of doubling our newsletter subscriptions last year and achieved that goal," LeCompte says. "Maintaining newsletter subscriptions and not just signing people up also required us to focus on having good high quality newsletters and paying attention to the user experience, so they would continue to engage with us over time in their inbox."
Filling a Facebook-size hole
The rapid rise of the newsletter as an audience development tool for media companies has run parallel with another trend: the decline of social media referrals. That's no coincidence.
Back in the mid-2010s, social media referral traffic — from Facebook in particular — was the central pillar of any publication's digital audience strategy. But soon after the 2016 election, Facebook abruptly pulled back from its role as a news curator. Referral traffic to many news websites reduced to a trickle of what it once was, and the vacuum opened the door for other news platforms to vy for readers' attention on smartphone screens.
Individual publications — whether it's a national outlet like CNN or your local paper — can be pushy with notifications and their apps are often not well maintained. News aggregators like Apple News and Flipboard are feature-rich and get plenty of use, but they're as vanilla as it gets. Moreover, the behavior they tend to favor is still the almighty click.
"A lot of traditional publications are capturing an audience that's not valuable — meaning they're capturing it because it's around a heated political topic or because it's clickbait or a car accident or homicide," says says Ryan Heafy, co-founder and COO of 6AM City, which publishes daily newsletters in seven cities, with three more coming this year. "So they're just churning crap, whereas we're going after a more highly engaged user, participating in dialogue. I'm not trying to 'convert' you."
The combination of the clean, familiar experience of the email inbox and thoughtful, mobile-first content is the foundation of why newsletters have thrived in recent years. And thriving newsletters translate to a healthy readership — one that's leaning forward and proactively asking to be engaged with.
The value of such a loyal audience is obvious, and the relative ease of creating a newsletter product has made it attainable by both publications and individuals alike (as long as they can serve up good content, that is). It's not a new observation that receiving newsletters has become the equivalent of the print newspaper landing on the front porch, but what's often lost in that description is what it means for the relationship between publisher and reader: trust.
"The biggest thing is establishing and maintaining trust with the audience," says Heafy. "If people are choosing to subscribe to your newsletter and they actually open it, that means that they've made a commitment to your brand, and our content is coming to you through the newsletter, as a primary medium. We believe that that's the strongest, best way to connect with our readership to build loyalty."
To be clear, newsletters alone aren't going to save the media. But for publications that are sure of their mission and have good journalism to back it up, they're perhaps the best path to strengthening the audience connection. After all, subscribing to a newsletter means a reader thinks it's OK that you know them, at least a little. And that's where all good relationships start.
Comments